Children's
10 Quotes from RAMONA THE PEST to Celebrate Beverly Cleary's 103rd Birthday
This content contains affiliate links. When you buy through these links, we may earn an affiliate commission.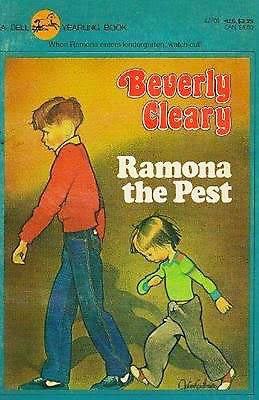 Happy 103rd birthday, Beverly Cleary! In order to celebrate your birthday, I dug my tattered and torn paperback Ramona the Pest out of a box at my Dad's house and began reading it to my 5- year-old son. As we snuggled before bedtime and laughed at all of Ramona's antics during her first months of kindergarten, I remembered how much I appreciated your stories when I was a child.
You really seemed to understand how puzzling the adult world can be to a little girl. I recall feeling relieved as I read how Ramona also threw fits to get what she wanted, felt frustrated when adults were distracted, and sometimes was so angry that she pounded her feet on her bedroom wall and reveled in the fact that her oxfords left scuff marks on the walls. Now, I read your books and remind myself that children are complex little people with real feelings who are simply trying to figure out a world in which they are the smallest and the most impatient.
Below are ten quotes from Ramona the Pest that capture the confusion, joyfulness, and spirit of childhood and show how amazingly well you understood your audience and their "slowpoke grown-ups."
10 Quotes about Childhood and Growing Up from Ramona the Pest
"She was not a slowpoke grown-up. She was a girl who could not wait. Life was so interesting she had to find out what happened next."
"When Ramona made a great big noisy fuss, she usually got her own way. Great big noisy fusses were often necessary when a girl was the youngest member of the family and the youngest person on her block."
"Ramona could not understand why grown-ups always talked about how quickly children grew up. Ramona thought growing up was the slowest thing there was."
"Nothing infuriated Ramona more than having a grown-up say, as if she could not hear, that she was worn out."
"Ramona looked forward to many things – her first loose tooth, riding a bicycle instead of a tricycle, wearing lipstick like her mother – but most of all she looked forward to Show and Tell."
"Only grown-ups would say boots were for keeping feet dry. Anyone in kindergarten knew that a girl should wear shiny red or white boots on the first rainy day, not to keep her feet dry, but to show off. That's what boots were for – showing off, wading, splashing, stamping."
"Ramona, who did not mean to pester her mother, could not see why grown-ups had to be so slow."
"Nobody understood. She wanted to behave herself. Except when banging her heels on the bedroom wall, she had always wanted to behave herself. Why couldn't people understand how she felt?"
"Ramona did not consider herself to be a pest. People who called her a pest did not understand that a littler person sometimes had to be a little bit noisier and a little bit stubborn in order to be noticed at all."
"Ramona was filled with the glory of losing her first tooth and love for her teacher. Miss Binney had said she was brave! This day was the most wonderful day in the world! The sun shone, the sky was blue, and Miss Binney loved her."
Thank You, Beverly Cleary
Beverly Cleary, thank you for creating Ramona, Beezus, Willa Jean, Howie, and the rest of the children in and around Klickitat Street. Your writing shaped and enlivened my childhood.
Currently, your insights on parenting and the relationships between children and adults still shape many of the interactions I have with my young son and my pre-kindergarten students. Now that I am a "slowpoke grown-up," I try not to say things like, "You are shooting up like a weed" or "cat got your tongue?" to my small students. I try to be an understanding grown-up who remembers being a girl, with straight brown hair like Ramona, with the potential to be a bit of a "pest" and who sometimes wanted to throw a "big, noisy fuss" when she was the youngest one in the family and was not always taken seriously.