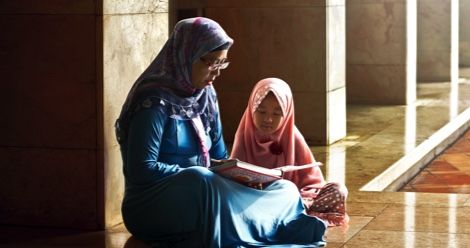 Lists
30 Books for 30 Days of Ramadan
This content contains affiliate links. When you buy through these links, we may earn an affiliate commission.
It's that favorite time of the year for Muslims, y'all. The Islamic month of Ramadan is just around the corner, and that means no eating or drinking ("Not even water!") from sunrise to sunset. You might be thinking, how could this possibly be a time we enjoy? It's definitely exhausting, especially when the days are so long. But the quiet purge of unnecessary distractions during the day (like that box of brownies I've been trying to ignore) leaves room for charity and giving, spiritual health, and personal reflection to blossom. It's also a good opportunity to spend some of your downtime reading, especially the best Ramadan books.
In honor of the month, I've pulled together 30 books for 30 days of Ramadan (give or take a day, it being a lunar calendar and all). From children's books to journals for adults, this list of Ramadan books comprises all the need-to-haves for the month. Whether you are unfamiliar with Ramadan or you're getting excited at the mere mention of it, these Ramadan books will satiate your hunger for knowledge, feed your appetite for fun, quench your thirst for…you get the idea. These books about or related to Ramadan offer a little something for everyone.
Ramadan Board Books
There are so many children's books out there now on Ramadan that it can be hard to filter down to a few. This one always makes my list though, because it's such an excellent introduction to Ramadan for little ones, and makes for fun family time reading as well.
This book helps children learn the many special prayers and sayings that are important during Ramadan. Set within a story of two kids discovering the experience of Ramadan, the book delivers each essential prayer in both Arabic and English to enable deeper understanding.
Ramadan by Hannah Eliot and Rashin
Ramadan begins with the sighting of the crescent moon, signaling a month of fasting, community, and celebration. This book poignantly captures that moment and the importance of reflection and gratitude.
This book rings special because it highlights many of the fundamental attributes of Ramadan that can get glossed over when the focus is only on fasting. This board book features sweet spotlights on generosity, hospitality, and the many spaces of joy in the month. It doesn't include a glossary, so some terms will not be clear to the unfamiliar, but it's still a cheerful read. My toddler definitely can't get enough of the artwork.
Ramadan Picture Books
A Party in Ramadan by Asma Mobin-uddin and Laura Jacobsen
Ramadan is the ultimate rite of passage for young kids, who jump at the challenge of fasting. This Ramadan book portrays one of the biggest struggles for kids: trying to keep up with the fun of everyday life. In this book, young Lena wants to attend her friend's birthday party, but she also wants to keep up her fast. It's a heartwarming depiction of determination, struggle, and support.
Ramadan concludes with the special holiday Eid-al-Fitr. This delightful book takes readers into the significance of the holiday and how Muslims celebrate it. The focus on charity, community, and family make this a fantastic read for kids and adults alike.
I remember having to explain to my classmates why I was fasting. Having a Ramadan book like this would have offered support and imbued confidence to face those potential awkward moments or puzzled reactions.
Moon Watchers: Shirin's Ramadan Miracle by Reza Jalali and Anne Sibley O'Brien
What about for those kids who are too young to fast but really want to? This book shows how children can find a happy compromise with their families as well as discover the many traditions of Ramadan.
Here is a simple and adorable story about a young boy's first time fasting during Ramadan. Young readers are bound to feel connected to this young boy's experiences.
One of my favorite Ramadan books for its enchanting storytelling and mesmerizing tranquil colors that channel Islamic art styles. Here's a story that balances between modern Muslim life and the centuries-old traditions that have thrived through time, from the perspective of a 7-year-old girl eager to enjoy Ramadan.
Explore the Muslim world through the eyes of the Ramadan Moon, who visits children and families across the globe. This book highlights the exquisite beauty of the diversity of the Muslim community.
The artwork in this book is so heartwarming! With its round motifs and buoyant colors, it depicts the adventure young Rashad partakes in during his first Ramadan. Another sweet story for young kids to learn about Ramadan and the diverse people who practice fasting.
For middle grade readers, this is an excellent resource book that breaks down the significance of Ramadan. In different chapters, it explores the fundamentals of Ramadan and Islam, cultural practices around the world, and community engagement, all with great stories and captivating photographs.
Fiction Ramadan Books
A heartfelt modern tale about a young girl struggling to find a place in her school and neighborhood, and how to fit her Muslim identity into that. Aliya wonders whether she should fast in Ramadan and how that will affect her at school, but she finds the strength to be herself in the end.
Really, I'm including this because Muslims should all feel like superheroes by the end of Ramadan. Conquering fasts, uplifting charity, finding strength within to understand how to better heal the world year round. Kamala represents all of us in our most average moments in life, reaching extraordinary personal achievements.
Ramadan Activity Books
Arts and crafts ideas for the whole month of Ramadan comprise this enjoyable activity book. Each activity is imbued with the principles and foundations of Islam, so it teaches children as well as keeps them entertained.
Taking activity books a little further, this book also serves as a journal for adolescents to record their daily actions and take time to reflect. It also has features like the Fastometer to make keeping fasts a fun challenge along with a triumphant one.
Ramadan Activity Book by Learning Roots
This brand-new book from independent creator Crescent Moon includes activities for Ramadan that teach the basics of Ramadan. It also connects children to deeper understanding of Ramadan's effect on the environment, the world, and themselves.
Ramadan Rhymes by Elizabeth Lymer, Kim Reimann, Sandy Quigley, and Aisha Davies
This book contains endearing nursery rhymes to teach about the many facets of Ramadan and Eid-al-Fitr. Kids can color and interact with the story, which follows three children singing about Ramadan. A corresponding YouTube channel also includes videos of all the rhymes to further engage children (especially when a parent is feeling worn out and needs a break).
Another activity book for each day of the month, this book is perfect for the youngest readers. Each section has information about Ramadan and then breaks into a related puzzle or game.
Who doesn't love stickers? This Ramadan book of activities sticks out for the collection of stickers children can use throughout the book, along with cute little games and pictures.
Adult Ramadan Reading and Reflection
Life is an Open Secret: Ramadan Special by Zabrina A. Bakar
Ramadan is about finding the blessings around us and spreading that to our communities, but it can be hard to hold on to that feeling all month. This book is a vital resource to keep one's spirit up and heart open, with its 25 motivational stories. Witty, funny, and conversational, it's a great companion to have.
This felicitous book acts as a daily remembrance for Muslims during Ramadan. With a collection of poetry, supplications, and religious verses, it's the ideal text to help with devotion.
If you want to research certain traditions and fundamental parts of Ramadan, this is a good place to expand your awareness. Hospitality and generosity are key to developing throughout the month, and this book explores Islamic traditions and teachings related to hospitality in Islam and beyond.
What I like about this book is that it covers fasting in other faiths, drawing bridges between Islamic practice and others. It also goes into more depth about the merits of fasting, what constitutes a fast, and health in general, all while tying fasting to the strength of belief.
This book of meditations on the month of Ramadan fills the void of lack of food. It's a contemplative collection of thoughts about the illuminations from the experience of fasting. It appeals across cultures and is appealing even to non-Muslims because of its poetic writing style and thoughtful explorations.
Ramadan Cookbooks
Ramadan Recipes: From Our Holiday Table to Yours by Samantha Sanchez
It shouldn't be surprising that a month of fasting should also be very focused on foods, considering we only get to eat for the few hours of night. This book pulls together delicious recipes across the Muslim world, demonstrating the diverse taste buds that make up our international Muslim community. Exploring the cookbook is also helpful to become acquainted with the major meals of suhoor (early morning meal) and iftar (meal to break the fast).
Summer Ramadan Cooking: Recipes and Resources for Healthy Meals All Month Long by Yvonne Maffei
It's not quite summer yet, but the heat has started creeping in so some delectable recipes geared toward the hotter times of year are certainly useful. With a mix of traditionally Middle Eastern or South Asian flavors and Western dishes, this cookbook should appeal to everyone.
The Essential Ramadan Books
Fact is, you can't truly understand the importance of Ramadan without knowing about Prophet Muhammad, since the month is only important because of experiences in Muhammad's life. Karen Armstrong's biography on him is accessible, lyrical, and thoughtfully constructed, giving a balanced view of his life and the foundation of Islam.
The Qur'an was revealed during Ramadan, and during the month Muslims should spend a lot of their quiet time reading it. There are also daily late night prayers (Taraweeh) meant to recite the entire Qur'an over the course of the month. So, it goes without saying that it's the most necessary text for Ramadan, and if you can, you should try to read from it. Finding a good, accessible translation can be tricky, but there are many beautiful options.