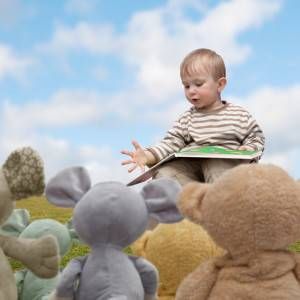 Okay, full disclosure: my son isn't actually here yet. He's still in utero. But I'd like to think that I'm priming him to be a feminist. (For those of you thinking, but men can't be feminist, let me provide you with a definition: according to the dictionary, a feminist is "a person who supports feminism." And what is feminism? "The advocacy of women's rights on the grounds of political, social, and economic equality to men." Hmmmm, sounds basic and self-explanatory enough, no?).
When I worked at a fairly well-known children's bookstore in NYC, affiliated with a very progressive school of education and preschool, I was shocked at how many boys and their parents shunned books about female protagonists. Parents would shrug sheepishly and explain their son "just doesn't read books about girls." I knew I didn't want my future kids to miss out on things just because of a reason like that.
So imagine my surprise when I found myself reaching for a Madeline board book, and thinking twice about whether I should get that for my son, or something like Corduroy. I ended up buying Madeline, mainly because it's one of my all-time favorite children's books. And so I read it to him in utero, along with Goodnight Moon and Sweet Child of Mine. The fact that I paused and even called a friend about it made me think about how ingrained these norms are in our society. Will I reach for a different book when he gets older, instead of suggesting Harriet the Spy? I want him to dive into A Wrinkle in Time, and not even realize that Meg is the main character, because he simply thinks she's super cool and smart. In a few years, I want him to know it's okay if he wants me to read Pinkalicious with him, as well as Clifford the Big Red Dog, and when he's older, know that there's no shame in reading Nancy Drew books or the Hardy Boys.
As parents, how do you ensure that your kids are exposed to a variety of books, and not just those based on gender norms?