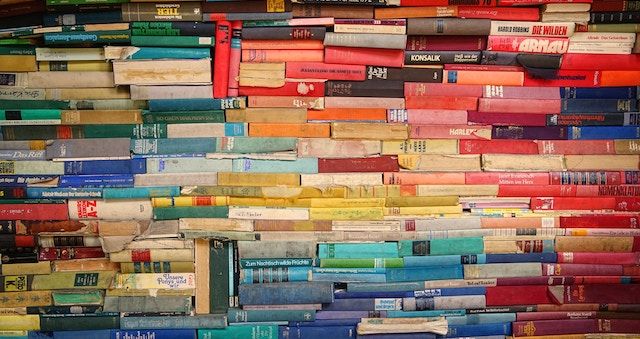 Lists
Rainbow Book Spines vs Rainbow Bookshelves
This content contains affiliate links. When you buy through these links, we may earn an affiliate commission.
We had a post about rainbow bookshelves not long ago, but I am here today to discuss rainbow book spines. These book spines are the bane for any devoted shelf-decorating-devotee, as the rainbow bookshelf is a complex ecosystem that can be easily confused.
Rainbow book spines can be hard to resist. You know that old adage – don't judge a book by its cover? I regularly do. As I wander the stacks, my eyes flicker over to those radiant spines and suddenly there is a stack of rainbow-tinted books in my arms.
What is there to do? Sometimes the rainbow spine can be incorporated, like if the colours are muted and swirled together. That's not the only problem, either; where do you put books with white spines? Black, brown, grey? I've stored them at the beginning, like a monochromatic pre-rainbow. But the rainbow spine is the trickiest of all. What do you do with that?
Okay, maybe it isn't that hard and really they can just be popped at the end. If you don't want that though, let's say you are a rainbow purist, then below are some titles to beware of, split between YA fiction and general fiction. One caveat: some of these books might have different covers/spines depending on what edition you find, what country you live in, etc.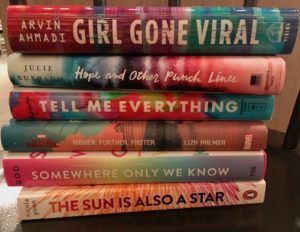 Rainbow YA
Abby – a creative, fashionable teen used to acting the sidekick to her friends – gets the magazine internship of her dreams. Everything is going great until she meets and falls in love with Jordi, the intern she's competing against for a permanent job.
Like Romeo and Juliet before them, this romcom has star-crossed love blossoming between a K-pop starlet and a tabloid reporter.
Natasha's family is about to be deported when she unexpectedly falls in love with Daniel, a first generation Korean American who tries very hard to live by his parents' expectations.
This one is for all you Danbeaus out there, as it focuses on Carol Danvers's first year at flight school and covers how she and Maria Rambeau meet.
Abbi is an internet meme thanks to an infamous moment: a September 11th photo of her as a baby in front of the collapsing World Trade Center Tower. Can she find anonymity as a counselor for Knights Day Camp?
Opal Hopper, a brilliant 17-year-old coder, becomes tangled in a complicated web of hacking and manipulation. In this techno-thriller, Opal will need to lie if she wants to figure out her father's mysterious death.
Ivy is shy and isolated, with only her best friend Harold for company. Until she begins to use an art sharing app, leading her to learn classmates' secrets. Uh-oh.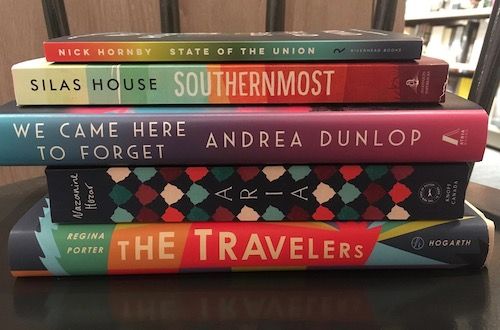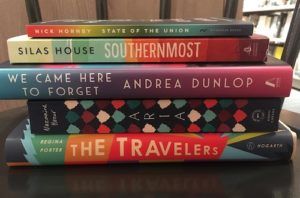 Rainbow Adult Fiction
Tom and Louise meet before their weekly therapy appointments and begin the tough business of deconstructing their struggling marriage.
A novel about an elite Olympic skier on the run from her shattered past; this is sure to be a one-of-a-kind read.
Set in India and spanning five interconnected stories, the lives of these five main characters illuminate issues of poverty and displacement.
A contemplative book about evangelical preacher Asher Sharp, who gives shelter to a gay couple after they lose their home in a horrible flood. His burgeoning acceptance sets events into motion, leading him to flee with his son to Key West, to visit the brother he once rejected.
Aria by Nazanine Hozar
Set in Iran, this is the story of the Iranian revolution through the eyes of Aria, a young orphan abandoned by her mother in an alley.
An epic, multigenerational story about two families living in America. Porter is a playwright, so the novel is complete with snappy dialogue and brilliant characters.
---
I've had my bookshelf organized in rainbow for a long time – across multiple countries and apartments. It's a controversial move in book-lover-land, though, there's been opposition. An ex desperately wanted to redo my books by author (I let her organize my CDs instead) while another friend expressed horror that I was a library professional who had chosen to organize my books like this. Persevere. The rewards are plentiful.
You have the basics, so if your books are colourful anyway, why not keep them snappy in a multi-hued configuration? It pops! Also, your decor will already be set for your next Pride party. Think about it.