Feminism
Rad Women Doing Rad Things: A Reading List
This content contains affiliate links. When you buy through these links, we may earn an affiliate commission.
A micro-trend in non-fiction lately has been the illustration collection of short biographies of women. Sounds super specific, but it's a thing I've seen pop up again and again in the last couple of years and needless to say, this is a trend I love and welcome with open arms.
These books are enticing because they're not only gorgeous, but also they're enticing because they offer a look at a wide range of rad women through history and contemporary times in a way that makes you learn something…and want to seek out more information about those pioneers who speak to you.
Another wonderful aspect of these books is how they reach all ages of readers. While some are published "for" children or "for" adults, the packaging and accessibility of text makes these books wonderful for any reader collection. Looking for a great way to help build a reader library or pass along an amazing and fun bookish gift for someone who might be harder to buy for? Any of these would be great choices.
Though these books tend to be a little bit bigger in terms of their trim size, they aren't oversized coffee table reads. These can be comfortably read just about anywhere, and not being able to pop them into a purse or tote bag isn't an issue because their covers are the kinds of things you want to show off.
Get ready to get your read on.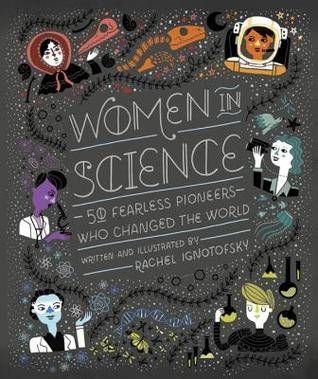 Women in Science: 50 Fearless Pioneers Who Changed The World by Rachel Ignotofsky
A charmingly illustrated and educational book, Women in Science highlights the contributions of fifty notable women to the fields of science, technology, engineering, and mathematics (STEM) from the ancient to the modern world. Full of striking, singular art, this fascinating collection also contains infographics about relevant topics such as lab equipment, rates of women currently working in STEM fields, and an illustrated scientific glossary. The trailblazing women profiled include well-known figures like primatologist Jane Goodall, as well as lesser-known pioneers such as Katherine Johnson, the African-American physicist and mathematician who calculated the trajectory of the 1969 Apollo 11 mission to the moon.
Women in Science celebrates the achievements of the intrepid women who have paved the way for the next generation of female engineers, biologists, mathematicians, doctors, astronauts, physicists, and more!
Bad Girls Throughout History: 100 Remarkable Women Who Changed The World by Ann Shen (Chronicle, September 6)
Aphra Behn, first female professional writer. Sojourner Truth, activist and abolitionist. Ada Lovelace, first computer programmer. Marie Curie, first woman to win the Nobel Prize. Joan Jett, godmother of punk. The 100 revolutionary women highlighted in this gorgeously illustrated book were bad in the best sense of the word: they challenged the status quo and changed the rules for all who followed. From pirates to artists, warriors, daredevils, scientists, activists, and spies, the accomplishments of these incredible women vary as much as the eras and places in which they effected change.
Wonder Women: 25 Innovators, Inventors, and Trailblazers Who Changed History by Sam Maggs and illustrated by Sophia Foster-Dimino (October 4)
Ever heard of Allied spy Noor Inayat Khan, a Muslim woman whom the Nazis considered "highly dangerous"? Or German painter and entomologist Maria Sibylla Merian, who planned and embarked on the world's first scientific expedition? How about Huang Daopo, the inventor who fled an abusive child marriage only to revolutionize textile production in China?
Women have always been able to change the world, even when they didn't get the credit. In Wonder Women, author Sam Maggs introduces you to pioneering female scientists, engineers, mathematicians, adventurers, and inventors—each profile a study in passion, smarts, and stickto-itiveness, complete with portraits by Google doodler Sophia Foster-Dimino, an extensive
bibliography, and a guide to present-day women-centric STEM organizations.
Rad American Women A-Z: Rebels, Trailblazers, and Visionaries Who Shaped Our History . . . and Our Future! by Kate Schatz and illustrated by Miriam Klein Stahl
Like all A-Z books, this one illustrates the alphabet—but instead of "A is for Apple", A is for Angela—as in Angela Davis, the iconic political activist. B is for Billie Jean King, who shattered the glass ceiling of sports; C is for Carol Burnett, who defied assumptions about women in comedy; D is for Dolores Huerta, who organized farmworkers; and E is for Ella Baker, who mentored Dr. Martin Luther King and helped shape the Civil Rights Movement.
And the list of great women continues, spanning several centuries, multiple professions, and 26 diverse individuals. There are artists and abolitionists, scientists and suffragettes, rock stars and rabble-rousers, and agents of change of all kinds.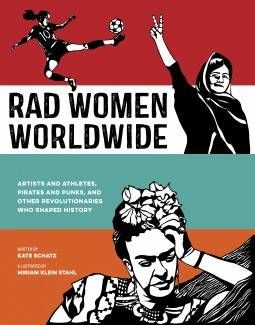 Rad Women Worldwide: Artists and Athletes, Pirates and Punks, and Other Revolutionaries Who Changed History by Kate Schatz and illustrated by Miriam Klein Stahl (September 27)
In Rad Women Worldwide, writer Kate Schatz and artist Miriam Klein Stahl tell fresh, engaging, and inspiring tales of perseverance and radical success by pairing well researched and riveting biographies with powerful and expressive cut-paper portraits. Featuring an array of diverse figures from Hatshepsut (the great female king who ruled Egypt peacefully for two decades) and Malala Yousafzi (the youngest person to win the Nobel Peace Prize) to Poly Styrene (legendary teenage punk and lead singer of X-Ray Spex) and Liv Arnesen and Ann Bancroft (polar explorers and the first women to cross Antarctica), this progressive and visually arresting book is a compelling addition to women's history.
They Did What? 50 Unbelievable Women and Their Fascinating (and True!) Stories by Saundra Mitchell and illustrated by Cara Petrus
A compilation of biographies profiling some of the most intrepid women in history and today. From athletes, comediennes, and TV personalities, to world leaders, political figures, and activists, these women paved the way for future generations and have proven that hard work and passion will help you achieve just about anything. Chock full of interesting facts and bursts of trivia, plus a glossary and a fun quiz are sure to entertain and inform!
If you're looking for books that do something similar, here are two more that fit the theme — one without illustrations and one that came out more than a decade ago.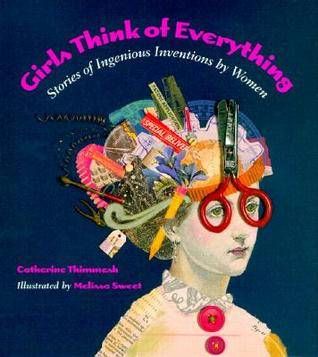 Girls Think of Everything: Stories of Ingenius Inventions by Women by Catherine Thimmest and illustrated by Melissa Sweet
In kitchens and living rooms, in garages and labs and basements, even in converted chicken coops, women and girls have invented ingenious innovations that have made our lives simpler and better. Their creations are some of the most enduring (the windshield wiper) and best loved (the chocolate chip cookie). What inspired these women, and just how did they turn their ideas into realities?
Features women inventors Ruth Wakefield, Mary Anderson, Stephanie Kwolek, Bette Nesmith Graham, Patsy O. Sherman, Ann Moore, Grace Murray Hopper, Margaret E. Knight, Jeanne Lee Crews, and Valerie L. Thomas, as well as young inventors ten-year-old Becky Schroeder and eleven-year-old Alexia Abernathy.
Headstrong: 52 Women Who Changed Science — and The World by Rachel Swaby
Headstrong delivers a powerful, global, and engaging response. Covering Nobel Prize winners and major innovators, as well as lesser-known but hugely significant scientists who influence our every day, Rachel Swaby's vibrant profiles span centuries of courageous thinkers and illustrate how each one's ideas developed, from their first moment of scientific engagement through the research and discovery for which they're best known. This fascinating tour reveals these 52 women at their best—while encouraging and inspiring a new generation of girls to put on their lab coats.