Literary Quotes About Parenthood
This post contains affiliate links. When you buy through these links, Book Riot may earn a commission.
Parenthood is an experience like no other. Sometimes I feel overwhelming joy at the privilege of being a mother, amazed at the seemingly boundless love I have for my children. Other times I am frustrated and clueless, wondering if I have ruined my kids for life. It is not uncommon for me to cruise from one extreme to the other in a single afternoon. It is wonderful to come across quotes in books to remind me that I am not alone on this roller coaster ride of parenting. Here are some great quotes about parenthood that beautifully describe the many facets of raising children.
"When your children arrive, the best you can hope for is that they break open everything about you. Your mind floods with oxygen. Your heart becomes a room with wide-open windows. You laugh hard every day. You think about the future and read about global warming. You realize how nice it feels to care about someone else more than yourself." —Amy Poehler, Yes Please
"Your children make it impossible to regret your past. They're its finest fruits. Sometimes the only ones." —Anna Quindlen, Black and Blue
"I would look at him and feel a love so sharp it seemed my flesh lay open. I made a list of all the things I would do for him. Scald off my skin. Tear out my eyes. Walk my feet to bones, if only he would be happy and well." —Madeline Miller, Circe
"There is the humility of being a father to someone so powerful, as if he were only a narrow conduit for another, greater thing. That's how it feels right now, he thinks, kneeling beside her, rinsing her hair: as though his love for his daughter will outstrip the limits of his body. The walls could fall away, even the whole city, and the brightness of that feeling would not wane." —Anthony Doeer, All the Light We Cannot See
"If our kids only expect blessings and exemptions, they will be terrible grown-ups." —Jen Hatmaker, For the Love: Fighting for Grace in a World of Impossible Standards
"I don't know what's more exhausting about parenting: the getting up early, or acting like you know what you're doing." —Jim Gaffigan, Dad Is Fat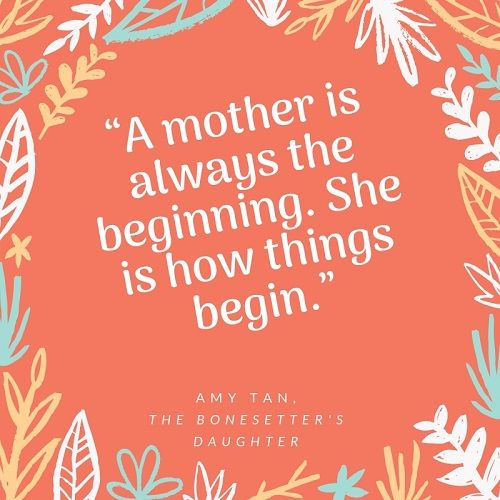 "A mother is always the beginning. She is how things begin." —Amy Tan, The Bonesetter's Daughter
"All parenting turns on a crucial question: to what extent parents should accept their children for who they are, and to what extent they should help them become their best selves." —Andrew Solomon, Far from the Tree: Parents, Children, and the Search for Identity
"She was my mother and she would not leave me. This I had simply accepted and expected. I had no more thanked her for it than I did the sun for shining on me." —Khaled Hosseini, And the Mountains Echoed
"Goldfish get big enough only for the bowl you put them in. Bonsai trees twist in miniature. I would have given anything to keep her little. They outgrow us so much faster than we outgrow them." —Jodi Picoult, My Sister's Keeper
"What you do to children matters. And they might never forget." —Toni Morrison, God Help the Child
"The irony of having teenagers, of course, is that at the exact moment they need to know the things that you alone can tell them, they have reached a moment in their lives when you, as their parent, are the only person they cannot get this information from." —Jennifer Finney Boylan, Stuck in the Middle With You: A Memoir of Parenting in Three Genders
"I'll tell you a secret. A lot of times, parents are not the best at seeing their children clearly." —Celeste Ng, Little Fires Everywhere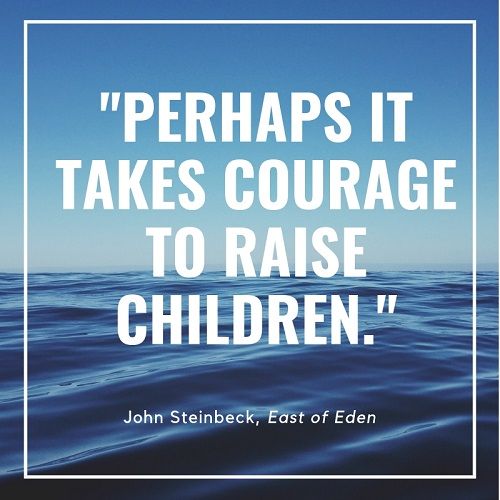 Perhaps it takes courage to raise children." —John Steinbeck, East of Eden
"Sometimes I cry because I'm so in love with them and my body just doesn't know what to do with so much love but cry. It's a strange thing. Then sometimes I cry because being a mother is the hardest thing I've ever done." —Lisa Gungor, The Most Beautiful Thing I've Seen
"I loved her instantly. Of course, most parents love their children instantly. But I mention it here because I still find it a remarkable thing. Where was the love before? Where did you acquire it from? The way it is suddenly there, total and complete, as sudden as grief, but in reverse, is one of the wonders about being human." —Matt Haig, How to Stop Time
"Every day, your first thought is not 'I love him' but 'how is he?' The world, overnight, rearranges itself into an obstacle course of terrors."
—Hanya Yanagihara, A Little Life
"No matter how well prepared they are, all moms and dads experience a moment of total shock, when the tidal wave of feelings first washed through them, knocking them off their feet. It's incomprehensible because there's nothing to compare it to. It's like trying to describe sand between your toes or snowflakes on your tongue to someone who's lived their whole life in a dark room. It sends the soul flying." —Fredrik Backman, Beartown
"A daughter grows older and draws nearer to her mother, until she gradually overlaps her like a sewing pattern. But a son becomes some irreparably separate thing." —Brit Bennett, The Mothers
"When your children are teenagers, it's important to have a dog so that someone in the house is happy to see you." —Nora Ephron, I Feel Bad about My Neck: And Other Thoughts on Being a Woman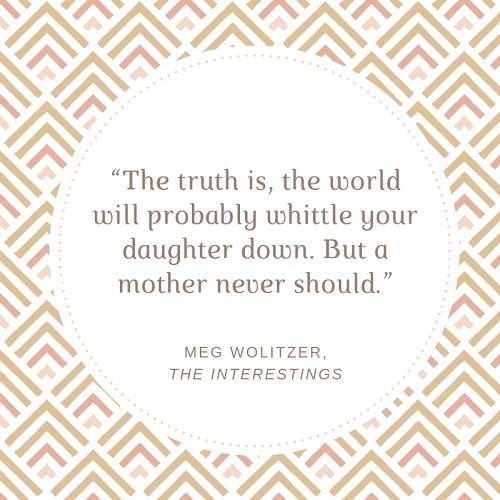 "The truth is, the world will probably whittle your daughter down. But a mother never should." —Meg Wolitzer, The Interestings
"Parenthood was a members-only organization closed to freelancers and temps. Outsiders could visit for lunch, but they tended to leave quickly, overwhelmed by the demands of belonging." —Shanthi Sekaran, Lucky Boy
"The sound of her breathing reminded me, as it so often did, of how vulnerable she was. And how vulnerable we were because of how much we loved her. The fear—that something could happen to her at any moment, something I'd be helpless to stop—had become so omnipresent in my life that I sometimes pictured it growing, like a third arm, out of the center of my chest." —Dennis Lehane, Moonlight Mile
"If you would have your son to walk honorably through the world, you must not attempt to clear the stones from his path, but teach him to walk firmly over them—not insist upon leading him by the hand, but let him learn to go alone." —Anne Brontë, The Tenant of Wildfell Hall
"Black people love their children with a kind of obsession. You are all we have, and you come to us endangered." —Ta-Nehisi Coates, Between the World and Me
"One thing about having a baby is that each step of the way you simply cannot imagine loving him any more than you already do, because you are bursting with love, loving as much as you are humanly capable of—and then you do, you love him even more." —Anne Lamott, Operating Instructions: A Journal of My Son's First Year
Looking for more books and quotes about parenthood? Try these:
Books About Parenting That Tell It Like It Is