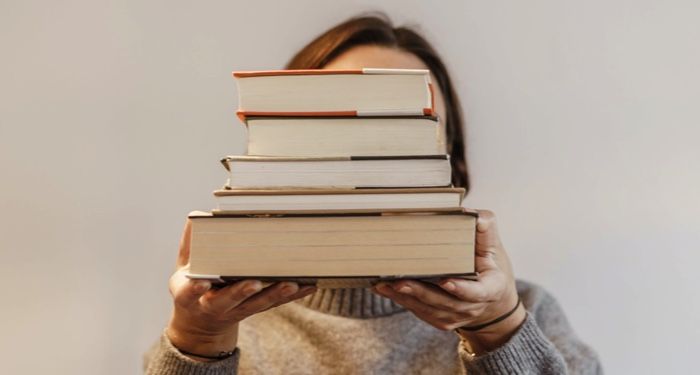 Quizzes
QUIZ: Can You Guess These Famous Authors' Most Read Books?
This content contains affiliate links. When you buy through these links, we may earn an affiliate commission.
Some famous authors are primarily associated with only their most popular book. Others have a huge catalog of bestselling titles. How well do you know your bestsellers from authors across different times and genres? Take this quiz to find out how well you know famous authors' most read books.
Of course, determining which books are "most read" is tricky. There's no central place where all readers record what books they've read. The most used reading tracking website is Goodreads, but it certainly doesn't include every reader or book. However, it is the best tool we have for ranking which books are the most popular among readers today. The answers to this quiz are based on the number of ratings on each book on Goodreads. From my poking around, the results from Goodreads appear to be pretty consistent with other platforms. But they are still admittedly imperfect, especially for non-U.S. authors and books from different points in history.
The quiz will show you correct answers as you go, but I've also included a full list of correct answers beneath the quiz. So don't scroll too far down unless you're ready for spoilers. Alright, let's get to guessing!
Famous Authors' Most Read Books Quiz Results
BE YE WARNED: Spoilers ahead!
I'm including each author below in the order they appeared in the quiz with their four most popular books in order of number of ratings on Goodreads. These numbers were pulled in February of 2023 and may have shifted since then.
Jane Austen:
Pride and Prejudice (3.9M)
Sense and Sensibility (1.1M)
Emma (810K)
Persuasion (640K)
Isabel Allende:
The House of the Spirits (240K)
Daughter of Fortune (126K)
A Long Petal of the Sea (83K)
Violeta (49K)
Khaled Hosseini:
The Kite Runner (2.9M)
A Thousand Splendid Suns (1.4M)
And the Mountains Echoed (350K)
Sea Prayer (54K)
Charles Dickens:
A Tale of Two Cities (900K)
A Christmas Carol (770K)
Great Expectations (760K)
Oliver Twist (370K)
Octavia Butler:
Kindred (172K)
Parable of the Sower (133K)
Parable of the Talents (48K)
Dawn (43K)
Agatha Christie:
And Then There Were None (1.2M)
Murder on the Orient Express (544K)
The Mysterious Affair at Styles (368K)
The Murder of Roger Ackroyd (231K)
Colson Whitehead:
The Underground Railroad (373K)
The Nickel Boys (219K)
Harlem Shuffle (54K)
Zone One (23K)
Ernest Hemingway:
The Old Man and the Sea (1M)
The Sun Also Rises (415K)
A Farewell to Arms (302K)
For Whom the Bell Tolls (278K)
Toni Morrison:
Beloved (400K)
The Bluest Eye (220K)
Song of Solomon (100K)
Sula (80K)
Gabriel García Márquez:
One Hundred Years of Solitude (900K)
Love in the Time of Cholera (475K)
Chronicle of a Death Foretold (170K)
Of Love and Other Demons (70K)
Barbara Kingsolver:
The Poisonwood Bible (713K)
The Bean Trees (147K)
Animal, Vegetable, Miracle: A Year of Food Life (107K)
Prodigal Summer (107K)
Stephen King:
The Shining (1.4M)
It (1M)
The Stand (715K)
Misery (627K)
Colleen Hoover:
It Ends With Us (2.2M)
Verity (1.7M)
Ugly Love (1.2M)
Reminders of Him (771K)
Haruki Murakami:
Norwegian Wood (519K)
Kafka on the Shore (416K)
The Wind-Up Bird Chronicle (261K)
1Q84 (242K)
Neil Gaiman:
American Gods (874K)
Coraline (620K)
The Ocean at the End of the Lane (571K)
The Graveyard Book (507K)
Virginia Woolf:
Mrs. Dalloway (275K)
A Room of One's Own (175K)
To the Lighthouse (165K)
Orlando (80K)
James Baldwin:
Giovanni's Room (114K)
The Fire Next Time (89K)
Go Tell it on the Mountain (62K)
If Beale Street Could Talk (51K)
Edith Wharton:
The Age of Innocence (162K)
Ethan Frome (120K)
The House of Mirth (93K)
Summer (13K)
Jasmine Guillory:
The Wedding Date (132K)
The Proposal (106K)
The Wedding Party (47K)
Party of Two (44K)
Dr. Seuss:
Green Eggs and Ham (729K)
The Cat in the Hat (511K)
How the Grinch Stole Christmas! (390K)
Oh, the Places You'll Go! (385K)
---
We hope you enjoyed this quiz about famous authors' most read books! Next, check out: