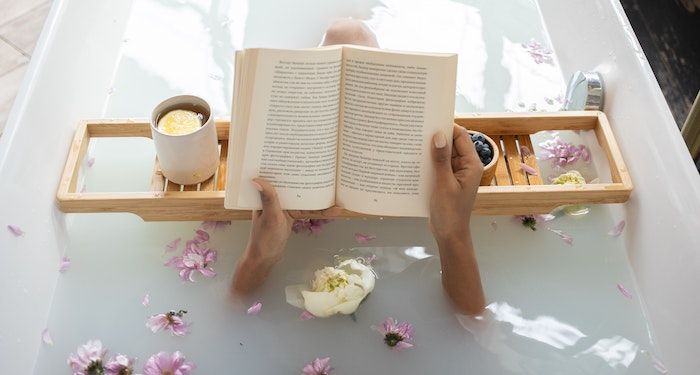 Quizzes
Quiz: Design Your Ideal Bubble Bath and Get a Bath Reading Suggestion
This content contains affiliate links. When you buy through these links, we may earn an affiliate commission.
Turn your faucet to hot, pour out some bath salts, and grab a book from your shelves- it's time to take a bubble bath. There is nothing I like more than taking a long bath with a book. It's a chance to step away from technology, people, and pets. Instead, you can simply sink into the relaxing waters of the bath. So why not design your ideal bubble bath and get a bath reading suggestion?
Now, my favorite format for a bath read will always be a mass market paperback. If they fall in the water, it's not too hard to dry them, and you can hold the book with one hand. Baths are the perfect place to crack open a book and not care what happens to it. The following books do not all come in mass market paperback, so feel free to read in whatever format you prefer.
This quiz is just the sort of thing you can take if you are looking for something a bit different. I always believe a bath is a perfect place to read new genres and authors because I'm less likely to quickly switch to something else. Who would want to get out of a bath to pick another one up?
Design a Bath: Get A Book
You may receive a recommendation for a teen or adult read, a romance, fantasy, or science fiction pick, and any variation of sub-genres. Please design away and your best bubble bath will land you a bath reading suggestion. I wish you wonderful suds and no book duds for your next bath.
Potential Bath Reading Suggestions
A Clean Start With A New Bath Reading Suggestion
A bath affords readers an opportunity to do some self-care multitasking. This fun quiz helps you design your ideal bubble bath and get a bath reading suggestion. However, it is really an opportunity to consider what you want from both your baths and your books. Sometimes a fresh set of books can help. Plus, unwinding with a good book and a long bath is a time treasured tradition.