Humor
13 Urgent Questions About the New E L James Book
This content contains affiliate links. When you buy through these links, we may earn an affiliate commission.
As you all certainly know by now, we woke up on January 24, 2019 to a new day: E L James, author of the Fifty Shades of Grey series, has a new book coming out in April.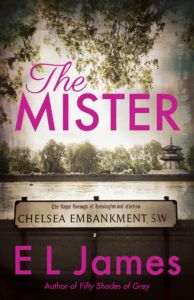 Some of you may roll your eyes. Perhaps you're frustrated with the way the Fifty Shades series impacted perspectives of erotic romance. Maybe you wish E L James would just find a nice non-writing hobby so that you don't have to have another conversation with your mom this summer about what she thinks of erotic romance.
Not me. Once I read the press release, I found myself eagerly anticipating this book. It's not that I can't wait for this book because I'm an E L James fan. (There's far better erotic romance out there, tbh.) It's that I can't wait wait to read this book because I have SO. MANY. QUESTIONS.
Here are the most urgent:
Why is this book called The Mister? What does that even mean? Could it be that…actually no. I don't even have a guess. This is either very clever or will make no sense. But which is it?
The hero is "privileged and aristocratic young Englishman Maxim Trevelyan." Is he named after Maxim magazine? And if not why not?
Is Maxim a common name and I just don't know about it?
This book is set in England. Fifty Shades was set in Seattle. Does James have a fetish for dark, damp places? (No shade—I grew up in the Pacific NW and I get it.)
EXCEPT! Part of the book is also set in the "bleak, forbidding beauty of the Balkans." What are the Balkans "forbidding" in an erotic romance? Is it some kind of sex stuff??
Speaking of Fifty Shades, does The Mister take place in the same world as that series? Are Christian and Ana going to show up at some kind of rich people event in England?
OR. Is it too late to write in a comedic and awkward scene wherein Maxim and [the other person whose name you also won't remember because MAXIM] find that they're sharing a hotel room wall with the very kinky Greys and Maxim calls security because they overhear some stuff and think something bad is happening and then Maxim and Other Person learn about BDSM?
Fifty Shades started as Twilight fanfic. Is The Mister also fanfic of something?
And if so, WHAT COULD IT BE? (Don't say Harry Potter. I need more creativity than that.)
Per the press release, Maxim's longing for Other Person "deepens into a passion that he's never experienced and dares not name." Why does he dare not name it?? And is the reason related to the sex stuff that "the Balkans" have (presumably) forbidden???
Did anyone know that the film adaptation of Fifty Shades Freed won a People's Choice award in November of 2018 for best Drama Movie?
Or that—also at the 2018 People's Choice Awards—Jamie Dornan beat Emily Blunt, Chris Hemsworth, John Krasinski, and Jennifer Freaking Lawrence to win the Drama Movie Star award for his portrayal of Christian?
Is there any way to make the term "mommy porn" illegal between now and April 16? Or at the very least, could "the Balkans" forbid it?
I can't be the only person with questions about this. Leave yours in the comments and we'll puzzle this out together.