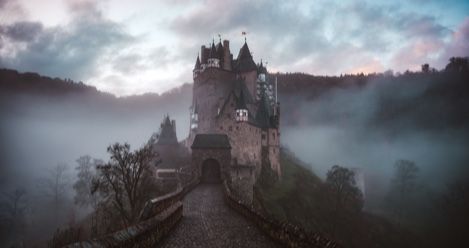 LGBTQ
3 on a YA Theme: Queer YA Fantasy Hitting Shelves Fall 2018
This content contains affiliate links. When you buy through these links, we may earn an affiliate commission.
We're giving away 16 of the books featured on Recommended! Click here, or on the image below to enter:

---
I love a good fantasy, and I love books with LGBTQ+ protagonists even more, so the convergence of these two reading loves is a beautiful thing to behold. Luckily for me (and you!), we have three great queer YA fantasy books out in fall 2018 to snap up! Check them out:
The people of Uztar have long looked to the sky with hope and wonder. Nothing in their world is more revered than the birds of prey and no one more honored than the falconers who call them to their fists.
Brysen strives to be a great falconer—while his twin sister, Kylee, rejects her ancient gifts for the sport and wishes to be free of falconry. She's nearly made it out, too, but a war is rolling toward their home in the Six Villages, and no bird or falconer will be safe.
Together the twins must journey into the treacherous mountains to trap the Ghost Eagle, the greatest of the Uztari birds and a solitary killer. Brysen goes for the boy he loves and the glory he's long craved, and Kylee to atone for her past and to protect her brother's future. But both are hunted by those who seek one thing: power.
In this first young-adult fantasy novel in a trilogy, Alex London launches a soaring saga about the memories that haunt us, the histories that hunt us, and the bonds of blood between us.
I loved the danger and action of this fantasy world, populated with characters whose eyes are fixed to the skies. The falconry and birdlore made for a unique and welcome addition to the YA fantasy canon!
Out September 25.
Teodora di Sangro is used to hiding her magical ability to transform enemies into music boxes and mirrors. Nobody knows she's a strega—and she aims to keep it that way.
The she meets Cielo—and everything changes.
A strega who can effortlessly swap back and forth between female and male, human and animal, Cielo shows Teodora what her life could be like if she masters the power she's been keeping secret. And not a moment too soon: the ruler of Vinalia has poisoned the patriarchs of the country's five controlling families, including Teodora's father, and demands that each family send a son to the palace.
If she wants to save her family, Teodora must travel to the capital—not disguised as a boy, but transformed into one. But the road to the capital, and to bridling her powers, is full of enemies and complications, including the one she least expects: falling in love.
This gender-bendy and transformative fantasy has a playful heart amidst all the poison, danger, and intrigue. I adored the characters and the exploration of gender and desire in Teodora and Cielo's romance.
Out October 30.
Each year, eight beautiful girls are chosen as Paper Girls to serve the king. It's the highest honor they could hope for…and the most demeaning. This year, there's a ninth. And instead of paper, she's made of fire.
In this richly developed fantasy, Lei is a member of the Paper caste, the lowest and most persecuted class of people in Ikhara. She lives in a remote village with her father, where the decade-old trauma of watching her mother snatched by royal guards for an unknown fate still haunts her. Now, the guards are back and this time it's Lei they're after—the girl with the golden eyes whose rumored beauty has piqued the king's interest.
Over weeks of training in the opulent but oppressive palace, Lei and eight other girls learns the skills and charm that befit a king's consort. There, she does the unthinkable—she falls in love. Her forbidden romance becomes enmeshed with an explosive plot that threatens her world's entire way of life. Lei, still the wide-eyed country girl at heart, must decide how far she's willing to go for justice and revenge.
A magical, lush fantasy world is contrasted against the darkness of an evil king and his domination over the Paper Girls, but the love between Lei and Wren burns brightly. I fell hard for this romantic book and the high stakes propelled me through the story in one sitting.
Out November 6.
What fall 2018 YA releases are you looking forward to?
Want more "3 On A YA Theme" posts? Gotcha covered.