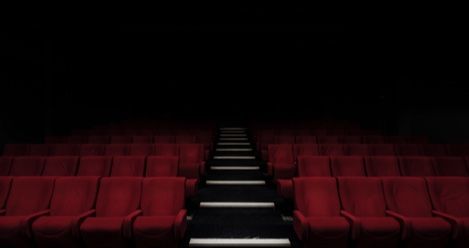 LGBTQ
12 Queer YA Books that Should Be Adapted into Movies
This content contains affiliate links. When you buy through these links, we may earn an affiliate commission.
So far 2018 (aka twenty-GAY-teen) has been a great year for queer YA adaptations: Love, Simon, the first gay teen rom com put out by a major studio, was released in March and it looks like The Miseducation of Cameron Post is finally going to be hitting mainstream theatres after winning big at Cannes last year. Now that we have these two, I want more!! It would be especially great if we could get some representation of bisexual and trans teens and/or queer teens of color! Here are 12 queer YA books that I think deserve a big screen adaptation.
Who doesn't love to see the glitzy glamour and the dark underside of 1920s New York on screen? How about if we add amazing paranormal world-building and major gay and asexual characters? This series is Bray at her best, weaving a dizzying number of plot lines and bringing to life incredibly nuanced and diverse characters. January LaVoy's audio performance of these novels is already stunning, how great would it be to SEE the characters too? Admittedly, this is a series of four books, so it would have to be multiple movies or even a TV series. It would be GLORIOUS.
We really need a teen fantasy YA movie adaptation with some queerness to make up for the de-gaying of Dumbledore, right? How about a YA portal fantasy that pokes just the right amount of loving fun at the genre and features a snarky, obnoxious yet lovable little turd of a bisexual teen boy whose idealized version of the fantasy world isn't quite living up to his expectations? Elliot is such an important, complex bisexual character, whose journey from neglected kid with a zillion walls up to a young adult just learning to lower those walls is so beautiful. I also just really need to see his matriarchal warrior elf friend Serene on screen in all her battle glory. To top it all off: the slooooow burn romance.
Dystopian YA film adaptations desperately need more characters of color, especially queer characters of color, and The Summer Prince is just the YA book to bring that to the big screen, with its cast of entirely non-white and multiple bisexual characters. Set in the lush Brazilian future city of Palmares Tres, The Summer Prince is a story that is a beautiful marriage of art and politics. The plot centers on two artists June and Enki have big plans for art projects that are going to add fuel to the fire of rebellion against the government's limits on new technology. I would love to see the intricate world Johnson has built with its unique combination of technology, art, and tradition brought to visual film glory!
A movie version of Everything Leads to You is the teen lesbian rom com we all need, okay? And what better way to honor this story about a biracial aspiring young set designer and film buff named Emi than adapt it into a film? It's what she would want! While Emi's just blossoming career is going splendidly, the same cannot be said of her love life, even though she's a diehard romantic. Until a mysterious letter from a Hollywood legend leads Emi to the enigmatic Ava. Ava is about to change Emi's world. If this movie were already a real thing, I'm sure it would have a beloved place on my DVD collection shelf next to Imagine Me and You.
This movie adaptation could be like all the best things about every superhero movie you have ever loved, but 100 times more queer. What more could you want! This movie would just be so much gosh darn colorful fun: bisexual Chinese Vietnamese teenager Jess—the daughter of superheroes who is apparently without powers of her own—is forced to take on an internship with her town's worst super villain. There she discovers a secret plot bigger than heroes and villains combined. And also: her crush Abby. I can only dream of the beautiful things that could be done with this story if they had the budget of so many of those lackluster DC and Marvel films.
Lo's book featuring bisexual teenager Reese already has the relentless pacing of a great thriller and a strong X-Files vibe, so it'd be only fitting for it to be made into a movie. Maybe Gillian Anderson could even make a cameo?? When Reese and her debate team partner/crush David's school trip goes awry in what seems like it might be the apocalypse, they wake up in a military hospital after a car accident with no idea how they got there or how they were healed. After they go home to San Francisco, things get weirder and weirder. Part of this weirdness is that Reese meets a girl who catches her eye…and who might not be entirely who she seems to be.
Proxy by Alex London
Gay romances are great, but it would also be wonderful to see queer teens on the big screen in meaty roles that aren't focused on them coming out or on their romantic relationships. Proxy is just the anti-capitalist, dystopian story to fulfill this need. Proxy is about two teen boys, one of whom seems to have every privilege possible, and the other none. But neither of their lives are their own. And it turns out Knox and Syd are going to need to learn to rely on each other in order to survive. If I had my way, this queer YA retelling of The Whipping Boy would get the same all-star treatment as The Hunger Games.
There's something about action-packed books for me that always feel like they'd be great movies. Not only does The Unintentional Time Traveler have great action, it also has time travel, a nuanced exploration of gender identity, and a main character with epilepsy! Jack, the protagonist, signs up for a clinical experiment to try to find new treatments for his epilepsy only to find himself waking up in another time…and another body. Living as Jack today and Jacqueline in the past, the main character increasingly finds him/herself caught between two epochs and two lives. What a great opportunity this adaptation would be for a trans actor, right?
Speaking of great opportunities for trans actors, If I Was Your Girl would be just the amazing coming of age story we haven't seen yet as a major release on the big screen for a teenage trans girl. This book is already written by a trans woman author, narrated by a trans woman in the audiobook format, and featuring a trans girl cover model. Now we just need a film directed by a trans woman and starring a trans actress! Amanda's story of being the new girl at school is beautiful and real, and just the kind of life-affirming and real narrative that would be so great for trans teens to see at the movies.
I'd love to see how the dark vibe of this murder mystery novel starring bisexual protagonist Sophie would translate to film. What kind of eerie score could they come up with? What kind of sets and lighting would best evoke the gloomy atmosphere? How could they best represent the growing tension between the alternating stories of the present and the past? This novel also deals with issues of addiction, drug use, and disability in compelling and realistic ways that would be a welcome addition to teen movies!
Okay, yes, you'd have to make sure you had a good supply of Kleenex handy when you went to see this one in theaters, but wouldn't it be magnificent? Books that are set only on one day are usually a hard sell for me (I find it hard to believe character growth and relationships development over the course of only a day!) but I think a film adaptation of Silvera's futuristic tale of a bi and a gay boy falling in love on the last day of their lives would work really great. Movies have a lot more tools to establish that growth and development over a short span of time. Plus, wouldn't it be amazing to see more Latino queer teen representation at the movies?
This comic clearly needs a movie adaptation because the historical costumes would be INCREDIBLE. I mean, a story about a genderfluid prince who goes out at night as the fabulous Lady Crystallia that is set in Paris at the turn of the century is just begging to be given a gigantic costume budget. Not only would a film version of The Prince and the Dressmaker be visually stunning, the heartfelt story about love, romance, identity, and family would be just the kind of heart-warming fairy tale queer teens deserve!
Which movie adaptations of queer YA books would you like to see? Let me know in the comments!
Want more queer YA posts? Check out this list of 100 Must-Read LGBTQIA YA Books. You might also want to check out 10 Must-Read 2018 Bisexual YA Books.