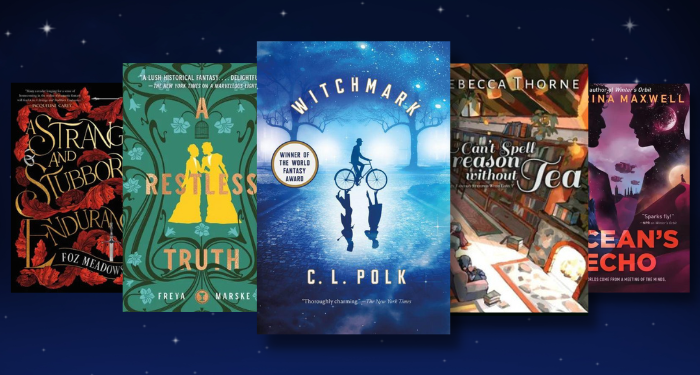 LGBTQ
15 of the Best Queer SFF Romance Books
This content contains affiliate links. When you buy through these links, we may earn an affiliate commission.
If you swoon at the sight of queer dragons, werewolves, and robots, you have made it to the right place. The best queer SFF romance books not only have wonderful queer romance, but also the magic, mystery, and mayhem that accompany science fiction and fantasy. Are we here to wrestle with the meaning of humanity and love? Yes, of course we are. In my biased opinion, there is nothing better.
I want a forbidden love that is legitimately forbidden because if they fall in love an ancient magic rains hell upon the earth. Marriages of convenience simply work better when the two diverging kingdoms may destroy each other (with magic or robots) if your wedding doesn't happen. Give me the introduction scene normal people receive when they learn about all the things that go bump in the night. I need all your secret societies that are actually vampires or werewolves or whatever else you want to throw at me.
I am a bit of a queer SFF romance fanatic. In general, if it has a romance with a ghost, reaper, werewolf, witch, robot, or spaceship, I want to read it. I love it all. Theoretically, I can read the same set of tropes and premises over and over, and I am not sure I will ever tire. I haven't yet, and trust me when I say I could name 20 books about vampires and vampire hunters falling in love right now without breaking a sweat.
However, it is important to recognize we, as readers, now have a wealth of queer stories to pick from, especially in SFF romance, a place that didn't always have hundreds of options. Big publishers like Tor, Tor.com, and Orbit have certainly done their part in publishing queer SFF romance, but queer indie publishers like Hansen House and self-published authors are also dedicated to the job. It is my hope that by continuing to support these books, we will have even more to pick from in the future.