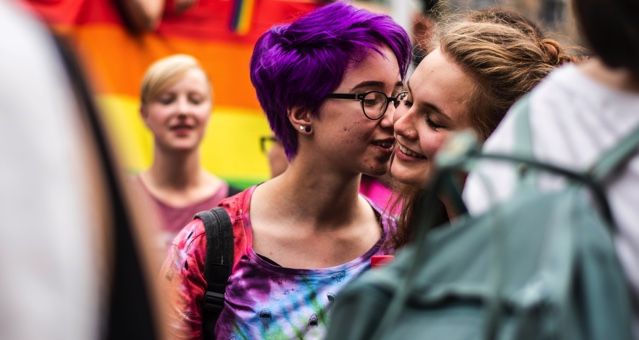 LGBTQ
3 on a YA Theme: LGBTQ+ Self-Help Books for Teens
This list of queer self-help books for teens is sponsored by Libro.fm.
Libro.fm lets you purchase audiobooks directly from your favorite local bookstore. You can pick from more than 100,000 audiobooks, including New York Times best sellers and recommendations from booksellers around the country. With Libro.fm you'll get the same audiobooks, at the same price as the largest audiobook company out there (you know the name), but you'll be part of a much different story, one that supports community. In June, Libro.fm launched their Kids Club and YA Club, which will offer select audiobooks priced under $10 each month, as well as their Summer Listening Challenge–each person to finish will get free audiobook credit and the chance to win free audiobooks for a year! Sign up here to get three audiobooks for the price of one.
---
Figuring out identity can be difficult, especially when it comes to gender and sexual orientation. It's absolutely okay to be questioning, or to identify outside of conventional labels. While there are loads of internet resources on gender and orientation, sometimes it's helpful to have a book to turn to, especially one with vetted information and sources. Here are four great LGBTQ+ self-help books for teens that will help you navigate identity, coming out, social situations, and offer inspiration.
Note: It is difficult to find books on this subject written by people of color. We absolutely need more of these books, because we all exist at the intersection of all of our identities!
Yay! You're Gay! Now What?: A Gay Guy's Guide to Life by Rhiyadh Khalaf
Geared towards people who identify as gay or bi, this personable self-help guide is written by YouTube star Riyadh Khalaf. It includes chapters on identity and labels, coming out, and relationships, as well as resources and advice for family members and friends, written by Riyadh's own family. This book is part self-help, part memoir, part inspirational book for anyone who is coming to terms with what it means to be queer.
The ABC's of LGBT+ by Ashley Mardel
Another great resource written by a YouTube star, this book is really great for anyone who wants a deeper understanding of gender identities and sexual orientations. This book looks at both elements, examining how they are connected and answering all of your questions about orientations and presentations. It's super accessible for those who may be questioning, or want a deeper understanding of the LGBTQ+ community, or any ally wishing to educate themselves!
This Book is Gay by Juno Dawson
This is an empowering book for anyone who knows they're queer, but needs a little instruction manual on what that entails. It's a great combination of advice, education about the queer community and stereotypes, and inspirational anecdotes from LGBTQ+ people! It's also smartly illustrated, making it a great resource for younger members of the community to feel welcome and empowered.
Trans Teen Survival Guide by Fox and Owl Fisher
Written by a trans couple, this book is for trans and nonbinary teens. It's full of advice about identity, coming out, navigating social situations, physical transitions, and making the move to live as your true self. This book always focuses on self-care, and it helps readers chart a path from uncertainty to confidence, with the message that it DOES get better.
---
Want more "3 On A YA Theme" posts? Gotcha covered.