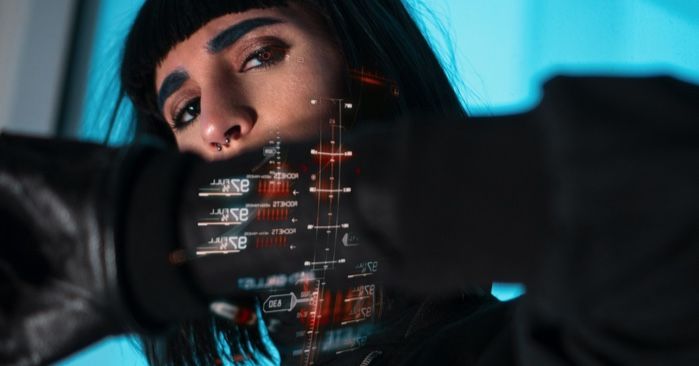 LGBTQ
8 Great Queer Science Fiction Books
There's no better immersive experience than a good science fiction novel that takes you out of this world. With fast-paced action, it's easy to get lost in a book set on a galaxy far, far away, or in a book featuring entertaining sci-fi situations and elements. Not only does energetic action make these books amazing to read, but recently there have been some amazing sci-fi novels filled with powerful queer characters and swoon-worthy queer romances that should be read ASAP. In honor of that, we have compiled eight of the most engaging and, at times, romantic LGBTQ+ novels of different sci-fi genres that invite you to take quite the ride with them into outer space, or into out of this world situations and fantastical places. Make sure to strap in for the ride of your life, and enjoy these amazing galactic queer science fiction books.
Rebelwing by Andrea Tang
In this YA novel, things have just gotten weird for Prudence Wu. One minute, she's cashing in on a routine smuggling deal. The next, she's escaping enforcers on the wings of what very much appears to be a sentient cybernetic dragon.
Pru is used to life throwing her some unpleasant surprises, especially at her prep school, where selling banned media across the border in a country with a ruthless corporate government obviously has its risks. But a cybernetic dragon? That's new to her.
She tries to forget about the fact that the only reason she's not in jail is because some sort of robot saved her, and that she's going to have to get a new side job now that enforcers are on to her. So she's not exactly thrilled when Rebelwing shows up again.
Even worse, it's become increasingly clear that the rogue machine has imprinted on her permanently, which means she'd better figure out this whole piloting-a-dragon thing, fast. Because Rebelwing just happens to be the ridiculously expensive weapon her government needs in a brewing war with its neighbor, and Pru's the only one who can fly it now.
This book features amazing action scenes and diverse characters that we can relate to, and one very insistent dragon.
Bonds of Brass by Emily Skrutskie
In this epic adventure, Ettian's life was shattered when the merciless Umber Empire invaded his world. He's spent seven years putting himself back together under its rule, joining an Umber military academy and becoming the best pilot in his class. Even better, he's met Gal, his exasperating and infuriatingly enticing roommate who's made the academy feel like a new home.
But when dozens of classmates spring an assassination plot on Gal, a devastating secret comes to light: Gal is the heir to the Umber Empire. Ettian barely manages to save his best friend and flee the compromised academy unscathed, rattled that Gal stands to inherit the empire that broke him, and that there are still people willing to fight back against Umber rule.
As they piece together a way to deliver Gal safely to his throne, Ettian finds himself torn in half by an impossible choice. Does he save the man who's won his heart and trust that Gal's goodness could transform the empire, or does he throw his lot in with the brewing rebellion and fight to take back what's rightfully theirs?
Filled with queer romance and action-packed adventure, this story will have you eagerly awaiting to read the sequel, Oaths of Legacy.
The Sound of Stars by Alechia Dow
In this YA book, a misunderstanding two years ago between the leaders of Earth and the invading Ilori resulted in the deaths of one-third of the world's population.
Today, 17-year-old Ellie Baker survives in an Ilori-controlled center in New York City. With humans deemed dangerously volatile because of their initial reaction to the invasion, emotional expression can be grounds for execution. Music, art, and books are illegal, but Ellie still keeps a secret library that brings her utmost happiness.
When young Ilori commander M0Rr1S finds Ellie's library, he's duty-bound to deliver her for execution. The trouble is, he finds himself drawn to human music and in desperate need of more. Humanity's fate rests in the hands of an alien Ellie should fear, but M0Rr1S has a potential solution, which is thousands of miles away. The two embark on a wild and dangerous journey with a bag of books and their favorite albums, all the while creating a story and a song of their own that just might save them both.
This novel has amazing twists and turns and some epic queer characters that bounce off the pages.
On a Sunbeam by Tillie Walden
This graphic novel features two timelines and one epic love story.
A ragtag crew travels to the deepest reaches of space, rebuilding beautiful, broken structures to piece the past together. Two girls meet in boarding school and fall deeply in love, only to then learn the pain of loss.
With interwoven timelines and stunning art, the author truly creates a unique world, features a breathtaking romance, and showcases that some will go through epic quests for true love. You'll be quickly flipping through the pages to find out what happens next.
Gideon the Ninth by Tamsyn Muir
Book one of the adult The Locked Tomb trilogy, the novel unveils a solar system of swordplay, cut-throat politics, and lesbian necromancers.
After being brought up by unfriendly, ossifying nuns, ancient retainers, and countless skeletons, Gideon is ready to abandon a life of servitude and an afterlife as a reanimated corpse. She packs up her sword, her shoes, and her dirty magazines, and prepares to launch her daring escape. But her childhood nemesis won't set her free without a service, and it just might cost her.
Harrowhark Nonagesimus, Reverend Daughter of the Ninth House and bone witch extraordinaire, has been summoned into action. The Emperor has invited the heirs to each of his loyal Houses to a deadly trial of wits and skill. If Harrowhark succeeds she will become an immortal, all-powerful servant of the Resurrection, but no necromancer can ascend without their cavalier. Without Gideon's sword, Harrow will fail, and the Ninth House will die.
This fun and inventive fantasy tale in outer space will have you flipping pages and eager to grab the recent sequel, Harrow the Ninth.
Chilling Effect by Valerie Valdes
In this adult and humorous space opera, Captain Eva Innocente and the crew of La Sirena Negra cruise the galaxy delivering small cargo for even smaller profits. When her sister Mari is kidnapped by The Fridge, a shadowy syndicate that holds people hostage in cryostasis, Eva must undergo a series of unpleasant, dangerous missions to pay the ransom.
But Eva may lose her mind before she can raise the money. The ship's hold is full of psychic cats, an amorous fish-faced emperor wants her dead after she rejects his advances, and her sweet engineer is giving her a pesky case of feelings. The worse things get, the more she lies, raising suspicions and testing her loyalty to her found family.
To free her sister, Eva will risk everything: her crew, her ship, and the life she's built on the ashes of her past misdeeds. But when the dominoes start to fall and she finds the real threat is greater than she imagined, she must decide whether to play it cool or burn it all down.
Featuring an epic and street-smart trans character, Latinx astronauts, and enough humor to keep you wanting more, you'll be dying to pick up the sequel, Prime Deceptions.
The Last 8 by Laura Pohl
In this teen science fiction novel, Clover Martinez has always been a survivor, which is the reason she isn't among the dead when aliens invade and destroy Earth as she knows it.
Clover is convinced she's the only one left until she hears a voice on the radio urging her to go to the former Area 51. When she arrives, she's greeted by a band of misfits who call themselves The Last Teenagers on Earth.
Only they aren't the ragtag group of heroes Clover was expecting. The seven strangers seem more interested in pretending the world didn't end than fighting back, and Clover starts to wonder if she was better off alone. But when she finds a hidden spaceship within the walls of the compound, she will learn lessons about trust and survival.
Featuring queer Latinx characters, this novel is jam-packed with action and unique character development.
I Hope You Get This Message by Farah Naz Rishi
In this dystopian sci-fi YA tale, news stations across the country are reporting mysterious messages that Earth has been receiving from a planet, Alma, claiming to be its creator. If they're being interpreted correctly, in seven days Alma will hit the kill switch on their "colony" Earth, and change everything.
True or not, for teenagers Jesse Hewitt, Cate Collins, and Adeem Khan, the prospect of this ticking time bomb will change their lives forever, as they think about their life choices.
Jesse, who has been dealt one bad blow after another, wonders if it even matters what happens to the world. Cate, on the other hand, is desperate to use this time to find the father she never met. And Adeem, who hasn't spoken to his estranged sister in years, must find out if he has it in him to forgive her for leaving.
With only a week to face their truths and right their wrongs, Jesse, Cate, and Adeem's paths collide as their worlds are pulled apart.
Featuring a lot of emotional moments, this book will stay with you and its characters long after you finish it.
---
---
What other amazing queer sci fi books have captured your heart and you recommend to us? Let us know on Twitter at @BookRiot or let me know on Twitter at @AuroraMiami.