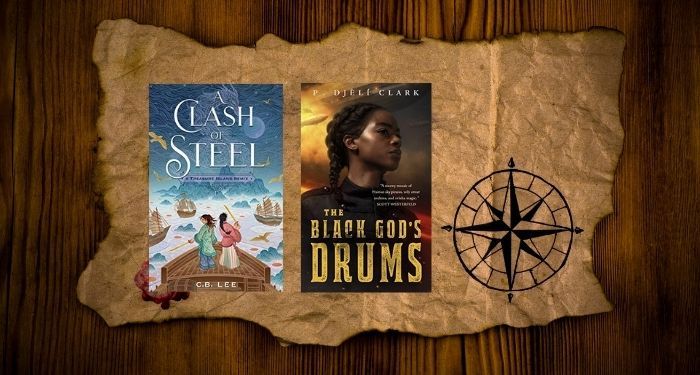 LGBTQ
Ahoy!: Queer Pirate Books
This content contains affiliate links. When you buy through these links, we may earn an affiliate commission.
It's never not a good time for queer pirate, but having watched the entirety of Taika Waititi's new gay pirate dramedy Our Flag Means Death in the last few days, I'm especially ready for all the queer pirate shenanigans. They might not feature Blackbeard in leather, but these queer pirate books have their own impeccable love interests and pirate antics to recommend them.
Despite their penchant for violence, historically, pirates valued equality and democracy, including a system of checks and balances and a benefits package, as opposed to the extremely hierarchical life most had lived as sailors, enslaved people, or indentured servants. And those ideals of equality extended beyond governance, as well. There was even a pirate-specific term for same-sex civil unions, of a sort, referred to as "matelotage." Maybe that's not surprising, given the male-dominated world of piracy. But women were pirates too, with some — though not all — dressing as men, like Anne Bonny and Mary Read. It would be inappropriate to assign modern ideas about gender to them, but it's safe to say that whether disguising themselves or taking up roles usually reserved for men, as with the female pirates who didn't disguise their gender, a certain flexibility around sexuality and gender came with a life of piracy.
It's only appropriate to see that depicted in pirate fiction. From genderqueer pirates to sapphic love on the high seas, these eight queer pirate books depict the best and truest stories about piracy — even if they sometimes add a bit of magic and mermaids along the way.
---
We're got even more swashbuckling adventures for you to read, including the best YA pirate books, 50 pirate books to put some yarrrrr matey in your reading, and 13 swashbuckling fantasy reads.
And be sure to keep an eye out for The Wicked Bargain by Gabe Cole Novoa, a YA pirate novel coming in 2023 featuring a trans masculine Latinx teen pirate. I would like to read that, please and thank you.