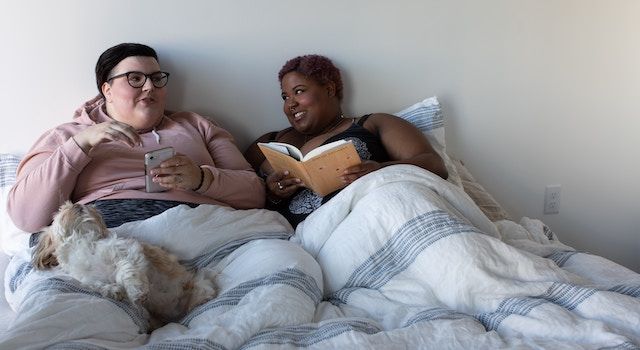 Romance/Erotica
Queer/Pansexual/Bisexual Women in M/F Romance: 10 Books to Read Right Now
This content contains affiliate links. When you buy through these links, we may earn an affiliate commission.
Are you having trouble finding queer/pansexual/bisexual women in M/F romance novels? Me too! Happily, there seem to be a lot more of these than there used to. Here, in no particular order are ten books featuring queer/pan/bisexual women in M/F romance! FYI, based solely on my own romance novel reading tastes, these are all either contemporary or historical, but that certainly doesn't mean there isn't representation in paranormal or other romance sub-genres.
This is the novel that inspired me to write this list! I love how it genderflips the usual script of the nurturing woman who brings a grumpy, intimacy-challenged guy out of his shell. Ginger is a prickly queer tattoo artist who finds herself falling for the sweet guy Christopher who just opened up a sandwich place down the road from her shop. She is working her ass off to pay off her business, keep up with her painting, and in general fighting an uphill battle against her family's heteronormativity and the sexism in her industry. She doesn't have time for a relationship…or is the problem that she's structured her life and her heart so that a relationship isn't possible?
Hannah is a nanny who's having a hard time getting a job after a mistake lead to her getting a criminal record. Nathaniel is a widower with two unruly kids. When Nate hires Hannah, he's not expecting to start falling for her. He's keenly aware of the power imbalance in their employer/employee relationship, and doesn't want to take advantage of Hannah. But he also can't suppress his feelings; Hannah, on the other hand, has no time for this kind of forbidden love or the kind of vulnerability required for a relationship. Not only does this story have bisexual representation in the heroine Hannah, she's also Black, fat, and has anxiety and depression.
Verity and Ash are best friends. Verity wants Ash to help her publish a naughty book. Ash is trying not to fall in love with Verity (and vice versa). Verity is trying to keep her brother out of prison and her business afloat. There's a lot going on in this Regency romance even before Ash discovers he's the heir of a duke. But it's this discovery that finally pushes them to explore their mutual attraction under the time constraints of Ash leaving the life he has known—and Verity—to take up his place in the aristocracy. But can Ash really leave the only woman he's ever loved? Can Verity accept the new kind of man he will have to become? I love that Verity is an 18th century bisexual bookseller; it's like me in a past life!
So Sweet by Rebekah Weatherspoon
Kayla is super broke and desperate, which is the only reason she takes her roommate's advice and goes with her to Arrangements. Arrangements is an online dating site that matches younger women with older men "of a certain tax bracket." The last thing Kayla is expecting to find is a lasting, genuine relationship with Michael, a billionaire who is somehow also sweet and a dynamite in the sack. This is a series of three novellas that all feature the same couple, so check out the next two if you like the first one!
It's hard to believe anyone would give up on ice cream. But Drew has serious negative associations, what with his ex-fiancée dumping him and then writing a ridiculous self-help book titled Embrace Your Inner Ice Cream Sandwich which heavily featured him in a negative light. He still hates ice cream even while admitting to himself that he's attracted to Chloe. Chloe is the bisexual and biracial owner of a cute Asian ice cream shop that his niece loves and therefore Drew has been hanging out at. Can Drew give love (and ice cream) a second chance?
Opposites attract in this romance featuring two protagonists who are both bi and Black! Astrid is peppy, authentic, and convinced that Eddie is crushing on her. Eddie, self-assured and slick, is sure Astrid is delusional. Astrid is a yoga teacher with hippies tendencies. Eddie is a tattoo artist comfortable in the corporate world. But the more time he spends exchanging snarky comments with Astrid, the more it seems like they might actually be the perfect match.
Looking for a workplace age-gap romance that addresses all the ethical issues involved? This is the romance for you. Elizabeth is 27 and has just started a new job at a publishing house in New York. She's so excited about her work, and life in general. Harry is almost 50 and grumpy about his job in publishing, and life in general. When he realizes he has a crush on his new (bisexual) co-worker, he's careful to be conscientious. But that doesn't mean the course of their burgeoning relationship is going to run smooth…
Courtney has never gotten over meeting, and then losing, the love of her life at 17. Max is Courtney's roommate and friend, and no stranger to feeling lost in new adulthood. He's been looking after himself since he was 16. When a chance comes up to go to his childhood home, Courtney's the only one he wants to come with him. We all know what's going to happen on the road trip. But when they come home, will they be able to make the relationship work?
Reverb by Anna Zabo
Mish is a pansexual rock star who's been dealing lately with a stalker whose recent attack landed her in the hospital. Enter David, an ex-military martial arts expert and Mish's new, unwanted bodyguard. Well, she doesn't want him as a bodyguard, but she's happy to have hot kinky sex with him. When the situation with Mish's stalker turns even more serious, David is forced to make a choice between being Mish's lover or her bodyguard. All the other characters (men and women) on this list so far have been cisgender, so I was especially excited to find out that David is a queer trans man.
A rare historical romance with a bisexual woman character, The Craft of Love also features a trans male character alongside some aromantic/asexual spectrum representation. Benjamin and Remembrance are both skilled craftspeople in their respective trades: silversmithing and embroidery. Benjamin is inspired to move outside his small social circle when he needs to find someone to repurpose his late mother's dresses. Their love grows out of mutual professional respect—when was the last time you read that romance plot?
---
Special thanks to Skye Kilaen, book blogger and romance writer, who was a majestic source when I was researching this article!
Wondering why some awesome romance books with queer/pan/bisexual women in M/F relationships aren't on this list? My fellow romance reader and Book Rioter Jess Pryde wrote a great list of women in mixed-gender relationships in romance novels about a year ago, including Wrong to Need You by Alisha Rai and After the Wedding by Courtney Milan, and I didn't want to replicate her excellent work. You also might be interested in my mostly non-romance list of 6 Great Books Featuring Bisexual Women in Relationships with Men. Now tell me your favorite queer/pansexual/bisexual women in M/F romance!