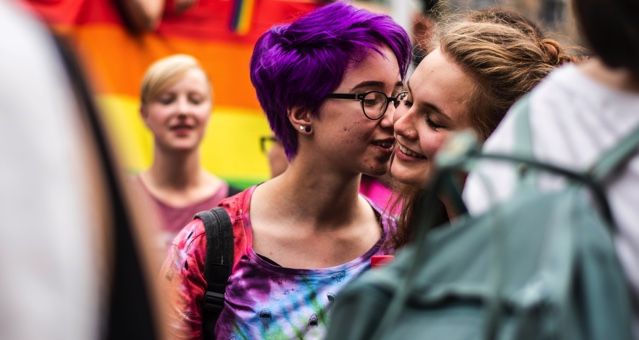 Fiction
7 New Adult Books with LGBTQ Main Characters
This content contains affiliate links. When you buy through these links, we may earn an affiliate commission.
Besides YA, I think that new adult books are some of the most important ones to feature LGBTQ representation. For many queer young adults, the time after high school graduation—whether they leave home for college or other opportunities—is a period of self-exploration and coming to terms with their sexual orientation or gender identity. Reading books with characters facing similar situations can mean the world to an LGBTQ person in their late teens or early twenties and help them feel understood.
Check out these seven best new adult books—defined here as stories featuring college-aged or twentysomething protagonists—with LGBTQ main characters.
Alex Claremont-Diaz, First Son of the United States, hates Prince Henry of Wales. He wouldn't want to touch the stuffy young heir with a ten foot pole. But after a PR disaster, the two have to become frenemies. As Alex gets to know Henry, he sees that the prince is much more than he seems. He's funny, sensitive, and dealing with serious conflicts between his identity and his royal expectations. When Henry and Alex's relationship blossoms into romance, they have to fight for authenticity in this adorable gay romance.
Alice's dreams of an idyllic summer working at her local library shatter when her girlfriend breaks up with her. What's worse, her ex was the first person that she told about her asexuality. Her freshman year of college definitely didn't go as planned, and she struggles to be optimistic about her future career or romantic prospects. But when she starts to fall for her co-worker Takumi, she has to decide whether love is worth the vulnerability. This new adult romance explores what it's like to be biromantic and asexual in a community where such identities aren't always understood.
Eric "Bitty" Bittle was a figure skating prodigy, amateur baker, and vlogger at his high school in Georgia. Joining the Samwell University hockey team during his freshman year seems like a dream come true. But things aren't always team-building practices and pie-baking afternoons for Bitty. Hockey is a lot more aggressive than figure skating, and it's tough for Bitty to catch up with his teammates. Plus, when Bitty falls for the team captain Jack, he's forced to confront feelings that he's never told anyone about before. This volume follows Bitty during his freshman and sophomore year of college as he finds camaraderie, friendship, and maybe even romance with his hockey teammates.
All 19-year-old Jeremey Samson wants before he starts college is a quiet summer. That is, until he meets college student Emmet Washington. Emmet and Jeremey fall hard for each other, but admitting their feelings isn't easy. Jeremey struggles with clinical depression, and Emmet's autism makes it difficult for him to process his emotions. When the two room together at an assisted living facility, supporting each other through their challenges allows Jeremy to heal and their romance to blossom.
From the moment Toni and Gretchen met in high school, they were head over heels. If any couple could survive high school graduation, it was them. But their college plans take an unexpected turn when Gretchen decides to go to NYU instead of Harvard with Toni. Being in a long-distance relationship is easy at first, but it becomes strained with Toni comes to terms with their shifting gender identity. As they drift apart during freshman year, they discover that sometimes the way we love a person changes.
After a tragedy strikes the only person who kept Marin grounded, she leaves for a college in New York —thousands of miles away from her hometown in California. She refused to talk to anyone after the accident, even her best friend Mabel. But when Mabel reappears in her life during Christmas break, Marin can't help the memories from those last few weeks from coming back. And when they do, she must make a choice to let go of her former life for good or confront her past.
Julie is a barista who just happens to transform into a wolf when she's overwhelmed. After she and her girlfriend go to a magic show, their life descends into chaos. A conniving magician transforms their centaur friend Chet into a human. This queer graphic novel follows Julie as she tracks down the magician responsible for Chet's affliction and maybe even save their magical realm.