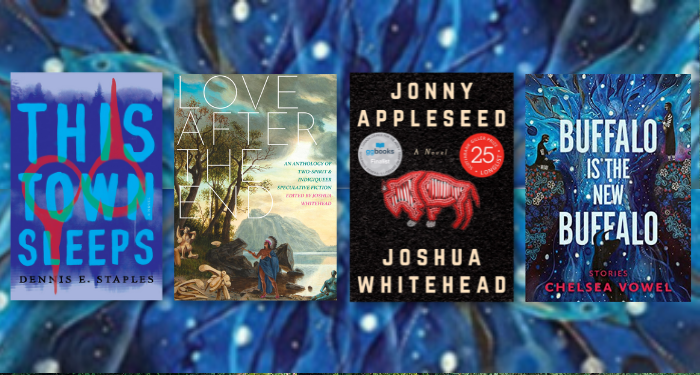 LGBTQ
10 Works of Queer and Two-Spirit Indigenous Fiction You Need To Read
This content contains affiliate links. When you buy through these links, we may earn an affiliate commission.
I spend a lot of time reading, thinking about, and writing about queer books. I make a lot of queer book lists. Over the years, it has gotten easier and easier to make lists of queer books in various sub-genres, or that focus on a particular identity, place, time period, or culture. Browse through Book Riot's LGBTQ+ archives and you'll find hundreds of lists highlighting queer books of all kinds: books about queer parents, LGBTQ+ South Asian books, queer roller derby books, and queer Black romances, to name just a few.
But publishing still has a long way to go, and a lot of reckoning to do, because there are still far too few queer Indigenous stories out there. There are more than these listed in this article, of course, but not nearly as many as there should be. A lot of book lists focusing on queer and Two-Spirit Indigenous literature also include poetry and nonfiction — which is wonderful! Poets like Tommy Pico, Natalie Diaz, and Billy-Ray Belcourt are doing extraordinary work right now. But queer fiction is my first love, and I'm always hungry for more queer stories of every kind. So I've made it my mission to read all the queer Indigenous fiction I can get my hands on.
This list is by no means exhaustive. I've focused on books by Indigenous and First Nations writers in the U.S. and Canada. It's a mix of YA and adult books, and includes contemporary fiction, fantasy and sci-fi, and speculative fiction. These books have opened up new worlds for me. I can only hope that if enough of us get loud enough about the kinds of stories we want to read, publishing will have no choice but to listen. So please join me in loudly celebrating these excellent novels and story collections.
---
Looking for more LGBTQIA2S+ Indigenous books? Frustratingly, publishing still has a long way to go for queer Indigenous stories to get the kind of recognition they deserve. You'll find some queer content on this list of graphic novels by Indigenous authors, and some on this list of sci-fi and fantasy by Indigenous authors. I also highly recommend the poetry of Tommy Pico, Billy-Ray Belcourt, Natalie Diaz, and Gwen Benaway.