This content contains affiliate links. When you buy through these links, we may earn an affiliate commission.
It's Pride month, which means I get to unapologetically talk up queer books all month (as if I don't do that 12 months of the year). For me, Pride has always been about honoring the past as much as celebrating the present. So it's no surprise that Pride has got me thinking about queer historical fiction.
There's definitely not enough queer historical fiction in the world. You might think, given the general lack of queer characters in historical fiction, that queer people sprang into existence sometime in the late 1960s. Obviously, this is not the case. And while we desperately need more historical fiction staring queer people, there are, happily, some wonderful books out there that center queer stories from centuries past.
Not all of these books have happy endings, although many of them do. The queer characters in them have full, complicated, sometimes joyful, sometimes heartbreaking lives. In short: they are human. Yes, there is queer suffering in many of these books, but there is also queer resilience and joy. These books are a testament to the fact that queer people have been here all along. We might not ever know their true names and stories, but we do know that they existed.
Queer historical fiction reminds me that I am a part of a queer lineage that goes back thousands of years. I am forever grateful to these authors for imagining a history in which I can see myself. These books are a homage to our queer forebears, to their struggles and hurts, their loves, their strength. None of these characters ever got to march in a Pride parade, but that doesn't mean they didn't celebrate their queerness in their own quiet ways.
This list includes some books that are not technically historical fiction because they were written in the same time period during which they take place. I've also included some books with queer side characters, because casual queer representation is important, too.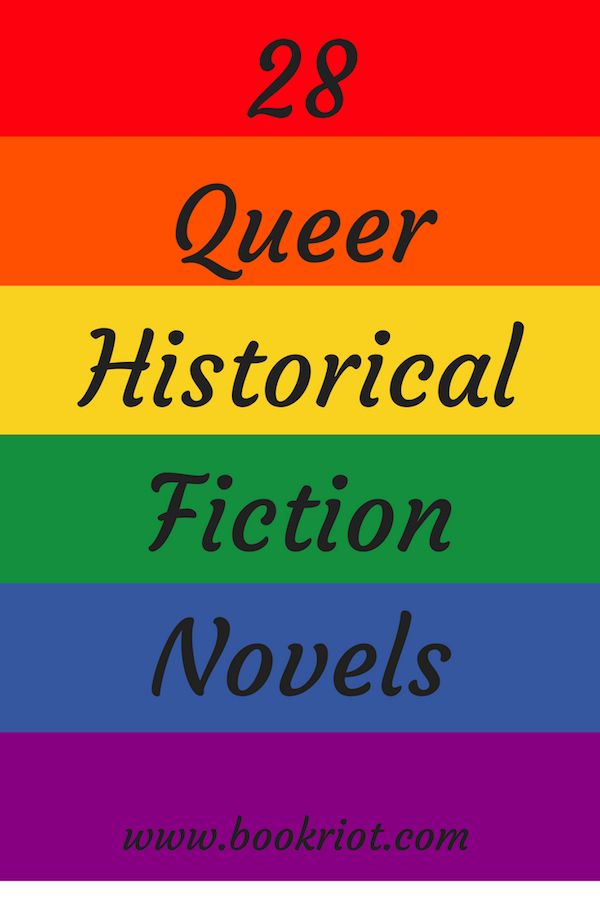 Ancient
This gorgeous and heartbreaking reimagining of The Iliad, told from the point of view of Patroclus, Achilles's lover, is one of my favorite books of all time. The prose is stunning, and the characters come to life in refreshing new ways. It's a book about war, but it's also a love story, and thus it's very tender and gentle, which is quite a feat. Prepare to bawl your eyes out.
Hild by Nicola Griffith
In Griffith's lush and meticulously researched novel about the life of St. Hild of Whitby, 7th century Britain comes to life. This is a long, slow novel, full of gorgeous details, political intrigue, and the complicated dynamics of power and religion. It's also about the strength of women, friendship, and the natural world. Hild is a fascinating and nuanced character whose bisexuality is important to her life and to the story.
18th Century
If you're looking for a queer road trip novel set in 18th century Europe, look no further. After finishing school, Monty sets out on his Grand Tour of Europe with his best friend Percy, determined to finally admit to Percy how he feels about him. But a lot happens as they travel around Europe, including a lot of dangerous (and sometimes hilarious) adventures. This book is a romp of a good time and a great love story.
Hamilton's Battalion by Courtney Milan, Alyssa Cole & Rose Lerner
This romance anthology set in the America during and after the Revolutionary War includes an m/m story about an American soldier and a British officer and an f/f story about a woman who works as Eliza Hamilton's maid and a dressmaker who arrives at the Hamilton mansion.
Gyasi's masterpiece of an epic novel spans ~300 years and follows the descendants of two Ghanaian sisters—one is sold into slavery and the other marries a European slave trader. I really appreciated that she included a queer character in one of the early sections. His story (and much of this book) is heartbreaking to read, but it is absolutely worthwhile.
Set in 1740, She Rises follows Louise Fletcher, who leaves her home on a dairy farm in Essex to take a post as a lady's maid in a busy port town. Everything in this new world is fascinating to her, including her mistress Rebecca, the daughter of a wealthy sea captain. Intertwined with Louise's story is that of fifteen-year old Luke, arrested in a tavern raid and sent to work on a navy ship. These two young people both have to navigate wholly new worlds, which, in the manner of all great stories, eventually collide.
19th Century
This is the first book I can remember reading featuring queer women and a happy ending. Nan Astley is a ordinary oyster girl from Whistable, when she meets and falls in love with Kitty Butler, a male imperator working the music halls. Her love for Kitty leads her on a journey through queer Victorian London—from the music halls and hidden gay bars to the socialist movement. There's romance and friendship and heartbreak, but mostly, it's a book about queer family and the unexpected ways that love (in its many forms) alters our lives.
In Victorian London, Clem, a quiet man who runs a boarding house, falls for one of his boarders, Rowley, a taxidermist. This delightful romance comes with a side order of mystery and murder. K.J. Charles does a wonderful job at creating a sense of queer community in her romances. I loved reading about Clem's group of queer friends, and the safety and comfort they take in each other, in the face of a society that insists they remain invisible.
This gem of a graphic novel is about a prince who loves wearing dresses and a girl who loves making them. Sebastian dons gorgeous gowns and is known about Paris as Lady Crystallia; Frances is a talented seamstress and fashion designer who makes those spectacular gowns. This book is a beautiful celebration of fashion, friendship, love, fabulous dresses, and the joys of being your true self.
It's pretty much impossible to describe this haunting, beautiful, innovative masterpiece of a novel. Narrated mostly by a chorus of ghosts, it is the story of one night in 1862 that Abraham Lincoln spends in a graveyard, mourning the loss of his young son, Willie. Though this book is full of dozens of characters, there are three ghosts that might be considered main characters in a more conventional novel, one of whom is a gay man.
The first installment in Libba Bray's supernatural mystery series set in 1920s New York, The Diviners, is a glittering, creepy, fast-paced romp full of fascinating characters. Queer characters get more screen time in the second book in the series, but appear in this one, too.
This novel takes place in the 1850s and '60s, during the wars the U.S. fought against the Sioux and the Yurok, and the Civil War. It's the story of two soldiers—an Irish immigrant, Thomas, and his lover, John Cole. It's a book about the inherent tension in being complicit in violence and also having violence perpetrated against you, and about the tenderness and love that sometimes hides in the midst of terrible events.
Set in Victorian England, this book is the story of a seventeen year old girl who dreams of a life beyond the confines of her role as a respected doctor's daughter. Instead, she is declared a lunatic and put in an asylum. While there, she slowly puzzles together the events that led to her imprisonment.
A classic lesbian romance first published in 1969, this story, set in nineteenth century New England, charts the the relationship between two women—Patience, a painter, and Sarah, a farmer—as they try to live and love in a community that doesn't accept them readily.
Oliver Rivington is a respectable gentleman, recently returned from war with a leg injury and a desire for a quiet, predictable life. Jack Turner grew up poor in London's slums, and now does what it takes to keep his siblings safe. He's smart, irreverent, and unconcerned with the law. Chaos and romance ensues when the two cross paths.
20th Century
Set in Argentina in the early part of the twentieth century, this novel follows Leda, who travels to Argentina from Italy at age seventeen to meet her new husband. She finds, when she arrives, that he has been killed. She stays, and falls in love with the music of the city: tango. Soon, she decides to learn the violin, and, in order to play in public, joins a troupe of tango musicians as "Dante," a young man, a decision eventually leads to self-discovery.
Moving backwards in time, Sarah Waters explores the lives of a group of lesbian friends in London during World War II. It's a bleak read at times, as these women and their friends and loved ones navigated the horror of the Blitz, but it's also a fascinating look at queer culture in London in the 1940s, during and after the war.
There's a reason this astounding work of literature is a classic. It's beautiful and heartbreaking and, ultimately, so hopeful and redemptive that my heart feels full every time I think about it. Set in the rural South in the 1930s, it's a book that weaves together so many threads, but ultimately, it's a queer love story that celebrates the power and beauty of black womanhood.
Maurice by E.M. Forster
Completed in 1914, but not published until after Forster's death in 1971, this quiet but beautiful novel did what queer books in 1914 were not generally allowed to do: provided a happy ending for its characters. Maurice is a coming-of-age story and a love story, and above all, it's a story about shedding societal notions about a what makes a proper life and being true to your own self.
Baldwin's novel about a young gay man struggling with his sexuality in 1950s Paris is both heartbreaking and upsetting. There's a lot of queer suffering in this one—denial, shame, and self-hatred. But it's also a powerful and moving book about the complexities of love and desire. Baldwin's genius is on full display, as he packs a lot of emotion and insight into such a short book.
This mystery set in 1920s Bombay is about Perveen Mistry, one of the first woman lawyers in India. Perveen (who is fabulous) isn't queer, but her best friend is a lesbian. She plays a minor but important role in the story, and the inclusion of a gay woman in this book only made it even more relevant and feminist.
In this alternate history Western, the American South is overrun with hippos (both feral and tame), thanks to a ill-advised plan by the U.S. government to import hippos for meat. Think outlaws on horses—except instead of horses, hippos. It's a rollicking good time, and features several queer characters, including a nonbinary character.
Gail Carriger's paranormal Victorian London is irresistible—it's a world full of magic and vampires and werewolves, but it also feels historically true, and very familiar. In this delightful romance novella, a young woman employed by a vampire hive falls in love with a smart, dashing scientist/inventor, who, of course, is also a woman.
Ivoe is a girl who loves to read, and reads everything she can get her hands during her childhood in the segregated South in the late 1800s. Eventually, she and her family flee Jim Crow and settle in Kansas City, where she co-founds the first female-run African American newspaper. During the lynchings and race riots of the violent Red Summer of 1919, Ivoe risk her life to speak out against the atrocities she sees around her.
Dancer by Colum McCann
I love every book McCann has ever written, but this one is my favorite. It's the fictional account of the life Rudolf Nureyev, the great Russian ballet dancer. The book spans the breadth of Nureyev's life, from his childhood in the Soviet Union to his continent-hoping fame and the decadence and tragedy of New York in the eighties. Nureyev's story is told here by a wide-ranging cast of characters, from his first dance teacher to the man who makes his ballet shoes. It's a gorgeous, moving, kaleidoscope of novel.
Ruby by Cynthia Bond
Trigger warnings: graphic depictions of violence, both sexual and physical, rape, abuse, child abuse.
Set in the 1950s in rural East Texas, this is the story of Ruby, who flees her violent childhood as soon as she can for the pull of the big city. When she returns home, she's forced to confront everything that happened to her before she left. This book includes graphic descriptions of physical and sexual violence, and goes to some very dark places. It's also a powerful story about the possibly of love and redemption.
Beginning in the late 1930s in New York City, and ranging decades and continents outward (literally—there's a section set in Antarctic), Chabon's masterpiece is hard to describe. It's the story of Joe Kavalier and Sammy Clay, two cousins who pair up to become a legendary comics duo. This book is about comics and friendship and Jewish culture, and though there is a lot of queer suffering, there are also some truly beautiful moments of hope and possibility.
Various Time Periods
This outstanding anthology of queer historical YA features stories from a diverse array of authors writing about many different time periods. There's a wide range of queer people represented, and every story felt like small, beautiful moment of recognition. Whether in 1600s Virginia, California during the Gold Rush, 18th century Amsterdam or 1950s San Francisco—these are all stories about young people discovering themselves and realizing they aren't alone.
Looking for more books about queer people through the ages? Check out 50 Must-Read Books about LGBTQ History and more books about LGBT history.