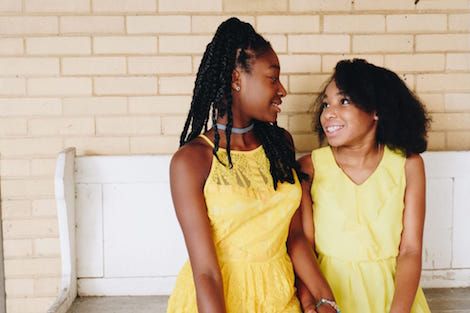 This content contains affiliate links. When you buy through these links, we may earn an affiliate commission.
Every year, the CCBC out of the University of Wisconsin in Madison releases the data on diversity from the children's books they've received in the previous year. This year, once those numbers were released, librarian and activist Edi Campbele took those numbers and put qualitative data to them. Her exploration of themes, representation, and more included a look at queer girls of color in YA.
What she found was chilling: of the books by black authors about black girls in YA published over the last three years, only one—ONE—book featured a queer black girl. That book is Brandy Colbert's award-winning Little and Lion.
This got me thinking about queer representation, specifically of female teens of color in YA lit by authors of color over the last year or so more broadly. Some of these may not be #OwnVoices stories.
Here's a roundup of a few titles about queer girls of color by authors of color, highlighting both a range of cultural backgrounds and sexual identities.
Sixteen-year-old Sana Kiyohara has too many secrets. Some are small, like how it bothers her when her friends don't invite her to parties. Some are big, like that fact that her father may be having an affair. And then there's the one that she can barely even admit to herself—the one about how she might have a crush on her best friend.
When Sana and her family move to California she begins to wonder if it's finally time for some honesty, especially after she meets Jamie Ramirez. Jamie is beautiful and smart and unlike anyone Sana's ever known. There are just a few problems: Sana's new friends don't trust Jamie's crowd; Jamie's friends clearly don't want her around anyway; and a sweet guy named Caleb seems to have more-than-friendly feelings for her. Meanwhile, her dad's affair is becoming too obvious to ignore anymore.
Sana always figured that the hardest thing would be to tell people that she wants to date a girl, but as she quickly learns, telling the truth is easy…what comes after it, though, is a whole lot more complicated.
Alice had her whole summer planned. Non-stop all-you-can-eat buffets while marathoning her favorite TV shows (best friends totally included) with the smallest dash of adulting—working at the library to pay her share of the rent. The only thing missing from her perfect plan? Her girlfriend (who ended things when Alice confessed she's asexual). Alice is done with dating—no thank you, do not pass go, stick a fork in her, done.
But then Alice meets Takumi and she can't stop thinking about him or the rom com-grade romance feels she did not ask for (uncertainty, butterflies, and swoons, oh my!).
When her blissful summer takes an unexpected turn, and Takumi becomes her knight with a shiny library employee badge (close enough), Alice has to decide if she's willing to risk their friendship for a love that might not be reciprocated—or understood.
When Suzette comes home to Los Angeles from her boarding school in New England, she isn't sure if she'll ever want to go back. L.A. is where her friends and family are (along with her crush, Emil). And her stepbrother, Lionel, who has been diagnosed with bipolar disorder, needs her emotional support.
But as she settles into her old life, Suzette finds herself falling for someone new…the same girl her brother is in love with. When Lionel's disorder spirals out of control, Suzette is forced to confront her past mistakes and find a way to help her brother before he hurts himself—or worse.
A cappella just got a makeover.
Jordan Sun is embarking on her junior year at the Kensington-Blaine Boarding School for the Performing Arts, hopeful that this will be her time: the year she finally gets cast in the school musical. But when her low Alto 2 voice gets her shut out for the third straight year—threatening her future at Kensington-Blaine and jeopardizing her college applications—she's forced to consider nontraditional options.
In Jordan's case, really nontraditional. A spot has opened up in the Sharpshooters, Kensington's elite a cappella octet. Worshipped…revered…all male. Desperate to prove herself, Jordan auditions in her most convincing drag, and it turns out that Jordan Sun, Tenor 1, is exactly what the Sharps are looking for.
Jordan finds herself enmeshed in a precarious juggling act: making friends, alienating friends, crushing on a guy, crushing on a girl, and navigating decades-old rivalries. With her secret growing heavier every day, Jordan pushes beyond gender norms to confront what it means to be a girl (and a guy) in a male-dominated society, and—most importantly—what it means to be herself.
Wild Beauty by Anna-Marie McLemore
For nearly a century, the Nomeolvides women have tended the grounds of La Pradera, the lush estate gardens that enchant guests from around the world. They've also hidden a tragic legacy: if they fall in love too deeply, their lovers vanish. But then, after generations of vanishings, a strange boy appears in the gardens.
The boy is a mystery to Estrella, the Nomeolvides girl who finds him, and to her family, but he's even more a mystery to himself; he knows nothing more about who he is or where he came from than his first name. As Estrella tries to help Fel piece together his unknown past, La Pradera leads them to secrets as dangerous as they are magical in this stunning exploration of love, loss, and family.
Who are your favorite queer girls of color in YA books? Want more "3 On A YA Theme" posts? Gotcha covered.
---
Wishlist upcoming releases you're dying to read. Get exclusive podcasts and newsletters. Enter to win swag. Do it all when you join Insiders — and between April 15 and 30, you can get a free 2-week trial for Novel Monthly or Annual!