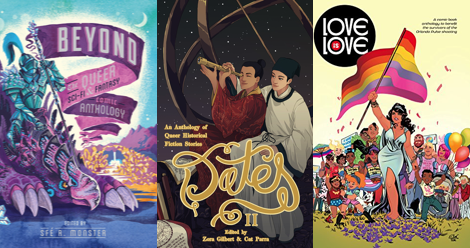 This content contains affiliate links. When you buy through these links, we may earn an affiliate commission.
While I enjoy comics across diverse genres and formats, the ones I love most have one thing in common: they're queer. In my quest to read all the queer comics ever, I've come across some fantastic queer comics anthologies. From historical fiction to contemporary fiction to nonfiction, these are books full of diverse stories that explore the vast range of queer experience.
One thing I love about queer comics anthologies especially is that they're a great way to learn about new comics creators. Several of these books were successfully kickstarted and self-published, and many of the contributors have ongoing webcomics. I don't always love every story I read in every anthology, but for every story I'm lukewarm about, there's one I adore. The best part is that then I can go find more work from that creator.
I love seeing queer stories in mainstream comics, especially when queer creators are the ones telling those stories. But mainstream publishing, comics included, still has a long way to go toward recognizing, celebrating, and promoting diverse queer voices. It's still important to support books like these, books that are created in the community, where queer stories and queer creators are front and center, beautiful and unapologetic.
This is a fantastic anthology of queer sci-fi and fantasy stories, featuring queer characters of all genders and sexualities being magical, exploring space, and brewing potions. There are monsters, dragons, pirates, princesses, robots, and more. The stories range from touching and sad to funny and action-packed. In all of them, queer people are having adventures, being badass, and generally running their own lives.
Note: There are two volumes of Beyond. The second volume focuses on post-apocalyptic and urban fantasy. I didn't like it nearly as much as the first volume, and many of the stories seemed like straight-up fantasy, rather than dystopian. But I still appreciated the diverse styles and stories represented.
When I read the editors' rules for submissions to this anthology, I knew I had to have it. The rules were: 1) stories must feature queer characters, and 2) no one could die. So much of queer historical fiction (and sadly, queer fiction in general) revolves around queer suffering. In this anthology, queer characters throughout history thrive and survive. The stories take place throughout time and across the globe, from Mesopotamia during the reign of Hammurabi to 19th century Bengal to small-town USA in the 1950s. They all feature queer people making progress—whether personal, societal, technological, spiritual, etc. There are no tragic endings.
Note: There are two volumes of Dates and I've only read the second one. The comics in the first volume are much shorter and not organized around a theme.
This anthology isn't out yet, but it was successfully kickstarted, and I am so excited to read it! It's a comics anthology entirely produced—written, drawn, and edited—by trans creators. The book includes fifty-five comics, fiction and nonfiction, ranging from fantasy to slice-of-life to memoir. The selection of art from the anthology on their Kickstarter page is gorgeous, and has me craving more. While waiting for it to come out, I've been enjoying perusing the work of the many talented creators who contributed to this anthology.
This anthology was published in the wake of the shooting at Pulse Nightclub in Orlando. It's a gorgeous book, with short comics of all kinds—fiction, nonfiction, poetical, personal—all celebrating and honoring the queer community, and especially the survivors and victims of the shooting. Some of the comics are stories and some are thoughts and poetry paired with art. It's beautiful and heartbreaking and moving and affirming.
Unlike the other anthologies listed here, this includes work from the past four decades, and serves as a kind of visual history of queer cartooning. It includes work from some big names, like Alison Bechdel and Dan Savage, as well as lesser-known comics creators whose work was never widely circulated, but part of a thriving underground queer comics scene. With so many amazing queer comic artists working today, it's easy to forget that queer comics and cartoons have a long, rich history. This anthology is a great introduction to that history.
Looking for more queer comics? We've got you covered! Check out queer comics by creators of color, standalone comics featuring queer women, more fantastic comics about queer women, queer comics for kids, and queer comics for sci-fi fans.