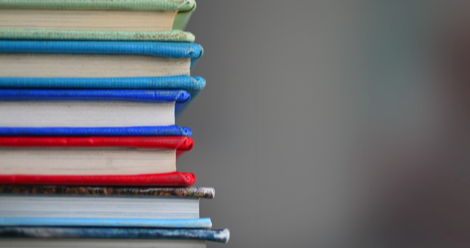 LGBTQ
50 Queer Bookstores to Visit this Pride Month
The independent bookstore seems to be a dying breed. That is even truer of the specialty independent: the bookstore that services a specific clientele, with curated offerings to fit the community. Sometimes, that community is the LGBT community—and that's when we get the queer bookstore. The places are treasure troves of rare and under-appreciated books. They are where you can find the entire breadth of gay YA, every trans autobiography, and all the lesbian graphic novels your heart desires. More than that, they stand as community pillars, providing access to the representation which we so often thirst for. Somehow, I managed to find 50 queer bookstores to visit this Pride Month.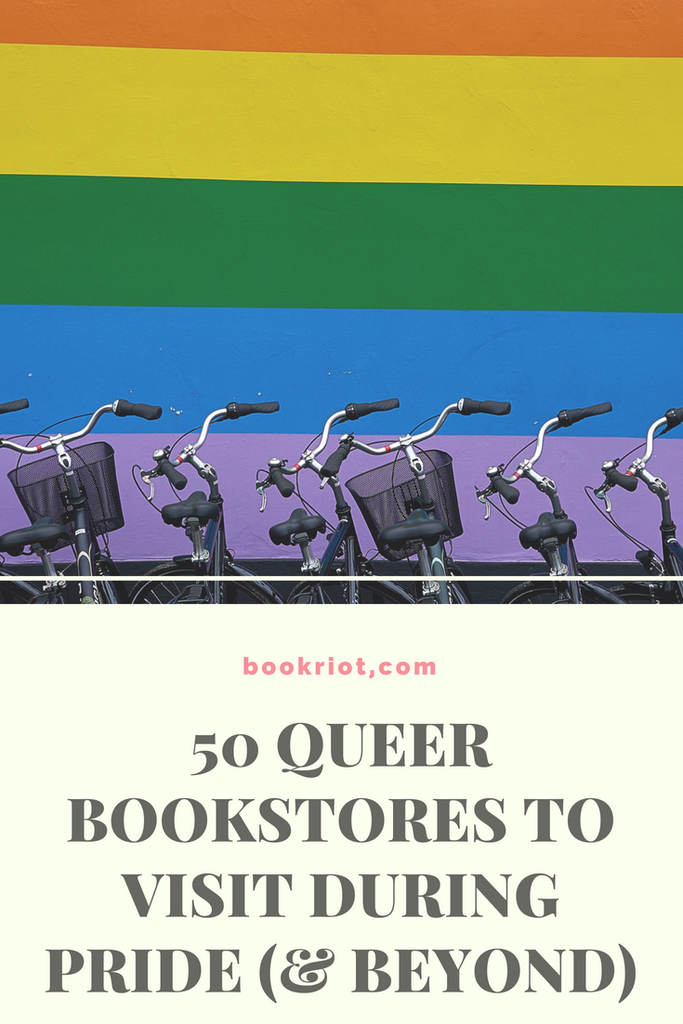 Recently, the Ann Arbor–based bookstore Common Language took to social media to lament their lack of customers. Even with an online store available, the bookstore was staring down the threat of closure, if something didn't change quickly. But then a patron shared their message via tumblr, and Common Language's online sales ballooned.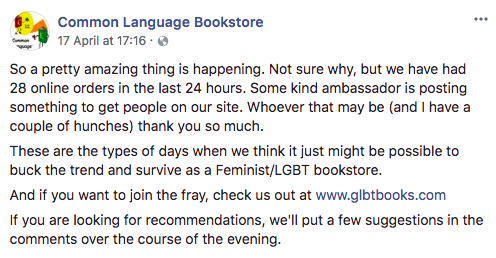 A similar story can be told about the Philadelphia "gaybourhood" institution, Giovanni's Room. The store closed in 2014, after 41 years of service. Thankfully, another bastion of the Philly LGBT+ community, Philly AIDS Thrift, stepped up to the plate and took over, re-opening the bookstore as Giovanni's Room @ Philly AIDS Thrift.
However, not all LGBT community bookstores are so lucky. In 2009, the Oscar Wilde Memorial Bookshop in New York closed for good. Similarly, the East Coast's chain of Lambda Rising bookstores didn't make it past 2010. It is interesting that in a decade where the LGBT community is making great strides politically, where we are allegedly louder and prouder than we have ever been, our community centres are closing down. After all, that it was a bookstore is: a centre of information, of history, of connectedness and sharing ideas. They are more than just a place to buy something to read.
Most of all, the thing about queer bookstores specifically is that they break down a barrier. Too often, I see people bemoaning a lack of LGBT books, or else querying where they should even start to look, or else turning toward only what is popular. Imagine, then, a place where these three problems could be demolished. A place where we can browse, and ask for recommendations, and know that in whatever we pick up to read, we will find our community represented in happy or complex or relatable ways.
When I saw what could be done for a place like Common Language, I took to the internet to research where there were other queer bookstores fighting the good fight. I found so many more than I would have dreamed. With input from other internet-dwellers, I was able to compile a list of fifty bookstores which are LGBT-specific or LGBT-friendly. This wasn't the easiest thing—not being able to travel to all of them, it was a bit tricky to figure out what was still open.
Regardless, and although they don't quite span the globe, they do represent the resilience of our community. I found some which surprised me with their location, and even more which delighted me with their offerings. Most of all, these are more than just bookstores: they are centres of their communities, offering events, spaces to hang out, and of course, scores and scores of books. I am lucky enough to live in a city which has one. Hopefully you are too. Now here they are: 50 queer bookstores, ready for you to visit this Pride Month.
Asia
Oceania

North America
Europe