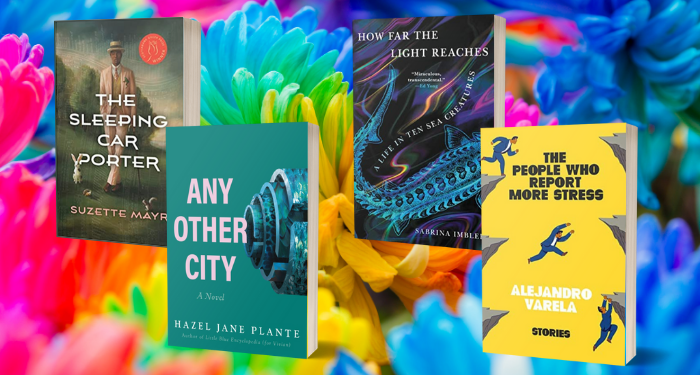 LGBTQ
10 Queer Books To Read Right Now To Make Your April TBR Bloom
This content contains affiliate links. When you buy through these links, we may earn an affiliate commission.
April is officially the beginning of spring! And whether you're ready to leave winter behind forever, or you view the approach of summer with increasing dread (I see you), spring is a great time for readers. It's the season for long evening strolls listening to audiobooks and leisurely weekend afternoons spent reading on your favorite coffeeshop's patio. It's almost time to break out the hammocks and set up all the dusty porch furniture! I personally love the way spring gets me excited about being out in the world again — after month spent reading curled up on my couch, it's invigorating to want to read…well, anywhere else.
There are, of course, tons of queer books to get excited about this April! The new releases this month are downright spectacular — two of my favorite authors have new books coming out. I've also got a few recommendations for queer books to read for National Poetry Month and some ideas for how to wish a queer legend a very happy birthday. Interested in reading some of books from the many prize longlists that were recently announced? I've got you covered with both historical fiction and nonfiction. And don't worry, gardeners: I know it's your season, and yes, I have a queer must-read for plant lovers, too!
For even more queer new releases, sign up for the Our Queerest Shelves newsletter and get queer new releases and recommendations in your inbox twice a week!
As always, you can find a full list of new releases in the magical New Release Index, carefully curated by your favorite Book Riot editors, organized by genre and release date — there's also an LGBTQ filter, so you can search just for queer new releases!
Looking for more queer poetry? Check out 20 Must-Read Queer Poetry Collections and 20 Must-Read Poetry Collections by Queer Women.
---
Looking for more queer books to read this spring? There are lots of great books on last year's Queer TBR for Spring that you might want to pick up if you haven't already! Or check out last month's list of must-read queer books, which includes some exciting new releases.