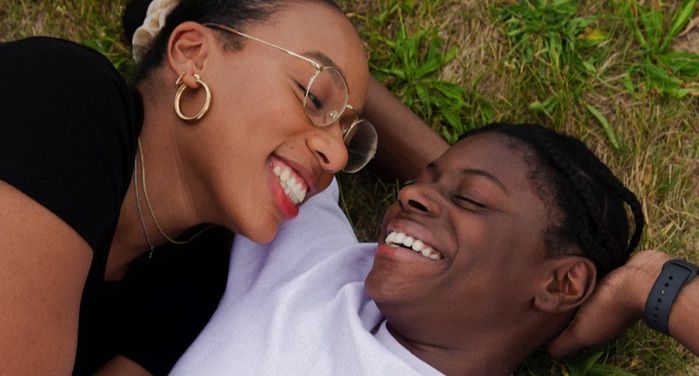 LGBTQ
Dear Netflix: Adapt These Queer Black and Multicultural Romances
This content contains affiliate links. When you buy through these links, we may earn an affiliate commission.
A (somewhat) recent diversity audit reported on by CNN revealed that Netflix could use a little more Latinx content. That article also revealed that researchers had noticed that Netflix was low on content centering Native/Indigenous/First Nations people, content centering disabled people, and content centering LGBTQ characters. (Note: this research was on Netflix original content, not film and television acquired from other studios.) They've actually made significant progress featuring Black main cast members in their programming, going up from 16 to 22 percent in just a couple of years. Of course, some of those are movies like Set It Up or Love Guaranteed, in which one Black love interest is the only one for miles. Or if it's an adaptation of a book, it's one like Bridgerton in which the original material had no Black people as far as the eye could see. And when it comes down to it, while I enjoy those stories and all of the other love stories Netflix has thrown my way, I don't find what I'm really looking for: romantic stories (complete with an HEA) centering queer Black folks.
Don't get me wrong, I'm not saying there aren't any. (Sure, they don't come up on my random scrolling, but since my quest for romantic stories all about the HEA has made it so my algorithm is full of Korean and Filipino romances and romcoms… :shrug-emoji:) But for the most part, I can find one or two of those things, but not all of them. And they're definitely not by queer creators.
(And look. Sure. Ryan Murphy can basically get anything made. I've joked about it before. A lot of his properties have queer Black people in them. But there are definitely blind spots in his ideas, and honestly I just want Black creators involved from the top down when it comes to stories centering Black people. Especially queer Black people.)
So Dear Netflix: Please adapt these romance novels by and centering queer Black people. I promise, we'll all watch the shit out of them.
Standalone Romance Novels to Adapt
Romance Series to Adapt
The Spies Who Loved Her Series by Katrina Jackson
The Brown Sisters Trilogy by Talia Hibbert
The Dreamers Series by Adriana Herrera
The Reluctant Royals Series and the Runaway Royals Series by Alyssa Cole
---
As a bonus, how would you feel about doing with Meaty etc. what Hulu (and Samantha Irby, actually, lol) did with Shrill? Just a nice, ongoing series about a fat Black queer woman with a chronic illness and some maybe life goals, finding herself and maybe even falling in love (or at least, finding a partner.)
And while they're Older YA, I could really do with the ace rep in two very different books:
A Sound of Stars by Alecia Dow, which would definitely need to have the author on board in order to skate the colonizer/colonized line as well as she does. And a big ass CGI budget.
If It Makes You Happy by Claire Kann because yes.
This is obviously not an exhaustive list, just a few things I've actually read that I'd love to see translated for a whole new audience.
So yeah, Netflix. There are people out there making amazing Black queer romantic content. All that we ask, is that you represent them well, with dignity and honor. Don't be HBO. We want happy stuff. Give it to us. It'll be worth it.
(But I was serious about Ryan Murphy.)
---
Read Next: