This content contains affiliate links. When you buy through these links, we may earn an affiliate commission.
This is a guest post by Marissa Cortes. Marissa lives and goes to school on Long Island, pursuing a BA in English Literature with a minor in Creative Writing. She spends a lot of time painting her nails, procrastinating her homework, and buying books she can't afford. One day, she hopes to be a published author. Follow her on Twitter @marissacor.
---
As a kid, I had a lot of weird reading quirks. For a while, I wouldn't read books in the third person. Then it was designating the dusty crawl space beneath my bed as the ultimate reading destination. First, music needed to be playing for me to concentrate, then it was no music at all. Any mention of a love triangle in the synopsis was enough to get me to pass on a title. (Actually, that one has managed to stick.) My twelve year old obsession with Twilight thoroughly exhausted the genre for me. It became something I avoided because I had assumed there was nothing new. As it turns out, I just wasn't looking hard enough.
This summer, I got a job as a pool attendant in a 55 and older community. No one showed up. When they did, it was mostly to sit at the tables surrounding the pool without ever setting foot in the water. It was a dream job, honestly.
After a week of draining my phone battery before the end of my eight hour shift, I turned to my TBR shelf. Every book I ever bought with the knowledge I would definitely never get around to reading it was suddenly rated and added to my Goodreads shelf. My reading challenge goal was within sight for the first time in my entire life. I needed new books to read more than food or water.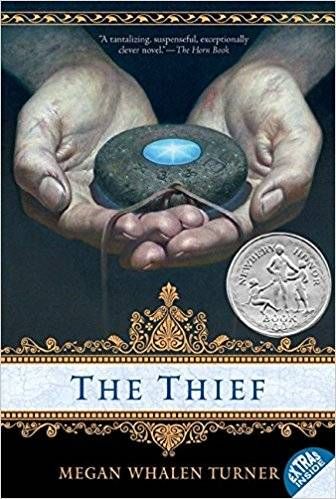 Enter: The Queen's Thief series by Megan Whalen Turner.
I have never loved a book series more than I love The Queen's Thief. For years, it had existed in the periphery of my life. I knew about it and heard good things, but picking it up was a different story. One trip to Barnes and Noble for the newest Saga volume and an impulse buy later, The Thief was in my hands and I had time to kill.
In case you haven't heard of the beauty that is The Queen's Thief, here's a brief primer: Gen is a sarcastic, annoying but endearing self-proclaimed master thief. However, his boasting lands him in a prison in the kingdom of Sounis. The king's trusted advisor, the magus, releases Gen from prison in order to put his thieving skills to the test in a chance to win his freedom.
Inspired by ancient Greece and the Mediterranean area, Sounis is inextricably linked with the politics of neighboring countries Eddis and Attolia. The possibility of war hangs heavy over their heads at every turn. As the series progresses, Turner widens the scope of the world she's created. No matter how far away the books get from Gen, he and his antics remain the heart of the story.
The novels are filled with political intrigue, unreliable narrators, and the difficulty of balancing being a person and being a monarch. The characters possess a dry sense of humor while simultaneously being absolutely terrifying. It's everything I've ever wanted in a series. As a reader, you underestimate the books the same way other characters underestimate Gen. Quite honestly, I'd die for that man.
When I caught up with the series, I was desperate for more. I fell down a rabbit hole of recommendation lists and have not been able to climb out since. If you have suggestions, let me know!