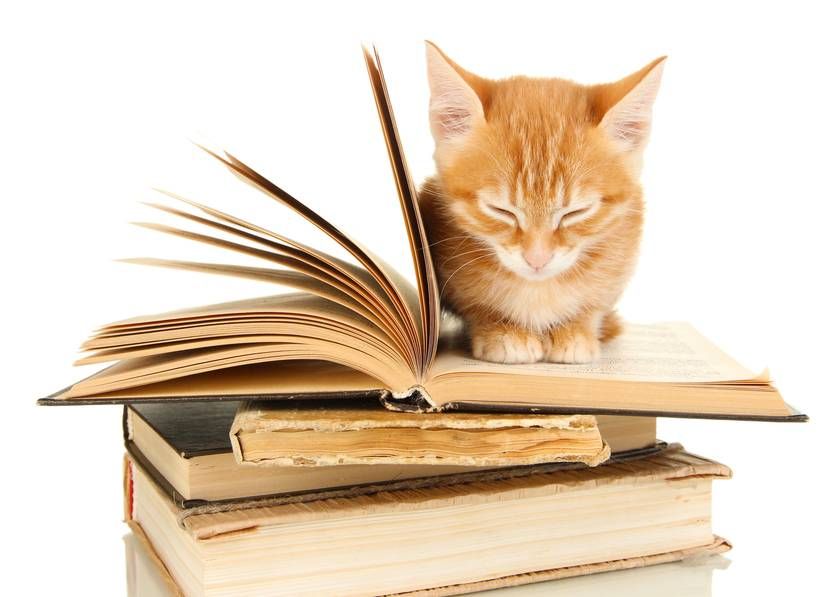 Lists
All Hail Our Feline Overlords: Cat-centric Fiction
This content contains affiliate links. When you buy through these links, we may earn an affiliate commission.
What's better than cats or fiction? Cat fiction.
It's paws-itively purr-fect. (DON'T YOU GROAN — that pun is the cat's meow).
Ahem, anyway.
While there are plenty of well-known dog stories, perhaps (heh purr-haps?) it's time to talk about how it's cats who really rule fiction. Our fine feline companions take center stage not only as major players in these books, but in many of them, they're the narrators, telling stories about their lives as cats or the lives of humans through their points of view.
In honor of our feline overloads, here's a round-up of cat-centric fiction not aimed at young readers (not that those are bad or not worth checking out, but it's a whole different….animal). Interesting to note how many of these books are also titles in translation.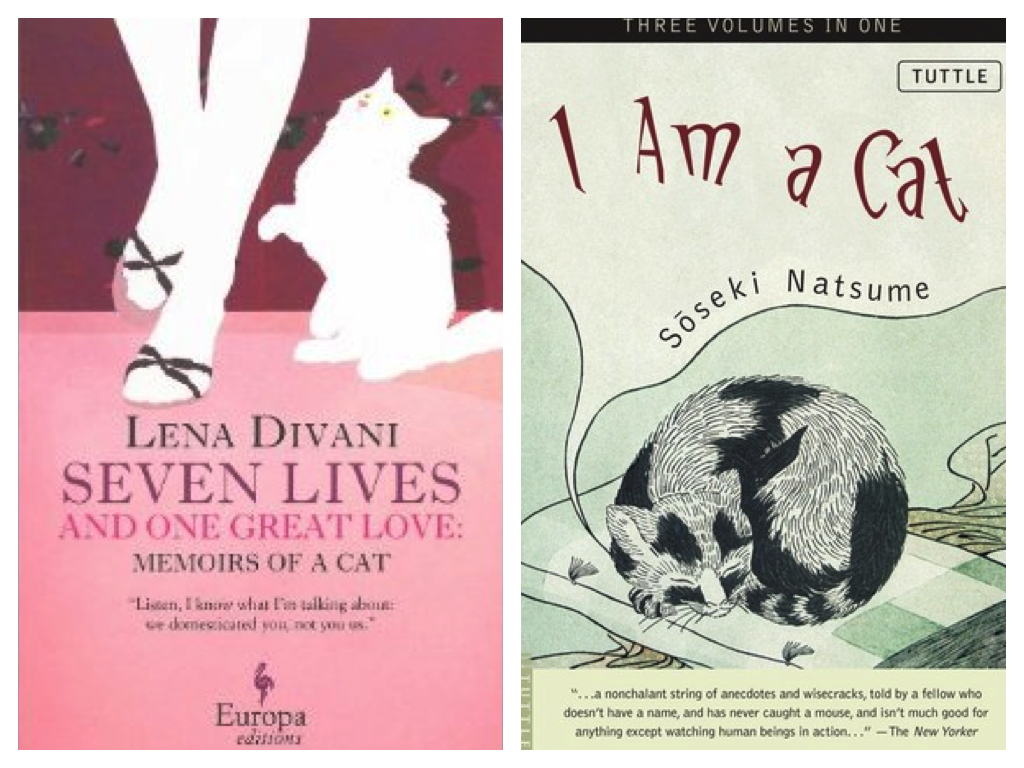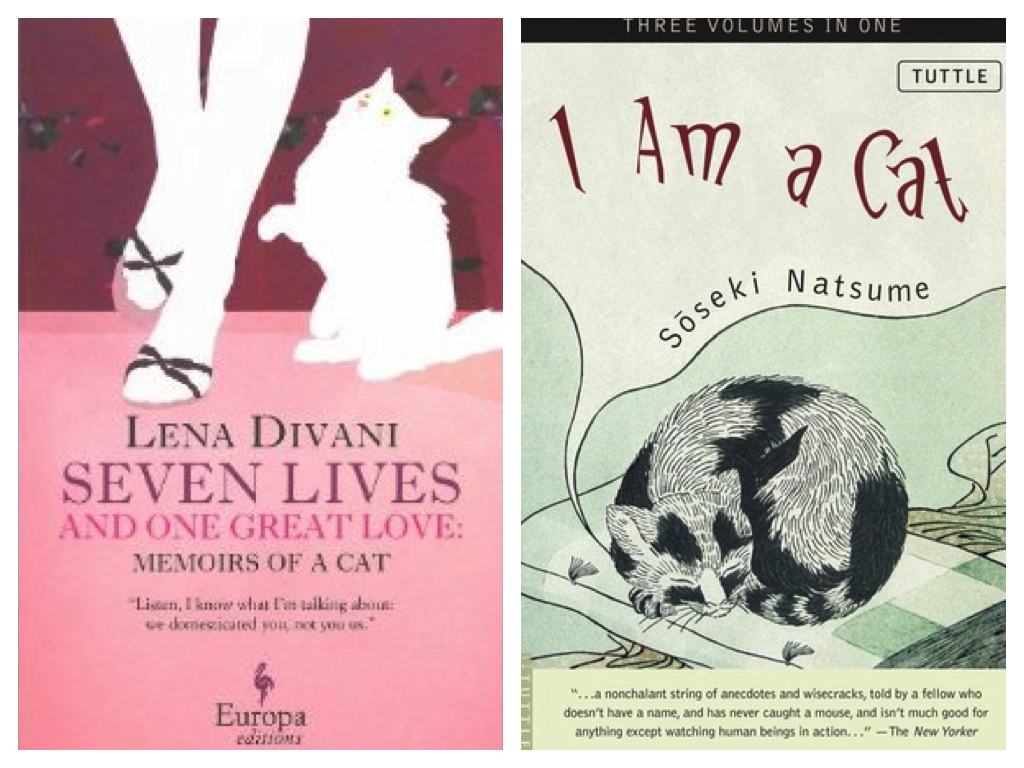 Seven Lives And One Great Love: Memoirs of a Cat by Lena Divani
If you have ever lived with cats you know how cunning, tender, ferocious, underhanded, ingenious, foolish, and completely adorable they can be. The same words can be used to describe the hero of this novel, Sugar. This is the story—a love story of epic dimensions—of Sugar, a cat with a keen wit and a reflective nature, and his human, Madamigella, a writer with a frenetic and impossibly dispersive life.
In this his seventh life, Sugar has countless stories to tell and a remarkable talent for telling them. But his real area of expertise lies in his preternatural ability to domesticate his humans—whatever you do, don't even suggest that we are the ones who domesticate him and his feline relatives!
I Am A Cat by Natsumi Soseki
So begins one of the most original and unforgettable works in Japanese literature.
Richly allegorical and delightfully readable, I Am a Cat is the chronicle of an unloved, unwanted, wandering kitten who spends all his time observing human nature – from the dramas of businessmen and schoolteachers to the foibles of priests and potentates. From this unique perfective, author Sōseki Natsume offers a biting commentary – shaped by his training in Chinese philosophy – on the social upheaval of the Meiji era.
Waiting for Gertrude by Bill Richardson
In Paris's Pere-Lachaise cemetery lie the bones of many renowned departed. It is also home to a large number of stray cats. Now, what if by some strange twist of fate, the souls of the famous were reborn in the cats with their personalities intact? There's Maria Callas, a wilful and imperious diva, wailing late into the night. Earthy, bawdy chanteuse Edith Piaf is a foul-mouthed washerwoman. Oscar Wilde is hopelessly in love with Jim Morrison who sadly does not return his affections. Frederic Chopin is as melancholic and deeply contemplative as ever, and in honor of the tradition of leaving love letters at his tomb, he is now the cemetery's postmaster general. Last but not least, Marcel Proust is trying to solve the mystery behind some unusual thefts – someone has stolen Rossini's glass eye and Sarah Bernhardt's leg. Told in a series of amusing set pieces and intercepted letters, this is a delicious tale of intrigue, unrequited love, longstanding quarrels, character assassinations, petty spats, and sorcery that builds to a steady climax at the cats' annual Christmas pageant.
Old Possum's Book of Practical Cats by T. S. Eliot
These lovable cat poems were written by T. S. Eliot for his godchildren and friends in the 1930s. They have delighted generations of children since, and inspired Andrew Lloyd Webber's brilliant musical Cats .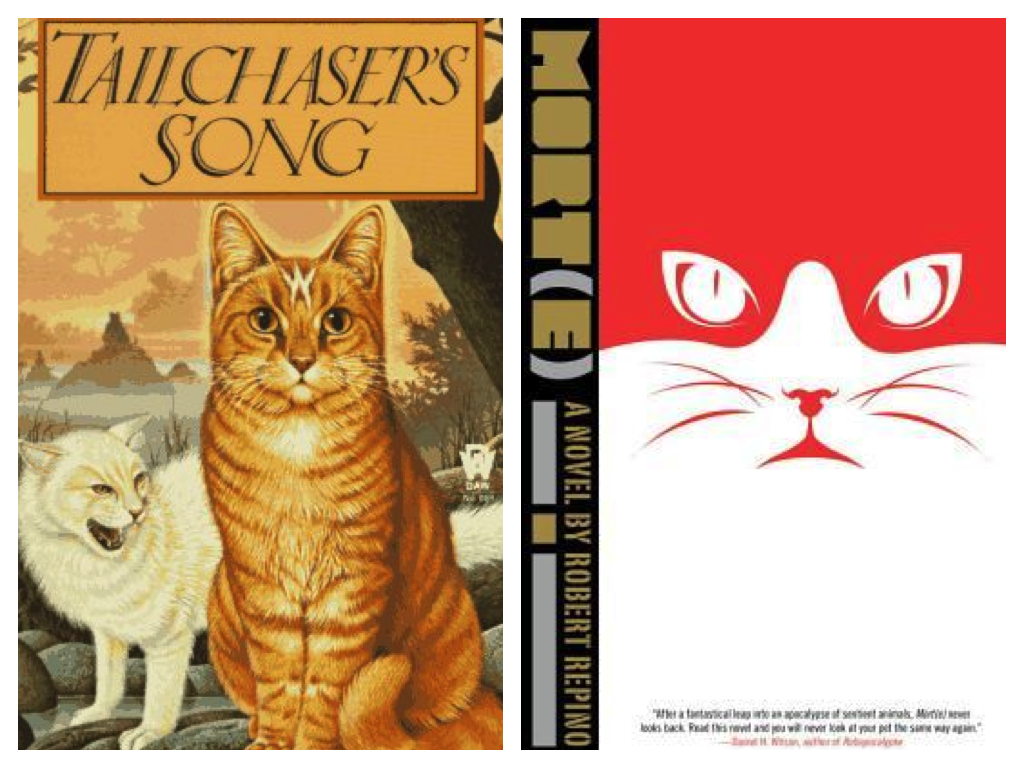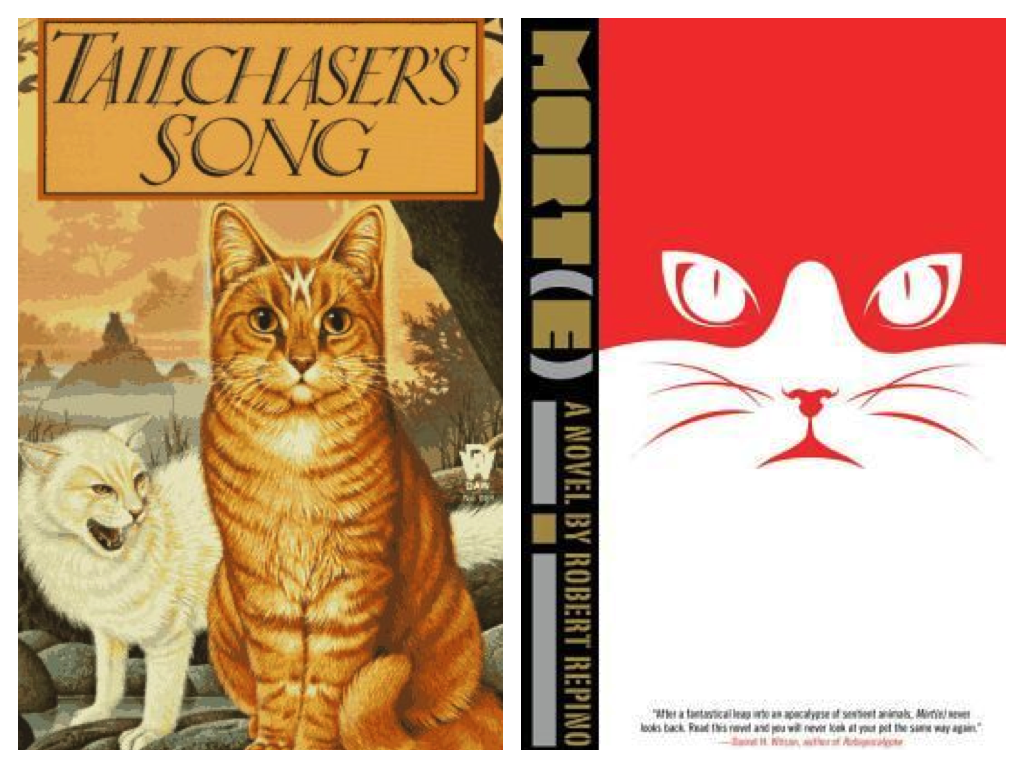 Tailchaser's Song by Tad Williams
The story of Fritti Tailchaser, a courageous tom cat in a world of whiskery heroes and villains, of feline gods and strange, furless creatures called M'an.
Mort(e) by Robert Repino
The "war with no name" has begun, with human extinction as its goal. The instigator of this war is the Colony, a race of intelligent ants who, for thousands of years, have been silently building an army that would forever eradicate the destructive, oppressive humans. Under the Colony's watchful eye, this utopia will be free of the humans' penchant for violence, exploitation, and religious superstition. The final step in the Colony's war effort is transforming the surface animals into high-functioning two-legged beings who rise up to kill their masters.
Former housecat turned war hero, Mort(e) is famous for taking on the most dangerous missions and fighting the dreaded human bio-weapon EMSAH. But the true motivation behind his recklessness is his ongoing search for a pre-transformation friend—a dog named Sheba. When he receives a mysterious message from the dwindling human resistance claiming Sheba is alive, he begins a journey that will take him from the remaining human strongholds to the heart of the Colony, where he will discover the source of EMSAH and the ultimate fate of all of earth's creatures.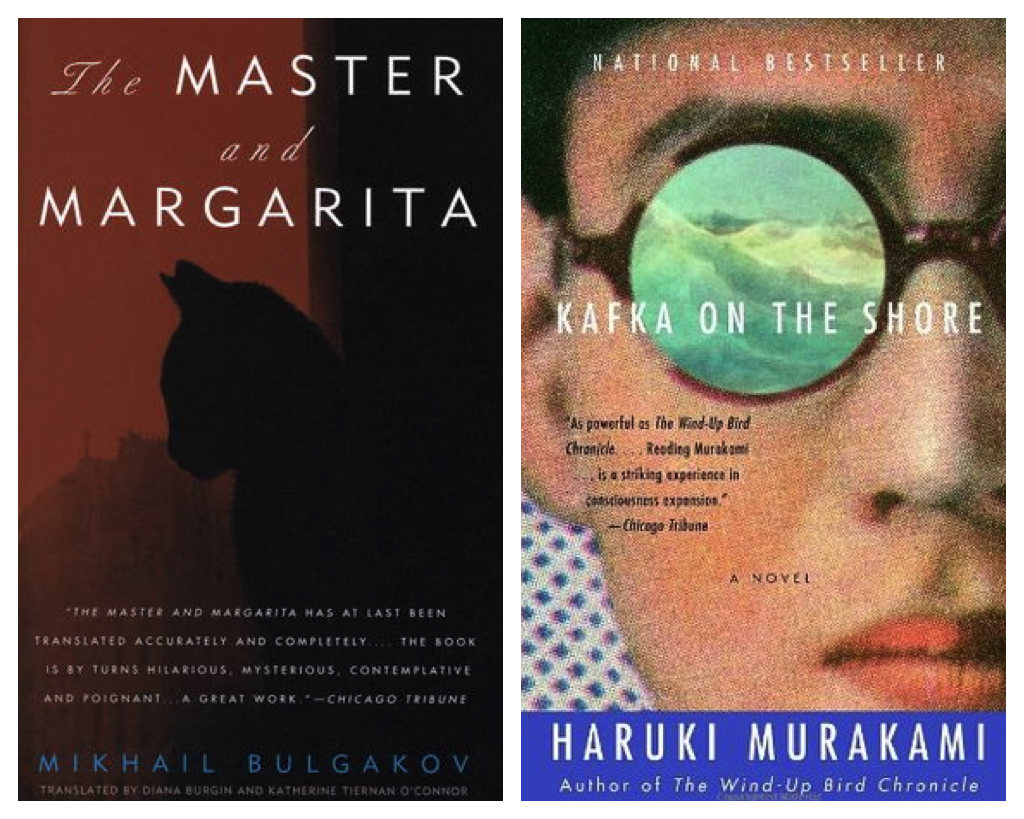 The Master and Margarita by Mikhail Bulgakov
Combining two distinct yet interwoven parts—one set in ancient Jerusalem, one in contemporary Moscow—the novel veers from moods of wild theatricality with violent storms, vampire attacks, and a Satanic ball; to such somber scenes as the meeting of Pilate and Yeshua, and the murder of Judas in the moonlit garden of Gethsemane; to the substanceless, circus-like reality of Moscow. Its central characters, Woland (Satan) and his retinue—including the vodka-drinking black cat, Behemoth; the poet, Ivan Homeless; Pontius Pilate; and a writer known only as The Master, and his passionate companion, Margarita—exist in a world that blends fantasy and chilling realism, an artful collage of grotesqueries, dark comedy, and timeless ethical questions.
Kafka on the Shore by Haruki Murakami
Kafka on the Shore, a tour de force of metaphysical reality, is powered by two remarkable characters: a teenage boy, Kafka Tamura, who runs away from home either to escape a gruesome oedipal prophecy or to search for his long-missing mother and sister; and an aging simpleton called Nakata, who never recovered from a wartime affliction and now is drawn toward Kafka for reasons that, like the most basic activities of daily life, he cannot fathom. Their odyssey, as mysterious to them as it is to us, is enriched throughout by vivid accomplices and mesmerizing events. Cats and people carry on conversations, a ghostlike pimp employs a Hegel-quoting prostitute, a forest harbors soldiers apparently unaged since World War II, and rainstorms of fish (and worse) fall from the sky. There is a brutal murder, with the identity of both victim and perpetrator a riddle – yet this, along with everything else, is eventually answered, just as the entwined destinies of Kafka and Nakata are gradually revealed, with one escaping his fate entirely and the other given a fresh start on his own.
The Cat Inside by William S. Burroughs
Originally published as a limited-edition volume, this moving and witty discourse on cats combines deadpan routines and dream passages with a heartwarming account of Burroughs's unexpected friendships with the many cats he has known. It is also a meditation on the long, mysterious relationship between cats and their human hosts, which Burroughs traces back to the Egyptian cult of the "animal other."
The Fur Person by May Sarton
This enchanting story and classic of cat literature is drawn from the true adventures of Tom Jones, May Sarton's own cat. Prior to making the author's acquaintance, he is a fiercely independent, nameless Cat About Town. Growing tired of his vagabond lifestyle, however, he concludes that there might be some appeal in giving up his freedom for a home. Finally, a house materializes that does seem acceptable and so do the voices that inhabit it. It is here that he begins his transformation into a genuine Fur Person. Sarton's book is one of the most beloved stories ever written about the joys and tribulations inherent in sharing one's life with a cat.
The Wild Road by Gabriel King
Secure in a world of privilege and comfort, the kitten Tag is happy as a pampered house pet–until the dreams come. Dreams that pour into his safe, snug world from the wise old cat Majicou: hazy images of travel along the magical highways of the animals, of a mission, and of a terrible responsibility that will fall on young Tag. Armed with the cryptic message that he must bring the King and Queen of cats to Tintagel before the spring equinox, Tag ventures outside.
But had ancient Majicou somehow misjudged? Tag barely knows his own backyard and is scarely equipped for a quest out into the wide world! But ready or not, Tag is catapulted into the unknown to face danger and win allies in the wily urban fox Loves a Dustbin, and the far-seeing magpie One for Sorrow. Along the way, others will join their quest: Cy, the strange little tabby; Sealink, the globe-trotting cat with an eye for a handsome tom; and Mousebreath, wise in the ways of the world. Together, this band of frightened yet courageous animals will brave the wild road to seek the King and Queen.
But finding the royal pair is only half the challenge, as an evil human known only as the Alchemist doggedly pursues the Queen for hisown ghastly ends. For the Queen, a descendant of the legendary line of Golden Cats, holds the key to an ancient prophecy that foretells enormous power for those who control this rare and extraordinary breed.
And if the Alchemist achieves his goal, the world can never be safe again.
Catfantastic edited by Andre Norton
Two of the biggest names in the fantasy field have put together a unique collection of fantastical cat tales for friends of furry felines. Cats work a special magic in these stories from the future, from the past, and from dimensions people never dream of.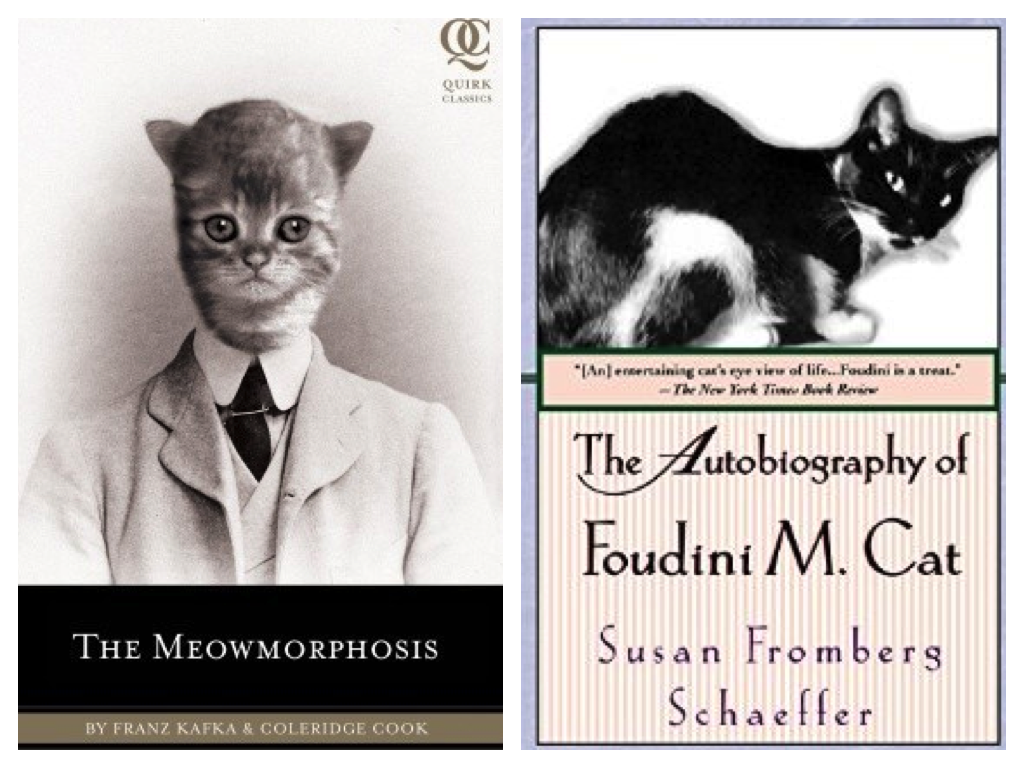 The Meowmorphosis by Franz Kafka and Coleridge Cook
"One morning, as Gregor Samsa was waking up from anxious dreams, he discovered that he had been changed into an adorable kitten."
Thus begins The Meowmorphosis—a bold, startling, and fuzzy-wuzzy new edition of Franz Kafka's classic nightmare tale, from the publishers ofPride and Prejudice and Zombies! Meet Gregor Samsa, a humble young man who works as a fabric salesman to support his parents and sister. His life goes strangely awry when he wakes up late for work and finds that, inexplicably, he is now a man-sized baby kitten. His family freaks out: Yes, their son is OMG so cute, but what good is cute when there are bills piling up? And how can he expect them to serve him meals every day? If Gregor is to survive this bizarre, bewhiskered ordeal, he'll have to achieve what he never could before—escape from his parents' house. Complete with haunting illustrations and a provocative biographical exposé of Kafka's own secret feline life, The Meowmorphosis will take you on a journey deep into the tortured soul of the domestic tabby.
The Autobiography of Foudini M. Cat by Susan Fromberg Schaeffer
Grace the Cat is not at all like me, as she is forever bent on mischief. But because I am an older and wiser cat, she looks to me for counsel, and so I have allowed Grace to prevail upon me to set down the story of my life as a housecat in the human world. . . .
As the irrepressible Foudini M. Cat regales us with his adventures, an exciting story unfolds. After his valiant but frail mother leaves him in search for food and never returns, the starving kitten is taken, hissing and spitting, to a frightening room with cages and men in white coats. Facing the specter of eternal sleep, the homeless cat is adopted by a woman he later calls "Warm." ("All cats like to make up strange names for things.")
From here Foudini enchants us with splendid tales of his unlikely but ultimately poignant friendship with Sam the Dog; their trips between Cold House in the city and Mouse House in the country; his mystical experiences with famous felines of the past; his near-death in a raging river that leads to a profound act of sacrifice; and his introduction to a silly young thing named Grace, which evolves into something completely unexpected.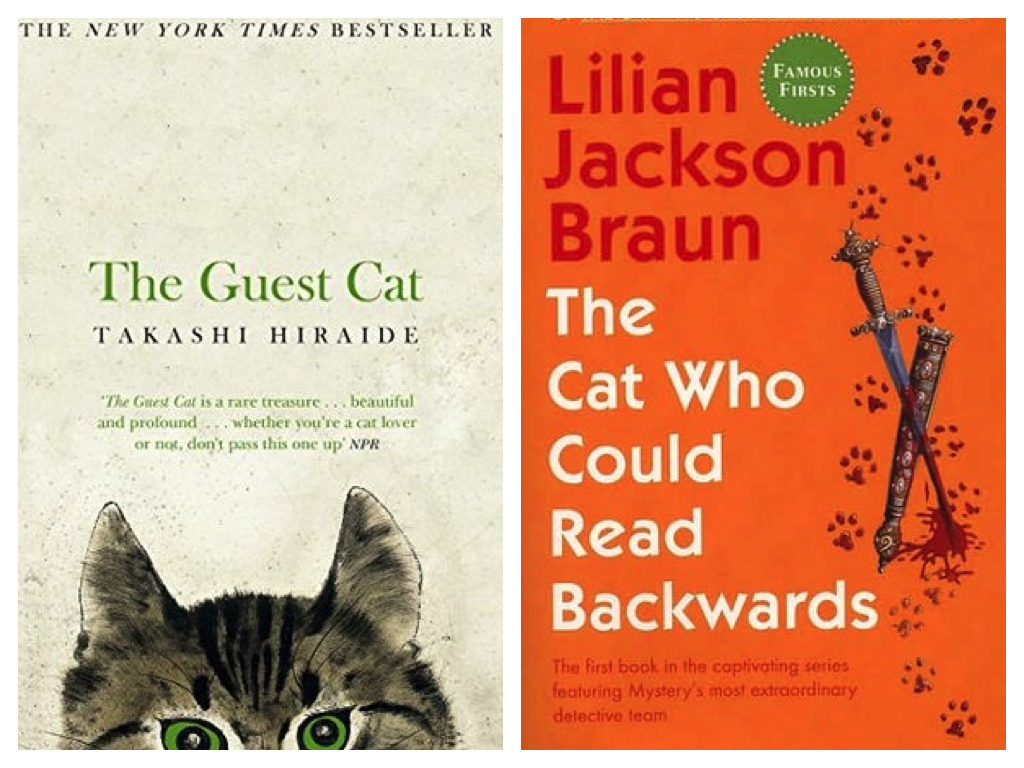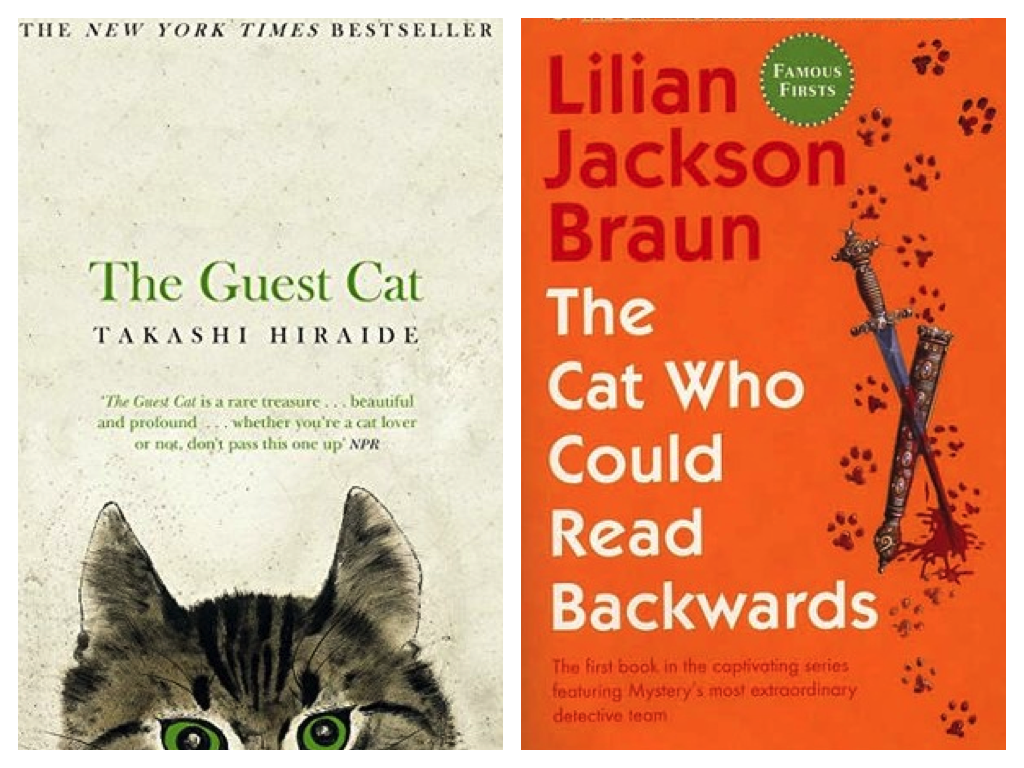 The Guest Cat by Takashi Hiraide
A couple in their thirties live in a small rented cottage in a quiet part of Tokyo; they work at home, freelance copy-editing; they no longer have very much to say to one another. But one day a cat invites itself into their small kitchen. It leaves, but the next day comes again, and then again and again. Soon they are buying treats for the cat and enjoying talks about the animal and all its little ways. Life suddenly seems to have more promise for the husband and wife — the days have more light and color.
The Cat Who Could Read Backwards by Lilian Jackson Braun (and the entire "The Cat Who…" series!)
Jim Qwilleran is a prizewinning reporter who's been on the skids but is now coming back with a job as feature writer (mostly on the art scene) for the Daily Fluxion. George Bonifield Mountclemens, the paper's credentialed art critic, writes almost invariably scathing, hurtful reviews of local shows; delivers his pieces by messenger; lives with his all-knowing cat Koko in a lushly furnished house in a moldering neighborhood, and has a raft of enemies all over town.
He offers the newcomer a tiny apartment in his building at a nominal rent, and Qwilleran grabs it, surmising the deal will involve lots of cat-sitting. Meanwhile, a gallery whose artists get happier treatment from Mountclemens is owned by Earl Lambreth. The acerbic critic has praised paintings there by a reclusive Italian named Scrano; the junk assemblages of Nino, who calls himself a "Thingist," as well as works by Lambreth's attractive wife Zoe.
It's Zoe who, one night past closing, finds her husband stabbed to death in the vandalized gallery. Days later, Qwilleran, guided by an insistent Koko, finds Mountclemens's knifed corpse on the patio behind his house.
And if reading about cats isn't enough and you're looking for the purr-fect (heh HEH) literary name for your furry companion, we have a guide to help you out with that.
____________________
We run a pretty sweet little bookish Instagram account, if we do say so ourselves (and we do). Come check it out.