Nonfiction
All-Purpose Gift Book: THIS IS THE STORY OF A HAPPY MARRIAGE
This is a guest post by Mary Laura Philpott, who is a freelance writer with a book addiction. She is the co-author of the book Poetic Justice – Legal Humor In Verse, a humor columnist at I Miss You When I Blink, and a regular contributor at The Barnes & Noble Book Blog. She's also the artist and writer behind The Random Penguins.
_________________________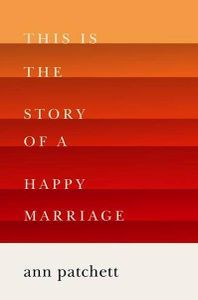 Sometimes a book can help you do a hard job. It can say for you what you can't quite spit out. It can help you give advice that someone might not take from your own mouth. It can offer, on your behalf, inspiration or comfort or comic relief to a person in need. Usually, when I am searching for the right gift at the right time for the right person, it's a book.
Ann Patchett's new collection of nonfiction essays This Is the Story of a Happy Marriage just joined the ranks of my go-to gift books. These spectacular pieces – most previously published in various places but some of them very hard to find prior to now – come together under the title This Is The Story of a Happy Marriage. Wrap it up for these people in your life:
Your young writer friend – Patchett's tales of her early working days paint a realistic picture of the time and practice it takes to polish a craft. There are plenty of nitty-gritty technical notes about plotting and pacing here, too, but much of her advice is of the simple just-sit-your-ass-down-and-start variety. It's the type of solid counsel that made your old writer friends give you Anne Lamott's Bird by Bird 20 years ago.
Highlight this line: "Why is it that we understand playing the cello will require work, but we attribute writing to the magic of inspiration?"
Your friend going through a relationship rough patch – When they need to hear, "You're not the only one who has gone through this," point out the part about "the sacrament of divorce." If they need to stop ranting and make peace with the past, let them read how Patchett writes about her ex with grace and restraint. When you want to say, "Hang in there. You never know what will happen," give them the gift of experiencing the marriage of equals that is Patchett's relationship with her current husband.
Underline this part: "People ask me, If you knew it wasn't working, why did you marry him? And all I can say is, I didn't know how not to."
Your friend who would help you hide a body – We all have at least one friend like this. For Patchett, it was Lucy Grealy. After I'm gone, I can only hope my friends will defend their relationships with me with the same loyalty Patchett shows Grealy. I'd do the same for them.
Tuck the bookmark here: "The ability to have a friend, and be a friend, is not unlike the ability to learn. Both are rooted in the ability to be accepting and open-minded with a talent for hard work. If you are willing to stretch yourself, to risk yourself, if you are willing to love and honor and cherish the people who are important to you until one of you dies, then there will be great heartaches and even greater rewards."
Your friend who has suffered humiliation – It's hard to know how to cheer up someone who has made a mistake or been insulted or gossiped about, but one way is to show that it happens to everyone. Patchett writes about the times she has been shamed: when she divorced after a single year of marriage; when she had to wear a funny hat and serve fajitas to people she went to high school with; when she got ripped to shreds at a speaking event on a conservative college campus. She sets a great example of resilience – the kind that knows how to let go but also maintains a healthy bit of F-you edge. It's handy to share with those who need a roadmap to follow.
Write this passage on the gift card: "Forgiveness. The ability to forgive oneself. Stop here for a few breaths and think about this because it is the key to making art, and very possibly the key to finding any semblance of happiness in life."
Your friend who's crazy for dogs – I used to carry a folded-up copy of "The Sense of an Ending," Patchett's essay about her dog, Rose, from the September 2012 issue of Vogue. It's one of the most beautiful essays about love – animal or human – I've ever read. For me, this book is worth every penny of its price purely to be able to pass along these words in print.
Fold down the corner of this page:
"I came to realize… that there was between me and every person I had ever loved some element of separation, and I had never seen it until now. There had been long periods spent apart from the different people I loved, due to nothing more than circumstances. There had been arguments and disappointments, for the most part small and easily reconciled, but over time people break apart, no matter how enormous the love they feel for one another is, and it is through the breaking and the reconciliation, the love and the doubting of love, the judgment and then the coming together again, that we find our own identity and define our relationships."
Actually, that's not just for dog lovers. It's for anyone. So give the book to anybody. Someone you love. Someone you like. Hell, give it to someone you don't like. It can only do them good.
_________________________
Sign up for our newsletter to have the best of Book Riot delivered straight to your inbox every two weeks. No spam. We promise.
To keep up with Book Riot on a daily basis, follow us on Twitter, like us on Facebook, , and subscribe to the Book Riot podcast in iTunes or via RSS. So much bookish goodness–all day, every day.