Fiction
PUB DAY: 1Q84, by Haruki Murakami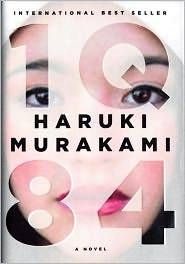 In one respect, this pub day post is misleading. If you can read Japanese and were willing to shell out some serious yen for shipping, you could've hopped on the Japanese version of Amazon, and ordered (most of) Haruki Murakami's new novel 1Q84 two full years ago. The first two volumes (which sold more than a million copies in a month) were published May 29, 2009, with the third published April 16, 2010.
Today, however, Murakami's 944-page magnum opus is available in English for the first time, and amazingly, the fact that the novel's already been in the world for more than two years hasn't dimished the excitement. If you're a real Murakami fan, chances are you're reading this a bit bleary-eyed, having deprived yourself sleep to attend one of last night's many bookstore-hosted 1Q84 midnight release parties.
There are very few literary novelists (any?) who rate "midnight release party" for new novels — especially non-Americans who publish nearly-thousand-page novels in translation. So that should give you just some idea of how passionate and loyal Murakami's fans are — and, again, how palpable the excitement is among literary nerds (including many Book Riot contributors!) for this release.
Regarding the novel itself, it tells dueling stories of two characters in 1984 Tokyo. The title is a play on 1984 — indeed with some Orwellian implications. But, like most of Murkami's novels — The Wind-Up Bird Chronicle (his previous magnum opus), Kafka On The Shore, and Hard-Boiled Wonderland and the Edge of the World — the book seems to have its own dreamlike logic and nothing is ever quite what it seems. This cool book trailer provides only slight more information — but it's freakin' cool:
[youtube]https://www.youtube.com/watch?v=ICjVqeKw10g[/youtube]
Are you a member of the Murakami cult? Have you stayed up all night reading 1Q84, like a kid with a new Harry Potter book? Let us know — please comment below!