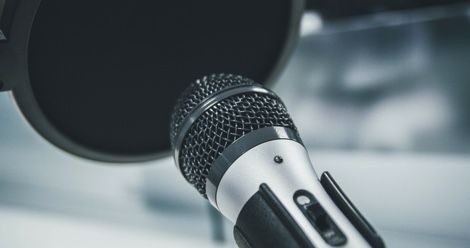 Audiobooks
21 Incredible (and Prolific) Audiobook Narrators
This content contains affiliate links. When you buy through these links, we may earn an affiliate commission.
When it comes to audiobooks, narration is everything. Good narration can elevate already fantastic books to new levels. Bad narration can turn a perfectly excellent book into a chore to slog through. I've listened to a lot of incredible audiobooks preformed by many talented voice actors. It's always exciting to discover a new narrator I adore. But it's even more exciting if that person has narrated dozens (or even hundreds!) of audiobooks. This is the joy of prolific audiobook narrators: knowing there are so many books to choose from, and that all of them will have superb narration, is like winning the audiobook jackpot.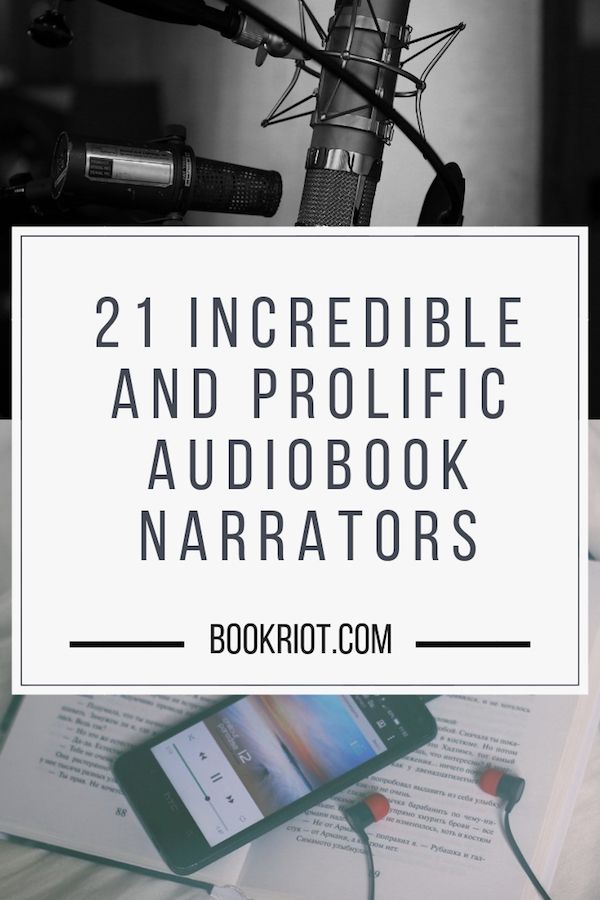 Here are 21 of my favorite prolific audiobook narrators. These voice actors stand out not just for the brilliance of their work, but because they have all narrated at least 20 books. That's hundreds of hours of great listening.
I've included what I consider to be each narrator's "must listen" book. In most cases, this is simply the book that made me fall in love with that narrator. I've also included some of their other notable work, including new releases, classics, and some lesser-known gems.
One of my favorite things about audiobooks is the way a good narrator can create a voice for a character that I never would have imagined myself. This is just what MacLeod Andrews did in Will Grayson, Will Grayson. His voice is so perfect that I cannot imagine the character sounding any other way.
Must Listen: Will Grayson, Will Grayson by John Green and David Leviathan
Other Notable Work: The Feather Thief by Kirk W. Johnson, Loving Vs. Virginia by Patricia Hruby Powell
I fell in love with Campbell's narration after listening to her read The Bright Hour. It's hard enough to narrate a memoir that is not your own, but to narrate a book published posthumously must be harder still. I was blown away by the care Campbell took with this raw and emotional book.
Must Listen: The Bright Hour by Nina Riggs
Other Notable Work: Bird Box by Josh Malerman, Everything I Never Told You by Celestine Ng
You know a narrator is talented when they can convincingly voice the character of Flora 717, a lowly sanitation worker bee. I was completely mesmerized by Cassidy's narration of The Bees—a novel in which humans appear for a total of less than five minutes. Cassidy brought the hive spectacularly alive, and convinced me she's capable of doing just about anything.
Must Listen: The Bees by Laline Paull
Other Notable Work: Rooms by Lauren Oliver, the Maisie Dobbs books by Jacqueline Winspear
The Sun Does Shine, Anthony Ray Hinton's memoir about the 30 years he spent as an innocent man on death row, is certainly not an easy read. Kevin R. Free brings so much emotion to this beautifully written and heartbreaking memoir—rage, hopelessness, fear, humor, despair, hope, love. Everything comes through in his voice, making the book that much more powerful. But serious isn't the only thing he does—he also brings his significant talent to Rick Riordan's middle grade Kane Chronicles.
Must Listen: The Sun Does Shine by Anthony Ray Hinton
Other Notable Work: The Known World by Edward P. Jones, The Red Pyramid by Rick Riordan
It's not every day that you come across a nonfiction book you simply can't put down, but I listened to Evicted practically straight through without stopping. It's an incredible (and deeply upsetting) book, but Dion Graham's amazing narration was definitely part of what made it so compelling. He's also shown his considerable chops narrating such work as Miles: The Autobiography, Shaq Uncut and Letter From Birmingham Jail. A man who can easily slip between the voices of Miles Davis, Shaquille O'Neal, and Martin Luther King Jr. is a champion in my book.
Must Listen: Evicted by Matthew Desmond
Other Notable Work: Dear Martin by Nic Stone, American War by Omar El Akkad
The Art of Fielding was one of the first audiobooks that I lay awake listening to, in bed, in the dark, because I could not put it down. It takes both a stellar novel and an amazing narrator to get me to listen to an audiobook without multitasking. I was blown away by Graham's ability to switch between the four POVs, bringing compassion and depth to every character. He's also narrated a staggering array of science fiction and fantasy titles, which I can't wait to break into it.
Must Listen: The Art of Fielding by Chard Harbach
Other Notable Work: Just After Sunset by Stephen King, Nevernight by Jay Kristoff
Jennifer Ikeda's lush and thoughtful narration was the perfect way to imbibe Girls Made of Snow and Glass, a layered and feminist reimagining of Snow White. Her voice captures the longing, frustration, anger, and power of both heroines, and I found myself completely caught up in the tale. She does great character voices, but the real strength of her narration is the depth of emotion she conveys in even the most mundane passages.
Must Listen: Girls Made of Snow and Glass by Melissa Bashardoust
Other Notable Work: A Discovery of Witches by Deborah Harkness, Fog Island Mountains by Michelle Bailat-Jones
In an effort to diversify the genres I read, I picked up a mystery this year for the first time in ages. Listening to Bluebird, Bluebird on audio was definitely the way to go. JD Jackson pulled me right in, his fantastic narration nearly as compelling as the mystery itself. I was pleasantly surprised by his familiar voice when I started listening to Ta-Nehisi Coates's memoir, The Beautiful Struggle. He's also narrated a lot of narrative nonfiction, history, and biographies, as well as dozens of books for children and young adults.
Must Read: Bluebird, Bluebird by Attica Locke
Other Notable Work: The Beautiful Struggle by Ta-Nehisi Coates, Locomotion by Jacqueline Woodson
January LaVoy's narration of The Diviners series is one of those gems of artistry that makes me proud to be a human. The Diviners is a YA historical mystery series set in a supernatural 1920s New York. The story unfolds through a dizzying array of diverse POVs. LaVoy switches effortlessly among characters of different genders, races, ages, cultures, and nationalities. It's a truly spectacular audiobook, and quickly vaulted LaVoy onto my list of all-time best narrators.
Must Listen: The Diviners by Libba Bray
Other Notable Work: The Lost Kingdom of Bamarre by Gail Carson Levine, Dear Ijeawale by Chimamanda Ngozi Adichie

Sunil Malhotra's quiet and masterful narration of Paul Kalanithi's posthumously published memoir, When Breath Becomes Air, won me over immediately. It's a serious, heartbreaking book, beautifully written, and Malhotra reads it so gracefully. Sometimes a good audiobook calls for many accents and a lot of drama; sometimes, only a clear and heartfelt voice. Though I fell in love with his quieter narration, I have no doubt that Malhotra can do both.
Must Listen: When Breath Becomes Air by Paul Kalanithi
Other Notable Work: Eleanor and Park by Rainbow Rowell, A Place for Us by Fatima Farheen Mirza
I can't imagine that it is easy, as an adult actor, to voice a teenager or a child. In We Are Okay, a quiet and beautiful YA novel about a teenage girl dealing with grief, Jorjeana Marie inhabits the first-person narration like she was made for it. Her narration is beautiful, complex, vulnerable, and so authentic that it's hard to believe it wasn't narrated by an eighteen-year-old girl. Marie has narrated several other YA titles, and I can't wait to listen to her voicing other teenage characters.
Must Listen: We Are Okay by Nina LaCour
Other Notable Work: All the Ugly and Wonderful Things by Bryn Greenwood, Tell Me Three Things by Julie Buxbaum

I love Robin Miles so much that I wrote a whole post about audiobooks she's narrated. From memoir to science fiction, from the creepiest thrillers to the most comforting kidlit—there is literally nothing she can't do. She is the best of the best, the gold standard, a queen among narrators. Luckily for all of us, she has narrated hundreds of audiobooks. It's a true gift to the world.
Must Listen: The Broken Earth Trilogy by N.K. Jemisin
Other Notable Work: The Warmth of Other Suns by Isabel Wilkerson, The Book of Night Women by Marlon James
Soneela Nankani absolutely nails the earnestness, excitement, and angst of 12-year-old Aru Shah in the fantastic middle grade fantasy adventure novel Aru Shah and the End of Time. Her narration is fast and breathless, and totally sounded like a 12-year old girl who's suddenly whisked out of her home into a world of mythic heroes and Hindu gods and goddesses. Nankani's voices are also fantastic, but it was her characterization of the awesome Aru that made me fall in love with her voice.
Must Listen: Aru Shah and the End of Time by Roshani Chokshi
Other Notable Work: The Widows of Malabar Hill by Sujata Massey, City of Brass by S.A. Chakraborty
George Newbern's pitch-perfect voice for the lonely, grumpy, lovable widower in A Man Called Ove endeared me to him forever. He's narrated dozens of books, including mysteries, thrillers, biographies, and more.
Must Listen: A Man Called Ove by Fredrik Backman
Other Notable Work: Moonglow by Michael Chabon, My Ex-Life by Stephen McCauley
Prentice Onayemi's performance in the multi-narrator production of Christodora absolutely blew me away. The character he voices changes and ages throughout the book, and Onayemi captures him with depth, heart, and nuance. I still get shivers thinking about it.
Must Listen: Christodora by Tim Murphy
Other Notable Work: Behold the Dreamers by Imbolo Mbue, The Sellout by Paul Beatty
Will Patton's reading of Maggie Stiefvater's Raven Cycle is so masterful that when I picked up one of the books in print, thinking I might reread it that way, I just couldn't (sorry, Maggie). His brilliant characterizations are so integral to the way I experienced the books that I can't imagine reading them any other way. The series has become a go-to comfort audio-reread (and it's rare that I re-listen to an audiobook).
Must Listen: The Raven Cycle by Maggie Stiefvater
Other Notable Work: Light in August by William Faulkner, Deliverance by James Dickey
David Pittu will always have a special place in my heart because The Goldfinch was the first audiobook I listened to after Harry Potter (I'm 100% team Jim Dale). It's the book that made me fall in love with audiobooks, and to this day remains my favorite audiobook of all time. Thirty-two hours flew by like it was nothing. Whenever I think of it, I'm still in awe of the staggering range of characters and accents that Pittu voices so perfectly.
Must Listen: The Goldfinch by Donna Tartt
Other Notable Work: The Marriage Plot by Jeffrey Eugenides, The Devotion of Suspect Xby Keigo Higashino
I'm slightly ashamed to admit that I'm late to the Austen party. I've spent years meaning to read her novels, but it wasn't until I started listening to Austen on audio that I fell in love. Juliet Stevenson's perfect narration is full of heart and humor and pluck. It's a sheer joy to listen to, and I plan to listen to her read all of Jane Austen and then all of Virginia Woolf.
Must Listen: Northanger Abbey (and all of Jane Austen's novels)
Other Notable Work: The Paying Guests by Sarah Waters, To the Lighthouse by Virginia Woolf
Bahni Turpin's narration of The Hate U Give is—well, perfect. She captures all of the whirling emotions of 16-year-old Starr, bringing her and her world to life in a way that only deepens this already spectacular novel. But it was her characterization of Maverick, Starr's dad, that pushed this one over the top for me. He's one of my favorite dads in literature, and there's always that moment, when listening to an audiobook, when you wonder "is this narrator going to get this beloved character right?" Turpin does more than get it right—she nails it. Luckily for all of us, she's narrated tons of audiobooks.
Must Listen: The Hate U Give by Angie Thomas
Other Notable Work: The Underground Railroad by Colson Whitehead, Bad Feminist by Roxane Gay
I was absolutely enthralled by Simon Vance's narration of The Picture of Dorian Gray. His voice is always so inviting and familiar, whether he's doing a character in a moment of high emotion or reading long passages of exposition. I've found audiobooks are a great way to listen to classics, and Vance has narrated lots of them, including The Wind in the Willows, Oliver Twist, and Paradise Lost, among others.
Must Listen: The Picture of Dorian Gray by Oscar Wilde
Other Notable Work: His Majesty's Dragon by Naomi Novik, Frankenstein by Mary Shelly
I'm convinced Julia Whelan can do pretty much anything, but it was her calm and measured narration of Far from the Tree that made me want to seek out everything she reads. In this YA novel about three adopted biological siblings who find each other as teenagers, Whelan navigates easily between three POVs. It's a serious, lovely, complicated, heartwarming book, and Whelan captures all of that—she doesn't overdo anything, but let's the story speak for itself. Sometimes a book calls for a steady, solid narrater that lets the writing shine, and that's exactly what Whelan did with this YA gem.
Must Listen: Far from the Tree by Robin Benway
Other Notable Work: Educated by Tara Westover, The Great Alone by Kristin Hannah
Sometimes I find myself getting frustrated with science fiction audiobooks, especially stories that are action-heavy and fast-paced. If the narrator's pacing is too slow, the book can drag. There's nothing that drags about Emily Woo Zeller's narration of the fabulous queer superhero novel Not Your Sidekick, however. Her narration is breathless with excitement at times, thoughtful at others, and always had me wanting to listen to just five more minutes.
Must Listen: Not Your Sidekick by C.B. Lee
Other Notable Work: After the Eclipse by Sarah Perry, The Poppy War by R.F Kuang
Bonus Listens
What's better than a book narrated by one of these amazing narrators? A book narrated by more than one of them! Check out these titles for some double and triple doses of awesome:
Looking for more fantastic audiobook narrators? Check out this list of audiobook recs by narrator and this list of 10 of the Best Audiobook Narrators on Audible. Rioter Casey loves many of the same narrators as me, and Rioter Priya wrote a lovely piece celebrating narrator Simon Vance.