This Riot Recommendation asking for your favorite prohibition-era reads is sponsored by Mariner Books.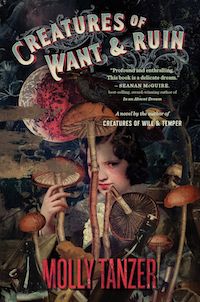 This "charming, confident follow-up to Creatures of Will and Temper" (Publishers Weekly, starred review) picks up in 1927 Long Island, where Ellie West fishes by day and sells moonshine by night to the citizens of her home town. But after Ellie's father joins a mysterious church whose parishioners possess supernatural powers and a violent hatred for immigrants, Ellie finds she doesn't know her beloved island, or her father, as well as she thought.
---
From 1920 to 1933 the U.S. banned the sale, production, transportation, and importation of alcoholic beverages. But where there's a will there's a way, so people were still doing all of that, just illegally and sneakily. So of course it's a great time period to set a story—and we want to know those stories! Tell us your favorite prohibition-era reads down in our comments—paired with your favorite drink if you'd like—and next week we'll have a nice prohibition-era reading list for you!