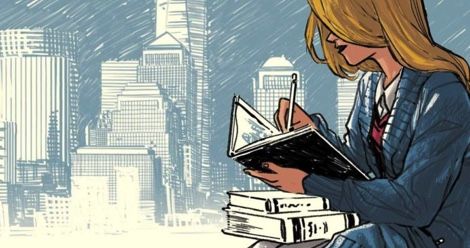 This content contains affiliate links. When you buy through these links, we may earn an affiliate commission.
We all know the expression "you can't judge a book by its cover." I usually try to follow this mantra when choosing books and make sure to research a title before being swayed by a beautiful teal title or adorably inked end papers. The one type of book where I completely disregard this saying is the graphic novel. Their striking covers and extraordinary artwork are what draws me to these books.
Recently, I checked Tenements, Towers, and Trash: An Unconventional Illustrated History of New York City by Julia Wertz out of the public library. In the book, Wertz writes and illustrates New York City's little-known histories.
On one page, she meticulously shows the Willoughby Theater—a theater that opened in 1913 and closed in 1951. My last name is Willoughby and my husband is a theater teacher. I thought, "We need this page framed and hung on our living room wall." Tearing the page out of the library book was out of the question. I then considered scanning and printing the page. Other people must have the same idea because there is a plea from the author at the beginning of the book asking people not to do this. I respected her wishes and abandoned this plan, too. Finally, I considered buying a personal copy of the book. Then I could not bear the thought of ripping out a page and possibly spoiling the binding of a brand new, hardback book. Instead, I snapped a photo of the page and texted it to my husband, who said, "This would look great framed in our living room."
Here is a list of four graphic novels whose pages are beautiful enough to frame:
Graphic Novels that are Pretty Enough to Frame
In Tenements, Towers, and Trash, Wertz shows us secrets and "lost histories" of New York City. Using black ink on white pages, Wertz contrasts the New York of today with that of the past. She provides histories and illustrations about such people as "Nellie Bly—the Intrepid Journalist" and "Lizzie Halliday: the Forgotten Serial Killer Arsonist." Like Charles Dickens and Benjamin Franklin, Wertz is also a self-proclaimed urban explorer. She takes long walks through a city that is home to subways, bookshops, and boat graveyards. From these walks, she illustrates many things including entire city blocks, street cleaning vehicles, pneumatic tubes, and art deco doors of Manhattan, creating a book that is an illustrated meander through the city she loves.
2. Jane by Aline Brosh McKenna and Ramon K. Perez
Jane is a modern-day retelling of Jane Eyre by Charlotte Bronte. In this version, orphaned Jane works as a fisherwoman in New England before moving to New York City to attend art school. While in New York, Jane becomes a nanny for Adele and her mysterious father, Rochester, who houses many secrets in his upstairs rooms. Perez illustrates Jane's years along the New England coast in muted, watery grays and blues. As Jane moves to New York, the illustrations change to black lines and brighter colors, showing a city where Jane feels truly alive.
In 2016, Jamie Rhodes lived on-site at Scotney Castle in Kent, England. He used the research from this year to write five stories. A different artist illustrates each story, that details different eras in the castle's history. For example, a story about the Peasants Revolt is drawn using fiery oranges and stark blacks, while a story from the Victorian era about a family obsessed with recent findings about health and science is drawn in smudged grays and blacks.
4. Dam Keeper by Robert Kondo and Dice Tsutsumi
This is a lush and beautiful children's graphic novel about a dam that protects a peaceful village from a deadly, black fog. Pig's father built the dam and now entrusts Pig with maintaining the dam and protecting his hamlet. Each day, Pig winds the windmill that blows the mysterious fog away. One day, the fog encompasses him. Pig must find a way to make it home through the fog and back to safety. The illustrations look almost as if they have been felted and convey a fog that permeates the characters' existence.
Prints for Purchase
Instead of ripping apart books, consider visiting an illustrator's website. I visited Julia Wertz's site and found many of her illustrations are available for purchasing and framing.
Interested in learning more about the artists behind graphic novels and comics? Check out this post about artists to watch.