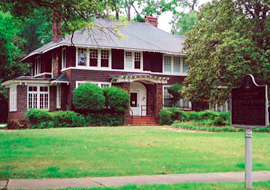 It's one of the most exciting and one of the saddest sports times for someone like me. I dig college hoops, but I hardly find the time to watch most games. Iowa State's been playing evenings on Mondays and Saturdays, so that's not too bad…but then it's on their network sometimes, so I have nowhere to watch! It's also but a few weeks before pitchers and catchers report to spring training and even MORE weeks before the baseball season starts in full. That's the sad part.
The exciting part is that the biggest stage in football is coming up and it's the 50th anniversary of the first event. That's right, we're 50 years removed from Vince Lombardi's Packers (boo!) beating down the upstart AFL's then-marquee team, the Kansas City Chiefs. This year, we've got the now-upstart Carolina Panthers—led by 85 Bear Ron Rivera!—against the grizzled veterans in Peyton Manning's Denver Broncos in what will hopefully be a better game than the last time the Broncos were in the Super Bowl.
Given that we're at such an exciting time in football, I thought to talk about the only football (that's football, not futbol) manga I know of: Artist Yusuke Murata (fans nowadays may know this name from the One-Punch Man manga!) and writer Riichiro Inagaki's Eyeshield 21.
Eyeshield 21 ran for seven(?!) years in Weekly Shonen Jump, the premiere boys magazine over in Japan, and was published in its entirety by Viz Media stateside despite sports manga doing historically poorly in both sales and popularity in the United States. I, for one, am thankful for Viz for getting the whole run out there because, if nothing else, Eyeshield 21 is worth it for its art. It's about this gofer named Sena Kobayakawa who's honed his running technique in the hallways of schools, avoiding other people and trying not to get beat up while fetching some sort of delicious bread full of carbs for bullies. He stumbles upon the football team by accident and gets roped in because, well, the sport never intrigued him, but he's had a competitive nature underneath the gofer-ing that's never had an outlet. He finds thrill in trying to avoid the next defender and lone football club members Hiruma and Kurita welcome any new members.
Their goal is the Christmas Bowl, the Japanese football equivalent of Japanese high school baseball's Koushien. It's the thing every high school football player in Japan strives toward, and these guys are no different. After two years of trying and ragtag teams made up of athletes from other clubs, they've finally found a spark with the quarterback who'd probably score near 50 on the Wonderlic and the center who can get down with the best of them.
Through 23 volumes (I've only read 23 volumes as of me writing this), I've grown with Sena. I've seen him struggle against the best linebackers, I've seen the defensive line overpower Kurita and the rest of the offensive line, and I've seen him grow beyond all of that.
That's the thing I love about Eyeshield 21, and the thing I love about most sports manga. Watching Peyton Manning win in what will probably be his final game in the NFL as a player would be one of the most emotional moments I've ever seen in the few Super Bowls I've watched. On the other hand, watching Cam Newton lead an upstart (and young) Panthers team to a Super Bowl victory is the most metaphorical passing of the torch you could get in the NFL. But those are accomplishments of the team, highlighting the two brightest individuals on each team. Sports manga gives the opportunity to look deeper. I'm not just watching the Deimon Devil Bats' success like I'm just watching the Broncos' success; I'm watching Sena grow on the field as a player and a person, I'm watching Yukimitsu come to his own after years of fruitless athletics, and I'm watching the big, loveable Kurita finally see a team come together.
Don't get me wrong, I would be cheering just as hard and maybe harder if the Chicago Bears got into the Super Bowl again and won it…but I won't be crying. There's an emotional journey that Eyeshield 21, that sports drama rather than live sports, takes me on that can't be matched by the NFL. It's a personal journey of watching characters in a drama (hopefully) reach the Christmas Bowl and win in Hiruma, Kurita, and Musashi's final chance.
And there's no maybe's about Hiruma, Kurita, and Musashi. This is their third year of high school, and then that's it. There's no 19th season for them like there is for Peyton. The stakes are as high as they could be for Japanese high school football. It's win or go home for the Broncos, Panthers, and the Deimon Devil Bats.