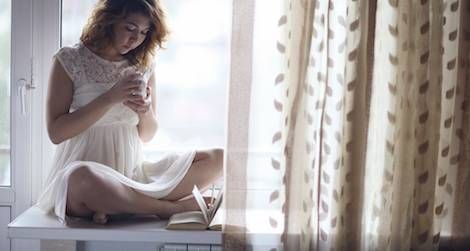 This content contains affiliate links. When you buy through these links, we may earn an affiliate commission.
A lot of romance readers find pregnancy romance books to be their personal romance catnip. I'm 100% one of those people. In reality, an unplanned pregnancy can be terrifying, but put that scenario in a book and I will devour it like candy. I adore a good pregnancy romance novel.
I admit, my love for pregnancy romances probably stems from their (usually) pleasant portrayal of pregnancy. When I was pregnant I was emotional, cranky, and oh-so-sleepy. Essentially, I was the opposite of every pregnant heroine I've ever read about (they are usually glowing and joyful). That idyllic pregnancy portrayal is part of the fun for me; pregnancy romance books are the antithesis of what I personally encountered.
Let's also note that parenthood is no walk in the park. It is a struggle; lovely, and awe-inspiring, but a struggle nonetheless. I'm not really sure why I continually wish this complete life changing event on poor unsuspecting heroes and heroines, but I totally do. The heart wants what the heart wants, people!
Pregnancy romance books come in all shapes and sizes. I've tried to represent a lot of sub-genres on the below list (though historical romance pregnancies were especially hard to find and recommend). I've shied away from books where the pregnancy was announced at the very end (or in the epilogue) and books where the child was already born at the outset. Instead, I focused on romances where the heroine is actually pregnant or is trying to become pregnant for at least half of the book. I've tried to represent a whole host of family situations and relationship statuses on the list so that everyone can find the personal pregnancy romance catnip. Ready, set, go…
Series: The Sullivans, Book 4
Sub-genre: Contemporary
Readers who enjoy series with large families will swoon over this book. Sophie and Jake have been in love with each other for years. However, her big family has kept them from acting on their deepest secret desires (aka each other). When one night of shared passion lands Sophie pregnant, Jake convinces her to give him seven days and seven nights to woo her into marriage.
Series: KGI, Book 7
Sub-genre: Romantic Suspense
It's near impossible for most voracious readers to pick a favorite book. If I absolutely had to pick just one book, though, Forged in Steele may very well be my choice. This book pairs up the icy and unflappable Steele and the good-hearted doctor, Maren. The two strike up a connection and bond over unique childhoods and a similar sense of mission. About a third of the way through the book Maren is kidnapped and Steele searches the globe to find her. As soon as Maren is back home with him and in his space Steele finds out that in the months that they've been separated Maren has realized that she's pregnant with their child. Excerpt illustrating Maren and Steele's wonderfulness.
Series: The Blake Sisters, Book 1
Sub-genre: Contemporary, Category
Francine and Meeks have been close friends since childhood. Nowadays, she's the CEO of her family's personal security firm and he's the COO. Although their work relationship remains professional, there is no denying that they have serious feelings for each other. These two are so deep in love from the very beginning of this book it is amusing to see them grapple with what their "forever" will look like.
Series: Highland Heroes
Sub-genre: Category, Contemporary
Cate and Brody met a few months ago when Brody was visiting his grandmother in the states. They had a passionate affair and then Brody returned back to his home and business in Scotland. Back in the North Carolina a few months later to tie up loose ends with his family, Brody discovers Cate pregnant with his child. Cate and Brody have already gotten the "getting to know you" things out of the way before the book begins so His Heir, Her Secret is all about caring for someone even when the going gets tough. I also appreciate that the accidental pregnancy in this book isn't depicted as all rainbows and puppies. Cate and Brody have real, hard conversations about how their lives will be different than they planned and they actively struggle with their new reality.
Series: Brothers Sinister, Book .5
Sub-genre: Historical
A teaser prequel novella to the Brothers Sinister series, this book is all sorts of historical romance gold. A pregnant governess, Serena, goes to confront the Duke of Clermont, her unborn child's father, demanding a chance at schooling and living expense payments in order for her and her child to survive. There she meets Hugo, who takes care of all matters for the Duke, including an order to make her disappear. When Hugo finds out how Serena actually came to be with child, though, he suggests a new path for her future, one that will tie Serena and him together for a lifetime. This book features one of the most beautifully written marriage consummation scenes I've ever read in a historical. Prepare for this novella to give you some serious feels.
Series: Chicago Stars, Book 3
Sub-genre: Contemporary
Jane may be uber smart, but she can't seem to figure out the laws of attraction to save her life. When her reproductive clock starts ticking, she takes matters into her own hands and seeks out the perfect father for her child. Cal, a Chicago Stars football player, doesn't take the idea that he's been used in Jane's baby-making plot too well (as he shouldn't). He immediately steps in to take control of Jane, the baby, and his professional image. Jane, Cal, and their relationship are so over-the-top that this book kept me laughing the entire time. Nobody's Baby but Mine sparkles from start to finish.
Sub-genre: Erotica
This futuristic novella is set in a world where fertility in women is extremely rare and only a few women (Breeders) can get pregnant and start repopulating Earth. The Breeder is all about who gets to impregnate Chicago's breeder, Jane. We see twelve men fight for the privilege of impregnating Jane and when the winner is crowned they seal the deal on live TV. Yes, they have sex on stage for the entire world to watch!!! It turns out that one of the twelve men fighting for the right to breed Jane is her childhood friend and first crush, Ethan. This book is highly explicit, all sorts of crazy sauce, and the perfect length to read in one sitting.
Series: Gods and Concubines, Book 1
Sub-genre: Paranormal, Fantasy
This book is an excellent illustration of futuristic, paranormal pregnancy romance perfection. In the book, we meet Diana, a human social worker, and Mac, a shifter security officer. The two meet, conceive a child by accident, and then find out they've been placed together to work a case. Try as they might to keep their relationship professional, Mac soon realizes that Diana is his mate and that she's pregnant. I love that the father in this book finds out about the pregnancy before the mother in a totally paranormal-specific way. I can't wait to see where this series takes us.
Series: Black Dagger Brotherhood, Book 12
Sub-genre: Paranormal Romance
Confession: I really, really, really wanted to put Lover Awakened on this list. It has the absolute best pregnancy announcement in it of any book I've read. I could read about Zsadist and Bella all day. However, the pregnancy aspect of that book really doesn't take center stage until like the last 10 pages, so we're going with The King instead. In The King, we see Beth and Wrath grapple with a whole host of changes, one of them being Beth's pregnancy. Beth's pregnancy progresses at a rate completely foreign to vampires (it's more similar to a human) so her conception, pregnancy, and delivery are totally not at all what everyone in the Brotherhood mansion expects. This book shows us the softer side of Wrath, and although this isn't the only book where we see Wrath care and honor Beth, it really does his love for her justice.
There are definitely more satisfying and joy-inducing pregnancy romance books out there. Please share your recommendations in the comments!