News
Pratchett's Daughter Says No More Discworld Books and That's OK
This content contains affiliate links. When you buy through these links, we may earn an affiliate commission.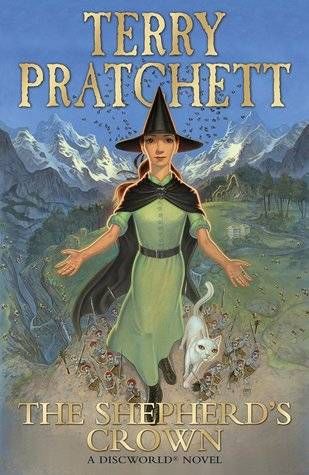 Earlier this month, Rhianna Pratchett, daughter of Sir Terry Pratchett, told fans that the next Tiffany Aching book will be the final Discworld book to be published. She said that she would not write any more Discworld books herself, and would not give others permission to do so.
I think she is absolutely making the right call.
Pratchett died in March, but two of his books are being published posthumously: The Shepherd's Crown, on August 27, and The Long Utopia, (not a Discworld book), written with Stephen Baxter, released on June 18.
The Shepherd's Crown is the 41st book set in Discworld. That's it. Finis. No more.
Too often, when writers die, their children feel obliged to carry on, working from their parents' notes. (Slate calls this phenomenon famfic.) Christopher Tolkien, Brian Herbert, and Jeff Shaara have all, in one form or another, continued writing in the universes their fathers created.
Then there are the families who have asked other authors to continue a series: Margaret Mitchell's estate authorizing Alexandra Ripley to write Scarlett and Robert Jordan's widow asking Brandon Sanderson to finish writing the Wheel of Time series.
While talking to fans on Twitter, Rhianna Pratchett made it clear that she will do neither, because "the books are sacred to dad."
As much as I am sad that Terry Pratchett is gone and that we will never get another Discworld novel, I think I'm on board with his daughter's decision because the books are sacred to me as well.
Terry Pratchett's voice, worldview and sense of humor was so unique that I don't think another writer could match it. I think we would know instantly that we were reading another person's work, and that would cheapen the work. At least it would for me.
There are also 41 novels in the series. That's a lot of Discworld to visit and revisit, and every Discworld book I've read has been a self-contained story. I've never felt like I needed plotlines tied up when I read Discworld books, because every book came with its own sense of closure. Forty-one stand-alone novels are an amazing gift to give a fanbase, and I feel like it would be greedy to ask for more.
There must be people who do want more Discworld, though, and who would be willing to pay to return there, so I am happy to know that Pratchett's family has no intention of diluting the franchise to make more money, even though it is absolutely their right to do so.
But there is a way the family can continue to expand Discworld that I heartily support: Rhianna hasn't ruled out adaptations and tie-ins. That means video games (she is a video game writer) and more of Pratchett's work adapted for the screen. There have been two miniseries already and they were awesome. To whom should I write to get 39 more Discworld BBC miniseries? I'd pay to see 41 Discworld summer blockbusters in the theater. I would buy a console to play 41 games.
Editor's Note: Brandon Sanderson's name was incorrectly listed as Brian. It has been corrected (obviously).
____________________
Want more bookish goodness, news, posts about special book deals, and the occasional puppy reading pic? Follow us on Facebook: