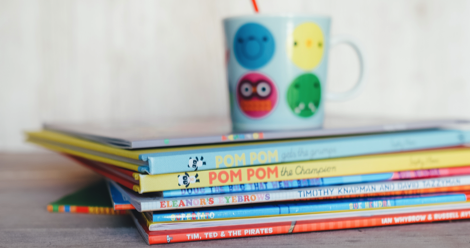 Children's
Practice Self-Care with Picture Books: 3 Titles To Get You Started
This content contains affiliate links. When you buy through these links, we may earn an affiliate commission.
This is a guest post from Kristen Kwisnek. Kristen Kwisnek is a public librarian based near Baltimore, Maryland. She specializes in children's books and loves nothing more than putting books into the hands of young readers. When she's not reading, writing, or librarian-ing, Kristen can be found with her amazing husband (he built her a Beauty and the Beast-esque personal library!) eating something delicious, watching '90s music videos, and dreaming of one day having a dog that she'll pretend is Sirius Black in his animagus form.
---
The concept of self-care—the things we do to tend to our happiness and well-being—has become incredibly popular in the last two years, but people's interpretations of how to practice it vary greatly. For some, it means having "treat yo'self days," spending lots of money on massages and retail therapy. That kind of self-care can be great, but not exactly financially sustainable. I prefer a simpler approach: getting enough sleep, meditating, and making sure I carve time out each day for reading.
Reading two hours a day would be pure bliss, but real life doesn't always make this possible. When I'm pressed for time, but still want to fit in a meaningful read, I'll often turn to picture books. Children's fun-filled creativity and carefree energy do wonders for my mood and many picture books encapsulate those characteristics perfectly.
Here are three books that you'll get through in just a few minutes, but which will undoubtedly lift your spirits both in the moment and later when you think back on the stories' messages. If you have time, try the self-care extension activity for some extra "treat yo'self" time that won't cost a fortune!
Leonard is a lion. He looks like a lion, he sounds like a lion, but he doesn't fit the traditional lion narrative. He's a deep thinker and a poet—not a cute-animal-chomping predator like his fellow felines believe he should be—and he is committed to staying true to himself. Even when the bully lions band together to force him to be the "one way to be a lion," Leonard uses his lyrical prowess to show them how wrong they are.
Self-care extension: Take a nice slow walk outside with a friend (preferably barefoot in the grass with the sun against your back) and try to compose a poem that addresses an injustice in today's society. Or just bring a book of your favorite poetry and take turns reading aloud with your friend.
While riding the subway with his abuela, young Julian spots three beautiful mermaids in his car. He wants to be just like them: beautiful, confident, and strong. So, as soon as he gets to his abuela's place, Julian metamorphoses himself into a glamorous mermaid using simple things around the house. (It's amazing what you can do with a fern and bed sheet!) When his abuela sees him, she is shocked, and what she does next might surprise you…
Self-care extension: Think of a person you admire and want to emulate, then try and figure out how you can physically channel that person's essence. Maybe it's wearing a signature piece of clothing, trying a bold red lipstick, or coiffing your hair a certain way. Once you're sporting your hero's look, strut down a busy sidewalk with your head held high feeling beautiful, confident and strong.
Humpty Dumpty hasn't been the same since he fell off the wall and was put back together again. He used to love being in high places, close to the birds, but now he can't even stand being on the top bunk. He misses out on a lot of fun as a result of his fear of heights. Then he's struck with an idea that unintentionally leads him right back to the wall, the site of his great fall. He forces himself to the top, and when he arrives, the most amazing thing happens. Humpty Dumpty transforms in a way no one could have imagined!
Self-care extension: Grab a notebook and find a spot to watch airplanes take off. Spend some time observing the planes as they fly high in the sky and imagine where they might be going. There's nothing in the air keeping them from their destination. With this in mind, open your notebook and write about where you want to go and what you'd want to do if there were nothing in your way.
These are just three picture books among many that are great for quick self-care. The extensions may be a bit too woowoo for some of you, but I hope at least the reading portion brings a sense of joy and well-being. And if you have your own suggestions for picture books to read for self-care, I'd love to hear them in the comments.