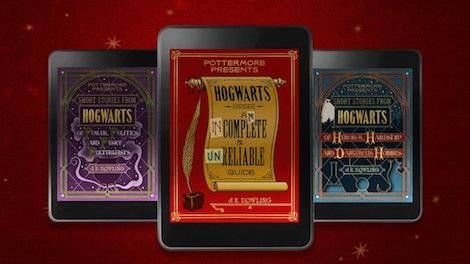 News
Pottermore Presents: J.K. Rowling to Release 3 New eBooks About Hogwarts
This content contains affiliate links. When you buy through these links, we may earn an affiliate commission.
While we're still reeling under all the new information from Harry Potter and The Cursed Child, J.K. Rowling's been busy writing more about the Potterverse. This fall, Pottermore will release a trio of ebooks, called Pottermore Presents, combining some of her old pieces on the website with some new writing.
The three books, set for a September 2016 release, are titled Short Stories from Hogwarts: Power, Politics and Pesky Poltergeists, Short Stories from Hogwarts: Heroism, Hardship and Dangerous Hobbies, and Hogwarts: An Incomplete and Unreliable Guide. The first two will talk about the Ministers of Magic, Azkaban, and some Hogwarts professors, giving us some much-needed insight into the lives of Minerva McGonagall, Horace Slughorn, and Remus Lupin, among others. The third will reveal more about the school's hidden secrets, and promises more information about the Hogwarts ghosts!
It might be overkill, what with the Fantastic Beasts movie ready for a November release, but we do love that the focus seems to be on Hogwarts, something us Potter fans have been missing, since both The Deathly Hallows and The Cursed Child featured witches and wizards skipping on school to save the world.
The books, priced at $2.99 each, are available for pre-order on Barnes and Noble, Amazon, and iBooks, and while I pray that Rowling doesn't drop the ball on these, I must say that those covers look fantastic.
Will we, or won't we? Drop us a line in the comments telling us if these new Potter books pique your interest!