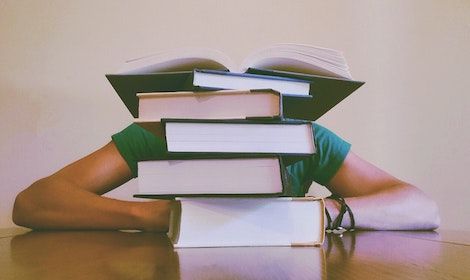 This content contains affiliate links. When you buy through these links, we may earn an affiliate commission.
My daughter turned one year old this April, and it brought back a lot of memories, especially how I got over my postpartum reading slump. I remember having the naïve thought before giving birth to my daughter that I would breastfeed in one arm and hold a tome of a book in the other, reading and glowing over my sleeping baby.
Look, I know I'm not the only one who had these expectations, and I know I'm not the only one who went through the bitter disappointment of reality. Instead of breastfeeding, I exclusively pumped. Instead of reading, I sobbed with anxiety, stared in awe of the miracle in my arms, or sat bleary-eyed and frantic, wondering when I might sleep again. Once I was able to get a little more sleep, I wondered, when would I read again? When would I enjoy reading again? When would I want to read again?
Dear reader, I did, eventually. For all the new parents and caregivers out there, you can get over your postpartum reading slump, too.
Give yourself a Break
I need to practice what I preach, but you cannot expect to read War and Peace the day after giving birth. I mean, if you can, great. However, whether it takes days, weeks, months, or years for you to get back to your comfort zone, take the time you need. Maybe you NEED to have a postpartum reading slump, and that's OK. The more you compare yourself to those who are reading voraciously (and sleeping, bathing, and eating normally, for that matter), the worse you'll feel. Go at your own pace.
Read whatever gets you reading
It doesn't matter whether it's fashion magazines, audiobooks, or parenting/pregnancy books, read whatever makes you happy. When I tried to read books that were slower-paced or steeped in beautiful language, I zonked. Oops. Hey, at least I got more sleep. Don't get me wrong, I love beautiful language, but I understood damn quick that if I was going to make it through one book, I needed some oomph. I wanted to be spellbound. Here's what sparked my reading joy:
Le Guin is my hero, will always be my hero. After finishing A Wizard of Earthsea, I plowed through the next three books in the series. They are not huge books. You can fit the mass market paperbacks in a diaper bag or shove in the back pocket of sweatpants.
Reading Earthsea brought on an epiphany for me: I realized any series, particularly fantasy, was my way back to being hungry for reading. One book led to another, and it gave me a sense of purpose to finish the series if all the books were already out, and if the series is still ongoing, it gives me something to look forward to and complain about.
Wayward Children series by Seanan McGuire
I want to gift these books to my daughter when she's older. The series begins with Every Heart a Doorway, which won the 2017 Hugo Award, among many other accolades. It's a beautiful series about finding where you belong and wanting and being accepted to the very core of who you are. I was so enchanted and moved by these books that I wrote Seanan McGuire fanmail. And she wrote back! Her kind response made me happy cry.
Before writing for Book Riot, I signed up for their Tailored Book Recommendations subscription, and my amazing bibliologist, Liberty, recommended this title. It did not disappoint! An alternate, magical history? A heist? Diverse characters whom I love and would fight tooth and nail for? You betcha! I am both astounded by its awesomeness and furious that the first book just came out and now I have to grumble and wait for the sequel.
A stunningly-built world, fantastic and diverse and complex characters–LILA BARD, YA'LL–Honestly, I mean, is there anything V. E. Schwab can't do? I finished A Conjuring of Light in the middle of the night weeping (I feel like I've wrote about crying a lot in this post, which is pretty on the money with postpartum anything, I think). There is so much about family in these books, both the family we're born to and the family we choose.
This is my latest reading obsession. After reading and hearing so many people recommend Zen Cho's work, I could delay no longer! Honestly, where has this book been all my life? Take the gossip and politics of Victorian England, add sorcerers and Fairyland, then hunker down and enjoy. I can't wait to read the next book The True Queen.
Find a Reading Partner/Group/Friend/Shoulder-To-Cry-On
I am privileged to have a great support group of friends and family. This is not the case for so many new moms, parents, and caregivers. Two particular beautiful souls got me through my postpartum reading slump in the past year since my daughter was born. One is my dear friend, Carley, who also checked in on my writing. She led me back to recognizing myself as a reader and as a writer. My sister-in-law Amanda, who also gave birth to an adorable baby girl in December, was also invaluable to both my parent self and reader self. We often text about books and continue to check in on each other, whether we or the babies are sleeping, and sometimes just to say "Damn this is hard."
Find other readers who will be there for you. Surround yourself with people who will give words that heal and inspire. Find friends who will tell you truthfully, "You are not alone, and you are doing great." While you're at it, if you can, BE that person to someone else, dear reader. You never know just how much that means.