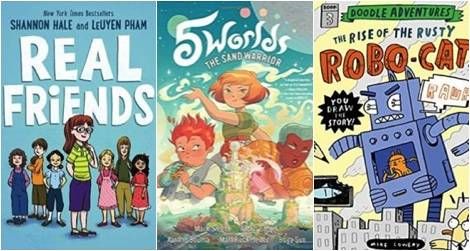 Children's
5 Middle Grade Graphic Novels to Look Out for in May
This content contains affiliate links. When you buy through these links, we may earn an affiliate commission.
There are lots of great middle grade graphic novels coming out this month, and what a perfect time for book releases since kids are getting ready for vacation and are looking for fun summer reads. Here are five middle grade graphic novels to look out for in May, including a new book by Shannon Hale and LeUyen Pham (of Princess in Black fame), the fourth installment of the Hamster Princess series, and the first book in the much anticipated Five Worlds series. Happy reading!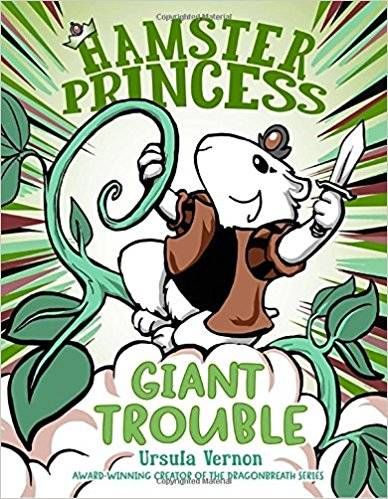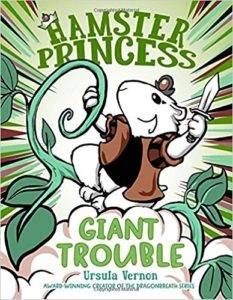 Hamster Princess, Giant Trouble by Ursula Vernon (Dial Books, May 9, 2017)
The Hamster Princess Books are great for young readers who are just starting to get into graphic novels. The page layout is mostly text but with spot drawings and speech bubbles on every page. These books are a great entry way into more traditionally laid out graphic novels, plus the familiar play on classic fairy tales makes it accessible and fun. In this story, Princess Harriet Hamsterbone climbs an enormous beanstalk and sneaks into the castle she finds at the top. Inside the castle is an enormous rabbit who is holding two prisoners, and Princess Harriet is the perfect hamster for a heroic rescue. A terrific, funny read that is sure to engage reluctant readers over the summer!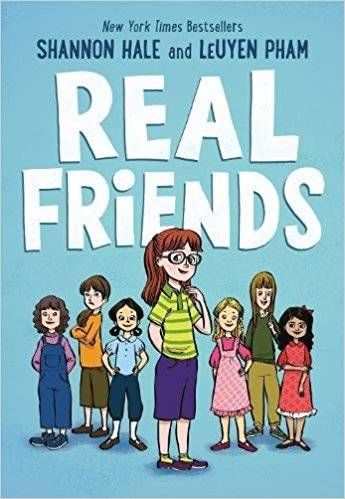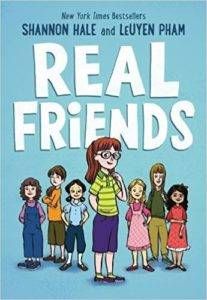 Real Friends by Shannon Hale and LeUyen Pham (First Second, May 2, 2017)
I love the Princess in Black series, so I was very excited to hear about Shannon Hale and LeUyen Pham's newest graphic novel collaboration. In this story, Shannon and Adrienne have been best friends ever since they were little. But when Adrienne starts hanging out with the most popular girl in class and the leader of a circle of friends called The Group, Shannon finds herself questioning whether Adrienne is even her friend anymore. And while everyone in The Group wants to be Jen's #1, some girls would do anything to stay on top . . . even if it means bullying others.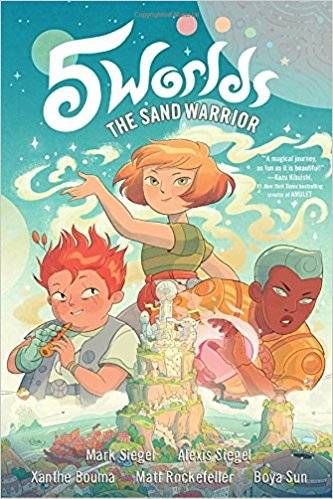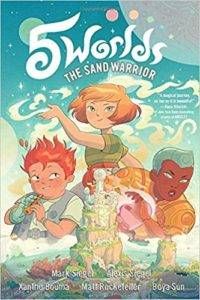 Five Worlds Book 1: Sand Dancer by Mark Siegel and Alexis Siegel, illustrated by Xanthe Bouma, Matt Rockefeller, and Boya Sun (Random House Books for Young Readers, May 2, 2017)
This wonderful new series reminded me of the fantastic worlds that Kazu Kibuishi created in his Amulet series. The rich full color illustrations depict five interconnected worlds that are on the brink of extinction, and the three people who have the best chance of saving the worlds couldn't be more different. Oona Lee is the clumsiest sand dancer at the greatest school in all the worlds, An Tzu is from the poorest slums and spends his days pilfering food items to share among those who need it most, and Jax Amboy is a star athlete who is beloved by the whole galaxy. This book is an intriguing beginning to what is sure to be a fascinating series.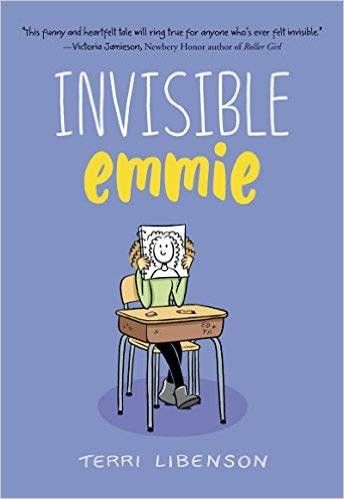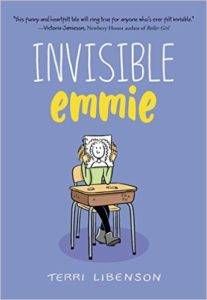 Invisible Emmie by Terri Libenson (Balzer + Bray, May 2, 2017)
This heartwarming graphic novel is about Emmie, a girl who feels like the antithesis of any story book hero. She is quiet and shy, and most of the time she feels invisible. Her classmate Kate, on the other hand, is the opposite. Kate is outgoing and popular and athletic. When their lives intersect over an embarrassing note that falls out of Emmie's notebook, can Kate help Emmie learn how to stand up for herself? This book is written in two different art styles, which keeps the interest level high, and it's a great read featuring a quiet, introverted kid trying to survive middle school. I highly recommend for fans of Raina Telgemeier.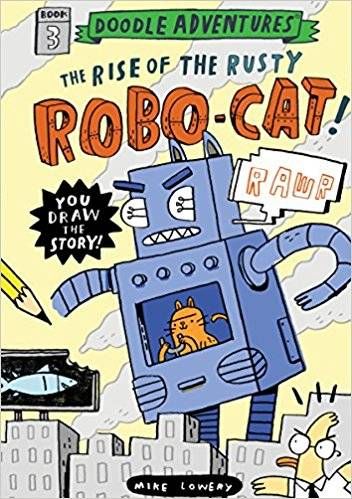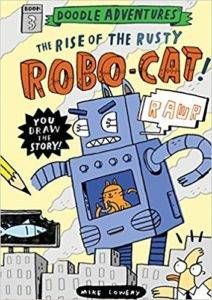 Doodle Adventures: The Rise of the Rusty Robo-Cat! by Mike Lowery (Workman Publishing Company, May 30, 2017)
I'm a huge fan of the interactive Doodle Adventures series. These books require the reader to draw and doodle their way through the book as they help Carl the Duck accomplish his various missions. In this third installment, Carl the Duck is off to figure out why the cats in the town are acting like jerks. He needs the reader's help to figure out what is going on and how to break the spell the cats are under. My daughter and I have a great time with this series and work on them together. Each night we take turns reading and doodling through a few pages each until the story is done. It's fun to do this as a pair and see what the other person comes up with!