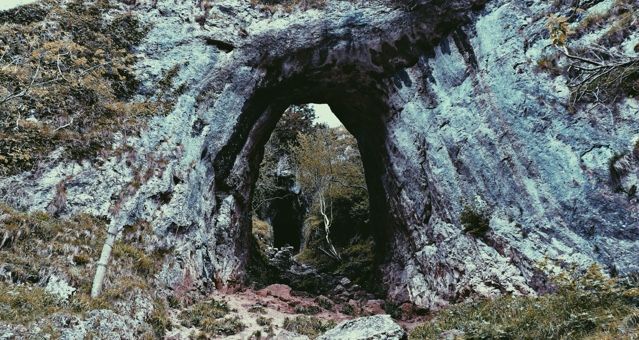 Lists
50+ Must-Read Portal Fantasy Books
This content contains affiliate links. When you buy through these links, we may earn an affiliate commission.
What is Portal Fantasy?
I'm so glad you asked. In portal fantasy, a person is transported from one world to another by some sort of magic, usually (but not always!) through a specific place or object such as a wardrobe, rabbit hole, or mirror. Most often, a child or children travel from our world to another, magical world…but sometimes the travel is between dimensions, sometimes the traveler(s) are adults, and sometimes time travel looks a lot like portal fantasy. I have used a fairly broad definition of portal fantasy here, and divided portal fantasy books roughly by age range as well as including a few classic titles to help you get an idea of what we're talking about when we say must-read portal fantasy.
I have only included one title per series and one series (or stand-alone) per author, so be sure to check out additional portal fantasy books by the authors on this list!
Descriptions come from Amazon; some are edited for length.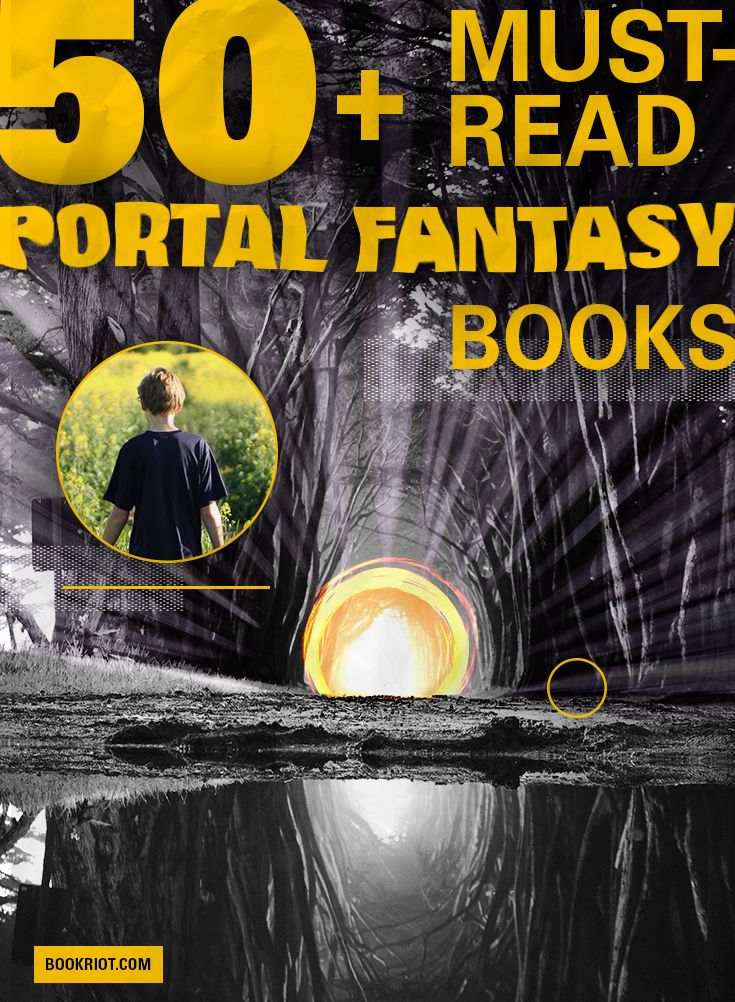 Classic Portal Fantasy Books
For this list, I am defining classic as published prior to 1990. (I know.)
Lose yourself in Alice's story as she tumbles down the rabbit hole, swims through her own pool of tears, and finds herself in a rather curious place called Wonderland. There, she'll encounter the frantic White Rabbit, have a frustrating conversation with an eccentric caterpillar, and play croquet with the hot-headed Queen of Hearts.
Greta had always loved the fog—the soft gray mist that rolled in from the sea and drifted over the village. The fog seemed to have a secret to tell her. Then one day when Greta was walking in the woods and the mist was closing in, she saw the dark outline of a stone house against the spruce trees—a house where only an old cellar hole should have been. Then she saw a surrey come by, carrying a lady dressed in plum-colored silk. The woman beckoned for Greta to join her, and soon Greta found herself launched on an adventure that would take her back to a past that existed only through the magic of the fog.
Howl's Moving Castle (Howl's Moving Castle #1) by Diana Wynne Jones
Sophie has the great misfortune of being the eldest of three daughters, destined to fail miserably should she ever leave home to seek her fate. But when she unwittingly attracts the ire of the Witch of the Waste, Sophie finds herself under a horrid spell that transforms her into an old lady. Her only chance at breaking it lies in the ever-moving castle in the hills: the Wizard Howl's castle. To untangle the enchantment, Sophie must handle the heartless Howl, strike a bargain with a fire demon, and meet the Witch of the Waste head-on. Along the way, she discovers that there's far more to Howl—and herself—than first meets the eye.
With marriage comes change, and for Sanjay and Chryse, that change is literally world altering. After their wedding reception, they accidentally drop a gift—a pack of special tarot cards—onto an elevator floor. The cards scatter, the lights go out, and all at once, they find themselves transported to Anglia. It's a strange parallel world not unlike Victorian England, but matriarchal in nature and shaped by powerful sorcery. While fleeing a riot in the streets, the pair is rescued by aristocrats Julian and Kate, the first of many new friends and adventures. To get home, they must find a treasure in the labyrinth city of Pariam—a quest that becomes ever more daunting as it attracts the attention of the evil Princess Blessa.
Four adventurous siblings—Peter, Susan, Edmund, and Lucy Pevensie—step through a wardrobe door and into the land of Narnia, a land frozen in eternal winter and enslaved by the power of the White Witch. But when almost all hope is lost, the return of the Great Lion, Aslan, signals a great change…and a great sacrifice.
For more than a century, the adventures of Peter Pan—the boy who can fly and never grows up—and Wendy Darling have captured the hearts of generations of readers. In this enchanting illustrated volume, the fantastical world of Neverland and its magical inhabitants, including the Lost Boys, Captain Hook, Tiger Lily, and the beloved Tinker Bell, are brought to life like never before.
Seven-Day Magic (Tales of Magic #7) by Edward Eager
All books are magic, but some are more magical than others. When Susan opens a strange library book, she discovers it is about her and her friends, leading up to the moment when she opened the book. Beyond that, the pages are blank…waiting for the children to wish the book full of adventures. Fredericka asks for wizards and beasties, and a dragon carries her off. Susan journeys to the world of Half Magic, and finds that mixing magic creates trouble—far too much to deal with before the book is due back at the library. Will their adventure end happily ever after?
When Tom's brother gets sick, he's shipped off to spend what he's sure will be a boring summer with his aunt and uncle in the country. But then Tom hears the old grandfather clock in the hall chime thirteen times, and he's transported back to an old garden where he meets a young, lonely girl named Hatty. Tom returns to the garden every night to have adventures with Hatty, who mysteriously grows a little older with each visit. As the summer comes to an end, Tom realizes he wants to stay in the garden with Hatty forever.
Follow the adventures of young Dorothy Gale and her dog, Toto, as their Kansas house is swept away by a cyclone and they find themselves in a strange land called Oz. Here she meets the Munchkins and joins the Scarecrow, Tin Woodman, and the Cowardly Lion on an unforgettable journey to the Emerald City, where lives the all-powerful Wizard of Oz.
Middle Grade Portal Fantasy Books for Children
These books span elementary through middle grade readers, like most of the classic portal fantasy books.
Twelve-year-old Aru Shah has a tendency to stretch the truth in order to fit in at school. One day, three schoolmates show up at Aru's doorstep to catch her in a lie. They don't believe her claim that the museum's Lamp of Bharata is cursed, and they dare Aru to prove it. Just a quick light, Aru thinks. Then she can get herself out of this mess and never ever fib again. But lighting the lamp has dire consequences. She unwittingly frees the Sleeper, an ancient demon whose duty it is to awaken the God of Destruction. Her classmates and beloved mother are frozen in time, and it's up to Aru to save them. The only way to stop the demon is to find the reincarnations of the five legendary Pandava brothers, protagonists of the Hindu epic poem, the Mahabharata, and journey through the Kingdom of Death. But how is one girl in Spider-Man pajamas supposed to do all that?
Fairest of All (Whatever After #1) by Sarah Mlynowski
Once upon a time my brother and I were normal kids. The next minute? The mirror in our basement slurped us up and magically transported us inside Snow White's fairy tale.
I know it sounds crazy, but it's true.
But hey—we're heroes! We stopped Snow White from eating the poisoned apple. Hooray! Or not. If Snow White doesn't die, she won't get to meet her prince. And then she won't get her happy ending. Oops.
The Gauntlet (The Gauntlet #1) by (Book Riot Contributor) Karuna Riazi
It didn't look dangerous, exactly. When twelve-year-old Farah first laid eyes on the old-fashioned board game, she thought it looked…elegant.
It is made of wood, etched with exquisite images—a palace with domes and turrets, lattice-work windows that cast eerie shadows, a large spider—and at the very center of its cover, in broad letters, is written: The Gauntlet of Blood and Sand.
The Gauntlet is more than a game, though. It is the most ancient, the most dangerous kind of magic. It holds worlds inside worlds. And it takes players as prisoners.
Twelve-year-old September lives in Omaha, and used to have an ordinary life, until her father went to war and her mother went to work. One day, September is met at her kitchen window by a Green Wind (taking the form of a gentleman in a green jacket), who invites her on an adventure, implying that her help is needed in Fairyland. The new Marquess is unpredictable and fickle, and also not much older than September. Only September can retrieve a talisman the Marquess wants from the enchanted woods, and if she doesn't . . . then the Marquess will make life impossible for the inhabitants of Fairyland. September is already making new friends, including a book-loving Wyvern and a mysterious boy named Saturday.
When Gregor falls through a grate in the laundry room of his apartment building, he hurtles into the dark Underland, where spiders, rats, cockroaches coexist uneasily with humans. This world is on the brink of war, and Gregor's arrival is no accident. A prophecy foretells that Gregor has a role to play in the Underland's uncertain future. Gregor wants no part of it — until he realizes it's the only way to solve the mystery of his father's disappearance. Reluctantly, Gregor embarks on a dangerous adventure that will change both him and the Underland forever.
Set in an exotic Eastern landscape peopled by magicians and fantastic talking animals, Salman Rushdie's classic children's novel Haroun and the Sea of Stories inhabits the same imaginative space as The Lord of the Rings, The Alchemist, and The Wizard of Oz. In this captivating work of fantasy from the author of Midnight's Children and The Enchantress of Florence, Haroun sets out on an adventure to restore the poisoned source of the sea of stories. On the way, he encounters many foes, all intent on draining the sea of all its storytelling powers.
The Lightning Thief (Percy Jackson & The Olympians #1) by Rick Riordon
Percy Jackson is a good kid, but he can't seem to focus on his schoolwork or control his temper. And lately, being away at boarding school is only getting worse-Percy could have sworn his pre-algebra teacher turned into a monster and tried to kill him. When Percy's mom finds out, she knows it's time that he knew the truth about where he came from, and that he go to the one place he'll be safe. She sends Percy to Camp Half Blood, a summer camp for demigods (on Long Island), where he learns that the father he never knew is Poseidon, God of the Sea. Soon a mystery unfolds and together with his friends — one a satyr and the other the demigod daughter of Athena — Percy sets out on a quest across the United States to reach the gates of the Underworld (located in a recording studio in Hollywood) and prevent a catastrophic war between the gods.
Georgie has waited for this moment her whole life—to dance the part of Clara in The Nutcracker ballet. And when she finally gets the part, it's like a dream come true. . . .

Literally.
Every time Georgie dances with the Nutcracker doll, she leaves the ballet studio and enters a world where everything around her—the old wooden furniture, the Christmas tree, the carefully wrapped presents—is larger than life. It's so magical, Georgie can't wait to return again and again.
When Sal Vidon meets Gabi Real for the first time, it isn't under the best of circumstances. Sal is in the principal's office for the third time in three days, and it's still the first week of school. Gabi, student council president and editor of the school paper, is there to support her friend Yasmany, who just picked a fight with Sal. She is determined to prove that somehow, Sal planted a raw chicken in Yasmany's locker, even though nobody saw him do it and the bloody poultry has since mysteriously disappeared.
Sal prides himself on being an excellent magician, but for this sleight of hand, he relied on a talent no one would guess…except maybe Gabi, whose sharp eyes never miss a trick. When Gabi learns that he's capable of conjuring things much bigger than a chicken—including his dead mother—and she takes it all in stride, Sal knows that she is someone he can work with. There's only one slight problem: their manipulation of time and space could put the entire universe at risk.
The Serpent's Secret (KiranMala and the Kingdom Beyond #1) by Sayantani DasGupta
MEET KIRANMALA:
INTERDIMENSIONAL DEMON SLAYER
(Only she doesn't know it yet.)
On the morning of her twelfth birthday, Kiranmala is just a regular sixth grader living in Parsippany, New Jersey…until her parents mysteriously vanish and a drooling rakkhosh demon slams through her kitchen, determined to eat her alive. Turns out there might be some truth to her parents' fantastical stories-like how Kiranmala is a real Indian princess and how she comes from a secret place not of this world.
After the tragic death of their father, Emily and Navin move with their mother to the home of her deceased great-grandfather, but the strange house proves to be dangerous. Before long, a sinister creature lures the kids' mom through a door in the basement. Em and Navin, desperate not to lose her, follow her into an underground world inhabited by demons, robots, and talking animals.
The Storm Runner (Storm Runner #1) by J.C. Cervantes
Zane Obispo spends every day exploring the sleeping volcano in his backyard. "The Beast," as he calls it, is the one place where he can escape other kids, who make fun of him because he has a limp and walks with a cane.
After a twin-engine plane crashes into The Beast, a mysterious girl named Brooks shows up at Zane's doorstep, insisting that they meet at the volcano, where she will reveal a terrible secret. Zane agrees, mostly because beautiful girls like her don't usually talk to him. Brooks tells him that the volcano is actually a centuries-old prison for the Maya god of death, whose destiny is directly tied to Zane's. No way, Zane thinks. He's just a thirteen-year old nobody, and destiny or no destiny, he wants nothing to do with any of it, especially some god of death.
Portal Fantasy Books for Young Adults
These portal fantasy novels are written for—and about—teens.
Akata Witch (Akata Witch #1) by Nnedi Okafor
Sunny Nwazue lives in Nigeria, but she was born in New York City. Her features are West African, but she's albino. She's a terrific athlete, but can't go out into the sun to play soccer. There seems to be no place where she fits in. And then she discovers something amazing—she is a "free agent" with latent magical power. And she has a lot of catching up to do.
Soon she's part of a quartet of magic students, studying the visible and invisible, learning to change reality. But as she's finding her footing, Sunny and her friends are asked by the magical authorities to help track down a career criminal who knows magic, too. Will their training be enough to help them combat a threat whose powers greatly outnumber theirs?
Leigh Chen Sanders is absolutely certain about one thing: When her mother died by suicide, she turned into a bird.
Leigh, who is half Asian and half white, travels to Taiwan to meet her maternal grandparents for the first time. There, she is determined to find her mother, the bird. In her search, she winds up chasing after ghosts, uncovering family secrets, and forging a new relationship with her grandparents. And as she grieves, she must try to reconcile the fact that on the same day she kissed her best friend and longtime secret crush, Axel, her mother was taking her own life.
The first time the Nightmares came, it nearly cost Alice her life. Now she's trained to battle monstrous creatures in the dark dream realm known as Wonderland with magic weapons and hardcore fighting skills. Yet even warriors have a curfew.
Life in real-world Atlanta isn't always so simple, as Alice juggles an overprotective mom, a high-maintenance best friend, and a slipping GPA. Keeping the Nightmares at bay is turning into a full-time job. But when Alice's handsome and mysterious mentor is poisoned, she has to find the antidote by venturing deeper into Wonderland than she's ever gone before. And she'll need to use everything she's learned in both worlds to keep from losing her head . . . literally.
The Cruel Prince (The Folk of the Air #1) by Holly Black
Jude was seven years old when her parents were murdered and she and her two sisters were stolen away to live in the treacherous High Court of Faerie. Ten years later, Jude wants nothing more than to belong there, despite her mortality. But many of the fey despise humans. Especially Prince Cardan, the youngest and wickedest son of the High King.
To win a place at the Court, she must defy him—and face the consequences.
It once seemed so easy to Prince Rhen, the heir to Emberfall. Cursed by a powerful enchantress to repeat the autumn of his eighteenth year over and over, he knew he could be saved if a girl fell for him. But that was before he learned that at the end of each autumn, he would turn into a vicious beast hell-bent on destruction. That was before he destroyed his castle, his family, and every last shred of hope.
Nothing has ever been easy for Harper. With her father long gone, her mother dying, and her brother barely holding their family together while constantly underestimating her because of her cerebral palsy, she learned to be tough enough to survive. But when she tries to save someone else on the streets of Washington, DC, she's instead somehow sucked into Rhen's cursed world.
Around the world, black handprints are appearing on doorways, scorched there by winged strangers who have crept through a slit in the sky.
In a dark and dusty shop, a devil's supply of human teeth grown dangerously low.
And in the tangled lanes of Prague, a young art student is about to be caught up in a brutal otherwordly war.
Meet Karou. She fills her sketchbooks with monsters that may or may not be real; she's prone to disappearing on mysterious "errands"; she speaks many languages—not all of them human; and her bright blue hair actually grows out of her head that color. Who is she? That is the question that haunts her, and she's about to find out.
Genie Lo is one among droves of Ivy-hopeful overachievers in her sleepy Bay Area suburb. You know, the type who wins. When she's not crushing it at volleyball or hitting the books, Genie is typically working on how to crack the elusive Harvard entry code.
But when her hometown comes under siege from Hellspawn straight out of Chinese folklore, her priorities are dramatically rearranged. Enter Quentin Sun, a mysterious new kid in class who becomes Genie's self-appointed guide to battling demons. While Genie knows Quentin only as an attractive transfer student with an oddly formal command of the English language, in another reality he is Sun Wukong, the mythological Monkey King incarnate—right down to the furry tail and penchant for peaches.
Eleanor West's Home for Wayward Children
No Solicitations
No Visitors
No Quests
Children have always disappeared under the right conditions; slipping through the shadows under a bed or at the back of a wardrobe, tumbling down rabbit holes and into old wells, and emerging somewhere… else.
But magical lands have little need for used-up miracle children.
Nancy tumbled once, but now she's back. The things she's experienced… they change a person. The children under Miss West's care understand all too well. And each of them is seeking a way back to their own fantasy world.
But Nancy's arrival marks a change at the Home. There's a darkness just around each corner, and when tragedy strikes, it's up to Nancy and her new-found schoolmates to get to the heart of things.
No matter the cost.
As the daughter of a time traveler, Nix has spent sixteen years sweeping across the globe and through the centuries aboard her father's ship. Modern-day New York City, nineteenth-century Hawaii, other lands seen only in myth and legend—Nix has been to them all. But when her father gambles with her very existence, it all may be about to end.
If there is a map, Nix's father can sail his ship, The Temptation, to any place and any time. But now that he's uncovered the one map he's always sought—1868 Honolulu, the year before Nix's mother died in childbirth—Nix's life, her entire existence, is at stake. No one knows what will happen if her father changes the past. It could erase Nix's future, her dreams, her adventures . . . her connection with the charming Persian thief, Kash, who's been part of their crew for two years.
The Hazel Wood (The Hazel Wood #1) by Melissa Albert
Seventeen-year-old Alice and her mother have spent most of Alice's life on the road, always a step ahead of the uncanny bad luck biting at their heels. But when Alice's grandmother, the reclusive author of a cult-classic book of pitch-dark fairy tales, dies alone on her estate, the Hazel Wood, Alice learns how bad her luck can really get: Her mother is stolen away―by a figure who claims to come from the Hinterland, the cruel supernatural world where her grandmother's stories are set. Alice's only lead is the message her mother left behind: "Stay away from the Hazel Wood."
Alice has long steered clear of her grandmother's cultish fans. But now she has no choice but to ally with classmate Ellery Finch, a Hinterland superfan who may have his own reasons for wanting to help her. To retrieve her mother, Alice must venture first to the Hazel Wood, then into the world where her grandmother's tales began―and where she might find out how her own story went so wrong.
The Borderlands aren't like anywhere else. Don't try to smuggle a phone or any other piece of technology over the wall that marks the Border ― unless you enjoy a fireworks display in your backpack. (Ballpoint pens are okay.) There are elves, harpies, and ― best of all as far as Elliot is concerned ― mermaids.
"What's your name?"
"Serene."
"Serena?" Elliot asked.
"Serene," said Serene. "My full name is Serene-Heart-in-the-Chaos-of-Battle."
Elliot's mouth fell open. "That is badass."
Elliot? Who's Elliot? Elliot is thirteen years old. He's smart and just a tiny bit obnoxious. Sometimes more than a tiny bit. When his class goes on a field trip and he can see a wall that no one else can see, he is given the chance to go to school in the Borderlands.
Inkheart (Inkworld #1) by Cornelia Funke
One cruel night, Meggie's father reads aloud from a book called INKHEART—and an evil ruler escapes the boundaries of fiction and lands in their living room. Suddenly, Meggie is smack in the middle of the kind of adventure she has only read about in books. Meggie must learn to harness the magic that has conjured this nightmare. For only she can change the course of the story that has changed her life forever.
Labyrinth Lost (Brooklyn Brujas #1) by Zoraida Cordova
Alex is a bruja, the most powerful witch in a generation…and she hates magic.
At her Deathday celebration, Alex performs a spell to rid herself of her power. But it backfires. Her whole family vanishes into thin air, leaving her alone with Nova, a brujo boy she's not sure she can trust, but who may be Alex's only chance at saving her family.
Legend of Korra: Turf Wars (Turf Wars Volume 1) by Michael Dante DiMartino and Irene Koh
Relishing their newfound feelings for each other, Korra and Asami leave the Spirit World . . . but find nothing in Republic City but political hijinks and human vs. spirit conflict!
A pompous developer plans to turn the new spirit portal into an amusement park, potentially severing an already tumultuous connection with the spirits. What's more, the triads have realigned and are in a brutal all-out brawl at the city's borders–where hundreds of evacuees have relocated!
In order to get through it all, Korra and Asami vow to look out for each other—but first, they've got to get better at being a team and a couple!
No one is entirely certain what brings the Emperor Sikander to Shalingar. Until now, the idyllic kingdom has been immune to his many violent conquests. To keep the visit friendly, Princess Amrita has offered herself as his bride, sacrificing everything—family, her childhood love, and her freedom—to save her people. But her offer isn't enough.
The palace is soon under siege, and Amrita finds herself a fugitive, utterly alone but for an oracle named Thala, who was kept by Sikander as a slave and managed to escape amid the chaos. With nothing and no one else to turn to, Amrita and Thala are forced to rely on one another. But while Amrita feels responsible for her kingdom and sets out to warn her people, the newly free Thala has no such ties. She encourages Amrita to go on a quest to find the fabled Library of All Things, where it is possible for each of them to reverse their fates. To go back to before Sikander took everything from them.
Six years ago, sisters Evelyn and Philippa Hapwell were swept away to a strange and beautiful kingdom called the Woodlands, where they lived for years. But ever since they returned to their lives in post-WWII England, they have struggled to adjust.
Ev desperately wants to return to the Woodlands, and Philippa just wants to move on. When Ev goes missing, Philippa must confront the depth of her sister's despair and the painful truths they've been running from. As the weeks unfold, Philippa wonders if Ev truly did find a way home, or if the weight of their worlds pulled her under.
The Magicians (The Magicians #1) by Lev Grossman
In a secret world of forbidden knowledge, power comes at a terrible price…Quentin Coldwater's life is changed forever by an apparently chance encounter: when he turns up for his entrance interview to Princeton he finds his interviewer dead – but a strange envelope bearing Quentin's name leads him down a very different path to any he'd ever imagined. The envelope, and the mysterious manuscript it contains, leads to a secret world of obsession and privilege, a world of freedom and power and, for a while, it's a world that seems to answer all Quentin's desires. But the idyll cannot last – and when it's finally shattered, Quentin is drawn into something darker and far more dangerous than anything he could ever have expected…
Magonia (Magonia #1) by Maria Dahvana Headley
Since she was a baby, Aza Ray Boyle has suffered from a mysterious lung disease that makes it ever harder for her to breathe, to speak—to live. So when Aza catches a glimpse of a ship in the sky, her family chalks it up to a cruel side effect of her medication. But Aza doesn't think this is a hallucination. She can hear someone on the ship calling her name.
Only her best friend, Jason, listens. Jason, who's always been there. Jason, for whom she might have more-than-friendly feelings. But before Aza can consider that thrilling idea, something goes terribly wrong. Aza is lost to our world—and found by another. Magonia.
Above the clouds, in a land of trading ships, Aza is not the weak and dying thing she was. In Magonia, she can breathe for the first time. Better, she has immense power—but as she navigates her new life, she discovers that war between Magonia and Earth is coming. In Aza's hands lies the fate of the whole of humanity—including the boy who loves her. Where do her loyalties lie?
Wintersong (Wintersong #1) by S. Jae-Jones
All her life, Liesl has heard tales of the beautiful, dangerous Goblin King. They've enraptured her mind, her spirit, and inspired her musical compositions. Now eighteen and helping to run her family's inn, Liesl can't help but feel that her musical dreams and childhood fantasies are slipping away.
But when her own sister is taken by the Goblin King, Liesl has no choice but to journey to the Underground to save her. Drawn to the strange, captivating world she finds―and the mysterious man who rules it―she soon faces an impossible decision. And with time and the old laws working against her, Liesl must discover who she truly is before her fate is sealed.
Portal Fantasy Books for Adults
Young people shouldn't get to have all the fun. These portal fantasy novels are aimed at adult readers (though many will have crossover appeal for teens).
In a desolate future built on virtual reality, Ginn is a romantic who yearns for something real. She designs environments for people who play at being Vikings. But when her project goes awry, she's stranded in the actual 10th century, on a storybook farm in Viking Iceland.
Heirik is the young leader of his family, honored by the men and women who live on his land. But he is feared and isolated because of a terrible curse. Ginn and Heirik are two people who never thought they would find a home in someone else's heart. When forces rise against them to keep them apart, Ginn is called on to decide–will she trade the brutal but beautiful reality of the past for a painless future? Or will she have the courage to traverse time and become more of a Viking than she ever imagined?
The Buried Life (Recoletta #1) by Carrie Patel
The gaslight and shadows of the underground city of Recoletta hide secrets and lies. When Inspector Liesl Malone investigates the murder of a renowned historian, she finds herself stonewalled by the all-powerful Directorate of Preservation – Recoletta's top-secret historical research facility.
When a second high-profile murder threatens the very fabric of city society, Malone and her rookie partner Rafe Sundar must tread carefully, lest they fall victim to not only the criminals they seek, but the government which purports to protect them. Knowledge is power, and power must be preserved at all costs…
California Bones (Daniel Blackland #1) by Greg Van Eekhout
When Daniel Blackland was six, he ingested his first bone fragment, a bit of kraken spine plucked out of the sand during a visit with his demanding, brilliant, and powerful magician father, Sebastian.
When Daniel was twelve, he watched Sebastian die at the hands of the Hierarch of Southern California, devoured for the heightened magic layered deep within his bones.
Now, years later, Daniel is a petty thief with a forged identity. Hiding amid the crowds in Los Angeles―the capital of the Kingdom of Southern California―Daniel is trying to go straight. But his crime-boss uncle has a heist he wants Daniel to perform: break into the Hierarch's storehouse of magical artifacts and retrieve Sebastian's sword, an object of untold power.
For this dangerous mission, Daniel will need a team he can rely on, so he brings in his closest friends from his years in the criminal world. There's Moth, who can take a bullet and heal in mere minutes. Jo Alverado, illusionist. The multitalented Cassandra, Daniel's ex. And, new to them all, the enigmatic, knowledgeable Emma, with her British accent and her own grudge against the powers-that-be. The stakes are high, and the stage is set for a showdown that might just break the magic that protects a long-corrupt regime.
Chronin (Chronin #1) by Alison Wilgus
Her name is Mirai Yoshida.
She was not born in Japan.
She is not supposed to be in 1864.
But, through a time-travel mishap, Mirai is stuck with no way out. Help may be found when she befriends Hatsu, a humble tea mistress harboring a dangerous secret. Yet time is running short for the entire nation, because Mirai knows that the shogunate is about to fall. Learning the way of the sword might be her only path towards survival.
Kell is one of the last Antari―magicians with a rare, coveted ability to travel between parallel Londons; Red, Grey, White, and, once upon a time, Black.
Kell was raised in Arnes―Red London―and officially serves the Maresh Empire as an ambassador, traveling between the frequent bloody regime changes in White London and the court of George III in the dullest of Londons, the one without any magic left to see.
Unofficially, Kell is a smuggler, servicing people willing to pay for even the smallest glimpses of a world they'll never see. It's a defiant hobby with dangerous consequences, which Kell is now seeing firsthand.
After an exchange goes awry, Kell escapes to Grey London and runs into Delilah Bard, a cut-purse with lofty aspirations. She first robs him, then saves him from a deadly enemy, and finally forces Kell to spirit her to another world for a proper adventure.
Dead Things (Eric Carter #1) by Stephen Blackmoore
Necromancer is such an ugly word, but it's a title Eric Carter is stuck with.
He sees ghosts, talks to the dead. He's turned it into a lucrative career putting troublesome spirits to rest, sometimes taking on even more dangerous things. For a fee, of course.
When he left LA fifteen years ago, he thought he'd never go back. Too many bad memories. Too many people trying to kill him.
But now his sister's been brutally murdered and Carter wants to find out why.
Was it the gangster looking to settle a score? The ghost of a mage he killed the night he left town? Maybe it's the patron saint of violent death herself, Santa Muerte, who's taken an unusually keen interest in him.
Carter's going to find out who did it, and he's going to make them pay.
As long as they don't kill him first.
Li Lan, the daughter of a respectable Chinese family in colonial Malaysia, hopes for a favorable marriage, but her father has lost his fortune, and she has few suitors. Instead, the wealthy Lim family urges her to become a "ghost bride" for their son, who has recently died under mysterious circumstances. Rarely practiced, a traditional ghost marriage is used to placate a restless spirit. Such a union would guarantee Li Lan a home for the rest of her days, but at what price?
Night after night, Li Lan is drawn into the shadowy parallel world of the Chinese afterlife, where she must uncover the Lim family's darkest secrets—and the truth about her own family.
The Invisible Library (The Invisible Library #1) by Genevieve Cogman
Irene is a professional spy for the mysterious Library, a shadowy organization that collects important works of fiction from all of the different realities. Most recently, she and her enigmatic assistant Kai have been sent to an alternative London. Their mission: Retrieve a particularly dangerous book. The problem: By the time they arrive, it's already been stolen.
London's underground factions are prepared to fight to the death to find the tome before Irene and Kai do, a problem compounded by the fact that this world is chaos-infested—the laws of nature bent to allow supernatural creatures and unpredictable magic to run rampant. To make matters worse, Kai is hiding something—secrets that could be just as volatile as the chaos-filled world itself.
Now Irene is caught in a puzzling web of deadly danger, conflicting clues, and sinister secret societies. And failure is not an option—because it isn't just Irene's reputation at stake, it's the nature of reality itself…
Kindred by Octavia E. Butler
Dana, a modern black woman, is celebrating her twenty-sixth birthday with her new husband when she is snatched abruptly from her home in California and transported to the antebellum South. Rufus, the white son of a plantation owner, is drowning, and Dana has been summoned to save him. Dana is drawn back repeatedly through time to the slave quarters, and each time the stay grows longer, more arduous, and more dangerous until it is uncertain whether or not Dana's life will end, long before it has a chance to begin.
It's Carnival time and the Caribbean-colonized planet of Toussaint is celebrating with music, dance, and pageantry. Masked "Midnight Robbers" waylay revelers with brandished weapons and spellbinding words. To young Tan-Tan, the Robber Queen is simply a favorite costume to wear at the festival–until her power-corrupted father commits an unforgiveable crime.
Suddenly, both father and daughter are thrust into the brutal world of New Half-Way Tree. Here monstrous creatures from folklore are real, and the humans are violent outcasts in the wilds. Tan-Tan must reach into the heart of myth and become the Robber Queen herself. For only the Robber Queen's legendary powers can save her life…and set her free.
Victoria McQueen has a secret gift for finding things: a misplaced bracelet, a missing photograph, answers to unanswerable questions. On her Raleigh Tuff Burner bike, she makes her way to a rickety covered bridge that, within moments, takes her wherever she needs to go, whether it's across Massachusetts or across the country.
Charles Talent Manx has a way with children. He likes to take them for rides in his 1938 Rolls-Royce Wraith with the NOS4A2 vanity plate. With his old car, he can slip right out of the everyday world, and onto the hidden roads that transport them to an astonishing – and terrifying – playground of amusements he calls "Christmasland."
Then, one day, Vic goes looking for trouble—and finds Manx. That was a lifetime ago. Now Vic, the only kid to ever escape Manx's unmitigated evil, is all grown up and desperate to forget. But Charlie Manx never stopped thinking about Victoria McQueen. He's on the road again and he's picked up a new passenger: Vic's own son.
Rosewater (The Wormwood Trilogy #1) by Tade Thompson
Rosewater is a town on the edge. A community formed around the edges of a mysterious alien biodome, its residents comprise the hopeful, the hungry and the helpless – people eager for a glimpse inside the dome or a taste of its rumored healing powers.
Kaaro is a government agent with a criminal past. He has seen inside the biodome, and doesn't care to again—but when something begins killing off others like himself, Kaaro must defy his masters to search for an answer, facing his dark history and coming to a realization about a horrifying future.
In a sprawling mansion filled with peculiar treasures, January Scaller is a curiosity herself. As the ward of the wealthy Mr. Locke, she feels little different from the artifacts that decorate the halls: carefully maintained, largely ignored, and utterly out of place.
Then she finds a strange book. A book that carries the scent of other worlds, and tells a tale of secret doors, of love, adventure and danger. Each page turn reveals impossible truths about the world and January discovers a story increasingly entwined with her own.
The True Queen (Sorcerer Royal #2) by Zen Cho
When sisters Muna and Sakti wake up on the peaceful beach of the island of Janda Baik, they can't remember anything, except that they are bound as only sisters can be. They have been cursed by an unknown enchanter, and slowly Sakti starts to fade away. The only hope of saving her is to go to distant Britain, where the Sorceress Royal has established an academy to train women in magic.
If Muna is to save her sister, she must learn to navigate high society, and trick the English magicians into believing she is a magical prodigy. As she's drawn into their intrigues, she must uncover the secrets of her past, and journey into a world with more magic than she had ever dreamed.
What is Un Lun Dun?

It is London through the looking glass, an urban Wonderland of strange delights where all the lost and broken things of London end up…and some of its lost and broken people, too—including Brokkenbroll, boss of the broken umbrellas; Obaday Fing, a tailor whose head is an enormous pin-cushion, and an empty milk carton called Curdle. Un Lun Dun is a place where words are alive, a jungle lurks behind the door of an ordinary house, carnivorous giraffes stalk the streets, and a dark cloud dreams of burning the world. It is a city awaiting its hero, whose coming was prophesied long ago, set down for all time in the pages of a talking book.
When twelve-year-old Zanna and her friend Deeba find a secret entrance leading out of London and into this strange city, it seems that the ancient prophecy is coming true at last. But then things begin to go shockingly wrong.
---
You May Also Like
Read-Alikes for The Hazel Wood
50 Must-Read Fairytale Retellings for Middle Grade and Picture Book Readers
100 Must-Read Fairytale Retellings for Adult and YA Readers