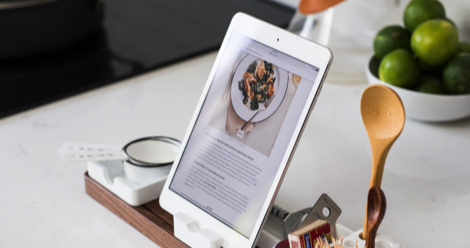 Nonfiction
10 Pop Culture Cookbooks to Tickle Your Tastebuds
This content contains affiliate links. When you buy through these links, we may earn an affiliate commission.
Having spent the last couple of days researching pop culture cookbooks, I'm not sure how I have lived this long without owning one. I'm really not. Cooking has always been something of a chore, and I tend to go in for cheap, easy meal prep recipes with a high yield. I've made an art form out of only having to cook twice a month. And while technically that's more financially responsible than filling my lunch containers with either heart tartare tarts or sushi pokéballs, I think I'm going to have to start shaking things up. Because these 10 pop culture cookbooks combine two of my favorite things, food and fandom, and now I am absolutely starving.
It's always good to start by reaching for the stars. This cookbook is probably only to be whipped out either on days you're feeling extravagant, or if you've got a big dinner party and you really need to impress. Compiled by Janice Poon, the extraordinarily talented food stylist from NBC's Hannibal (and now Starz's American Gods), Feeding Hannibal is part cookbook, part art book, with page after glossy page of images, concept art, and behind-the-scenes tidbits from the now defunct show. Still, if it's a bitter day and you need something to warm you up, Kristen says the Black Silkie Chicken Soup is the way to go. Or, if you're feeling brave, there's always the Heart Tartare Tarts!
It's safe to cook from this one—absolutely none of the food is people! As opposed to the high artistry and excess of Feeding Hannibal, the recipes in Outlander Kitchen are warm, simple, stick-to-your-bones dishes. They run the gamut from traditional Scottish dishes like Cock-a-leekie Soup to dishes named for the characters that inspired their inclusion, like Lord John's Upside-Down Plum Cake. True, Outlander Kitchen is more of a traditional cookbook than Feeding Hannibal, but with its warm colors, beautiful photography, and a foreword by series author Diana Gabaldon, this cookbook is every bit as much a collector's item.
In the words of George R.R. Martin, in the foreword to A Feast of Ice and Fire, "Eat Hearty, my friends. Winter is coming." If Outlander Kitchen seems a bit tame and too 18th century, and you need something hearty and medieval to go with your political intrigue (or to serve at your ominously colored weddings), this is the cookbook for you. Again, this is one of those cookbooks that's a delightful mix of period recipes and show-inspired pieces, containing some 100 recipes divided into six Westeros regions. So whether you're feeling the need to thaw out with a hearty Breakfast on the Wall, or treat yourself to some King's Landing Lemon Cakes (helloooooo) you're bound to find the the perfect dish…which, in Westeros, just might be your last.
Not hanging out in Westeros, but still finding yourself with an un-dead problem? Or maybe you're anticipating the onset of the inevitable zombie apocalypse and want to hone your food survival skills. This official The Walking Dead cookbook and survival guide is, as the title implies, a two-in-one. You'll learn the finer points of scavenging and cooking with an open flame, and find yourself with a wide selection of recipes with which to test your new abilities. Whip yourself up some Homestead Home Fries for breakfast before you set out, reward yourself for your mid-morning zombie body count with Amy and Andrea's Campfire Fish Fry, and top off the day with a little Cherry Moonshine. Because the world might be ending, but only a brain-munching zombie doesn't have time for a drink. (In moderation please. Intoxicated people die first when the zombies attack. Major party foul.)
A Snacking Interlude: If you want something to nibble on the run consider also checking out THE SNACKING DEAD by D.B. Walker, a parody cookbook complete with "Appetizers for an Apocalypse" and "Messy Bites for the Newly Dead"…for those days when you don't run quite fast enough.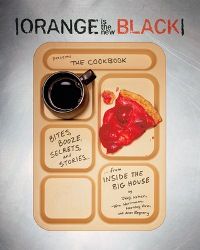 Okay, put the zombies and the dragons, the kilts and the cannibals away for a tick and come back to the world. Come back to a cookbook where most of the recipes will be familiar, and you can get your meat from the grocery store instead of stalking it through the zombie-infested Georgia countryside. Each entry in this book is attributed to a character from Orange is the New Black, and is preceded with an in-character paragraph pertaining to the recipe, which adds the fandom-specific touch that makes pop culture cookbooks the best cookbooks for the would be nerd-chef (read: Me). Help yourself to some of Gloria's Chunky Oatmeal (more appetizing than it sounds), or dig into Miss Rosa's Huevos with Spinach (made with eggs from The Legendary Feral Chicken?) There's even a recipe for SHU Moldy Mystery Meat…but I'd avoid that one if I were you.
So Treme is one of those sad book stories, where, unfortunately, the physical copy is out of print. But I wanted to include it on this list because the e-book is still available, and the recipes in this one are to die for. Separated out by character, there are easily over 100 recipes in these pages, all of which celebrate a truly unique culture and cuisine that has stood the test of time and tragedy. You want a taste of New Orleans? This is a great cookbook to start with. The author, Elie, is a food historian who worked with HBO on Treme, and what he's pulled together in Treme (the cookbook) is, again, that wonderful blend of fiction and fine cooking, with essays from each character, and an in-character anecdote for each recipe. All I know is Treme had me at Pecan Pancakes, but I'd also hand you my soul in a box for some Ajan Étouffée.
What's a list of cookbooks without at least one decent Italian cookbook? I mean come on, who doesn't like Italian? Not unlike Treme, The Sopranos Family Cookbook is an combination of recipes and commentary from the characters of The Sopranos. Between recipes for Lasagna (of course) and Linguine alle Vongole are photos of the Sopranos family, family remembrances, essays, and memorabilia from the opening of the family restaurant, Nuovo Vasuvio. Recipes are not arranged by meal or type, but rather flow organically from the subject matter of the various chapters. But if that sounds just a bit too disorganized, don't turn your back on The Family just yet. There's a very useful recipe index in the back organized alphabetically by recipe type. So grab a slice of Almond Torte, and mangia!
Star Trek Cookbook by Ethan Phillips and William J Birnes
Go where no man has gone before…culinarily. Written in part by Ethan Phillips in the persona of his Star Trek: Voyager character, Neelix, the Star Trek Cookbook is a must have for intrepid star explorers. Broken into six categories, primarily by vessel (or space station), each familiar character serves as a sub-header for a group of recipes—there's even a group of recipes for tea with everyone's favorite Earl Grey drinking captain. Maybe you're brave enough to try your hand at some Rokeg Blood Pie à la Neelix (No? That's okay. I love Neelix, but I'm not sure about his cooking either.) Or maybe you'd prefer some of Scotty's Lemon Chicken. There's nothing unfamiliar or scary (sorry Neelix) about Lemon Chicken. A delightful mix of recipes and anecdotes from Neelix, the Star Trek Cookbook will entertain and feed you.
And oldie but a goodie, this galactic cookbook was originally published in 1998. Aimed at cooking with children but thoroughly entertaining for Star Wars chefs of all ages, The Star Wars Cookbook is a little sillier than some of the previous entries, and a lot of fun. Make yourself some Boba Fett-Uccine for dinner, or start your morning with some Oola-la French Toast. If the kids eat all their Crazy Cantina Chili without getting dragged into a galactic rebellion you can reward them with some titular Wookiee Cookies and Hoth Chocolate. Apparently the Dark Side doesn't have all the cookies.
This might be the cutest cookbook on the list, although it's neck and neck with The Star Wars Cookbook. Beating the cute factor of a Wookie Cookie (that's just so much fun to say) is no easy feat, but the Pikachu Happy Face Cake comes pretty close. Like The Star Wars Cookbook, The Pokémon Cookbook is designed to get kids into the kitchen and cooking, as well as introduce them and the whole family to a new cuisine. If your little kitchen helper isn't one for sweets, or you're trying to limit their intake of sugary electric mice, you could substitute Pikachu Fried Rice (its face is an egg), or whip up some super adorable and delicious Sushi Pokéballs! Gotta eat 'em all, Pokémon! (That's how it goes, right?)
Didn't see your fandom? Don't worry! There's a pop culture cookbook for everyone! Maybe you want something more bookish. Or maybe you want to get the kids cooking, but they're not big on Princess Leia Danish Dos or Piplup Milk Gelatin bowls, and would rather have something from Redwall or Anne of Green Gables.
Whatever your fandom, go forth and cook!