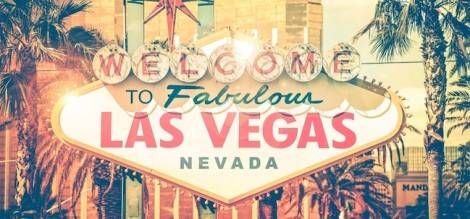 This content contains affiliate links. When you buy through these links, we may earn an affiliate commission.
At the southernmost tip of the Nevada desert, a young Mexican scout named Rafael Rivera looked upon the relative oasis he saw before him and called it "Las Vegas" which translates to "the meadows." At least that's what Wikipedia tells me. I like to get a bit of background on a place before I visit, it just makes things more interesting to put cities in their historical contexts. The Las Vegas as we know it today has origins with mobster Bugsy Siegel, who opened the first hotel on the strip and named it The Flamingo in honour of a pretty bird with legs for days.
I'm laying out by the hotel pool under the hot Las Vegas sun burning up. The book I brought along with me is a classic Nevada tale. You know how they say in really good movies and TV shows that the setting is like a character? Well, I really buy in to that stuff. Some people match handbags and shoes, I match my books to my vacations. I guess the obvious choice would have been Fear and Loathing in Las Vegas, but I wasn't in the mood for that and figured I'd get around to it eventually — flights to Vegas are cheap from where I live.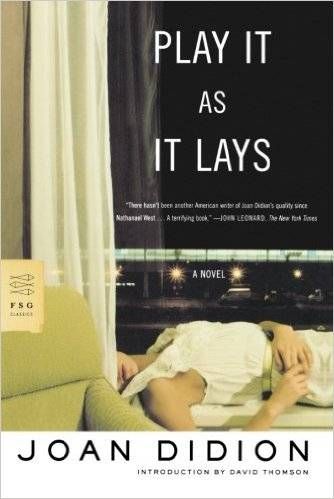 It's said that Play It As It Lays crystallized for Joan Didion as she sat in the lobby of the Riviera Hotel in Las Vegas and saw a girl walk through. Although that description seems vague, I can see how clearly that scene could have turned into Maria Wyeth's story, as Maria is at once everywoman as well as a very specific type of woman. I've had this book for a while, but I was saving it, like you do for a special occasion. I figured a trip to Nevada was the perfect time to crack the spine of my first piece of Didion fiction since it's also set in the desert state.
Play It As It Lays has everything I want in a vacation read:
O.G. complicated "cool girl" Maria (pronounced Mar-eye-ah, she would have you know).
The right tone, the right length at 214 pages.
Claims on Goodreads of capturing "the mood of an entire generation."
I read for all sorts of reasons: I read fantasy mostly for escapist purposes, I read non-fiction when I need a dose of reality, but I read literary fiction not to get engrossed in plot, but to pull out a few biting lines and ideas that resonate or make me think.
I figured there's not much point in giving a summary because you can look it up online, but I wanted to share a few of my favourite lines describing our main character Maria, who really is the heart of the novel (it seems odd saying that because Maria is one of the most emotionally unavailable characters I've ever encountered). The only way I can describe her is as a likable unlikable character: the anti-chick-lit protagonist. In a twisted way, it's refreshing. So here goes; they're not the most beautiful lines, but they were to me, the best ones.
"She never puts on any weight, you'll notice that is often true of selfish women."
"Maria made a list of things she would never do. She would never: walk through the Sands or Caesar's alone after midnight. She would never: ball at a party, do S-M unless she wanted to, borrow furs from Abe Lipsey, deal. She would never: carry a Yorkshire in Beverly Hills."
"I've got a headache. I'm in bed because my head aches."
Like Maria, I fear getting old, becoming irrelevant, and sometimes just need to be left alone. Like Maria I'm scared of being unoriginal, scared of becoming separated from the people I love the most. On my worst days I am Maria—heedlessly drifting through the world not really knowing what I want and not really caring. The world will tell you there's something wrong with that. But sometimes you need a few days as Maria Wyeth before you can be the Dorothy Gale the world needs you to be.
Didion's writing is potent. She packs a lot in very simple sentences, yet you get the sense that each word was picked for a very specific purpose. She doesn't give sprawling descriptions of landscape but instead paints her scenes through tight vignettes and casual remarks about places, like an insider subtly namedroping their celebrity connections. The references to various Las Vegas hotels and landmarks in this novel really were the icing on the cake. Play It As It Lays was, for me, the perfect poolside read but it probably won't be for everyone.