This content contains affiliate links. When you buy through these links, we may earn an affiliate commission.
Sponsored by Macmillan Audio
FBI profiler Sayer Altair hunts a brilliant serial killer with a dangerous obsession in Caged, a gripping thriller audiobook from debut author Ellison Cooper. In a residential Washington, D.C., neighborhood, a young woman's body is found in the basement of an abandoned house. The victim is identified as the daughter of a prominent D.C. politician, and it falls to the FBI to track down the unconscionable psychopath who murdered her.
 Listen to an excerpt!
---
You know when you're reading by the pool, but you're constantly adjusting to find the comfiest spot, and your sunglasses are making your face sweat in weird places, and you're worried about having a rectangular tan line on your tummy? That's where poolside audiobooks come in.
These books are the perfect pals for such listening. Bonus: You can keep your eyes closed while you're soaking in a book and some sunshine.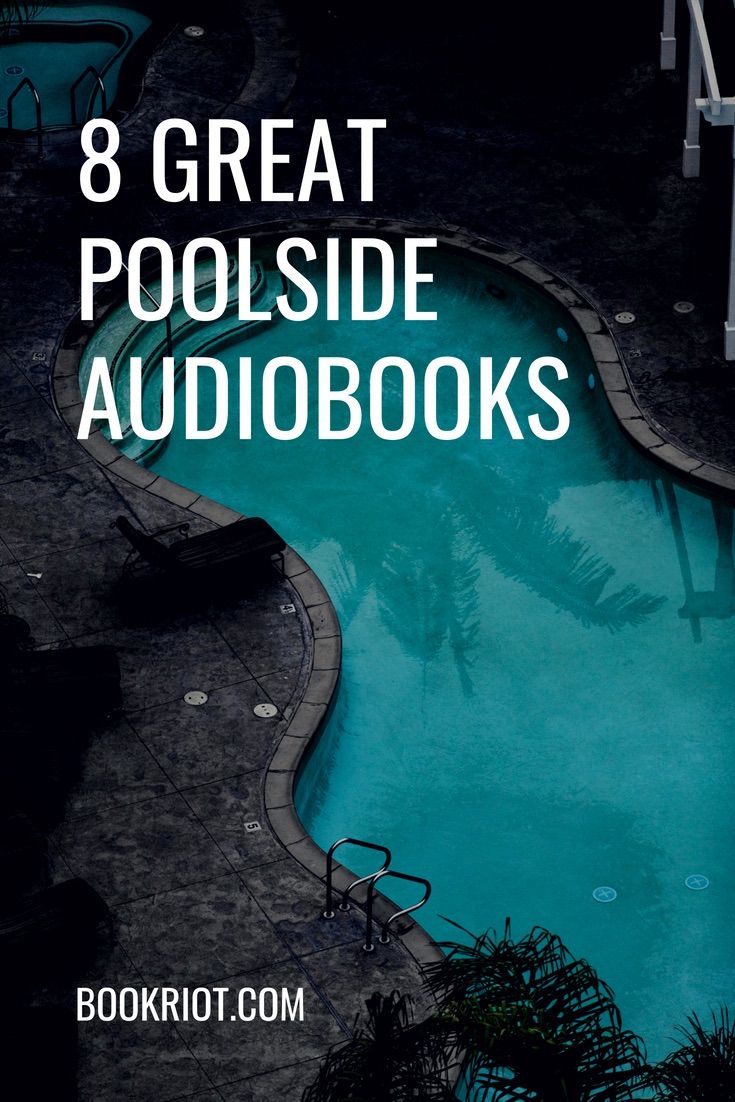 Fiction
Crazy Rich Asians by Kevin Kwan, narrated by Lynn Chen
Crazy Rich Asians is very much in the same vein as Gossip Girl and Edith Wharton. Rich people! Drama! Snooty elderly family members! Gossip! Name dropping like it's nobody's business! Honestly, if you need more information before listening to this, I don't know what to do for you. Also, if you need more Crazy Rich Asians in your life, we got you.
Heartburn by Nora Ephron, narrated by Meryl Streep
Heartburn is the hilarious retaliation of a woman scorned. Near the end of her second pregnancy, Nora Ephron finds out that her husband is cheating on her. This is the fictional response to that, and HOO BOY, is it good. She eviscerates her ex-husband and their entire social circle. And she sprinkles in lots of recipes throughout the book. Also, if Meryl Streep could narrate every audiobook ever, that would be fine.
Tiny Pretty Things by Sona Charaipotra and Dhonielle Clayton, narrated by Imani Parks, Nora Hunter, and Greta Jung
Oooh, the drama in Tiny Pretty Things is INTENSE. Three ballerinas are fighting for the top spot in their elite school, and they'll do whatever it takes to knock the competition down. Bette, the golden girl, expects to be on top. Gigi, the new girl, has to fight her way up. And June, the perfectionist, just may be the most malicious of them all. This full-cast production makes it the perfect choice, as far as poolside audiobooks go. It's a page-turner, but with your ears.
Undead Girl Gang by Lily Anderson, narrated by Rebecca Soler
Teen witches! Need I say more? Okay, fine. Mia's BFF died the same night as two mean girls from school. There were weird circumstances. So Mia does a little spell to bring Riley back to life to find out what really happened—but Dayton and June come along, too. They learn to be friends as they work together to solve the mystery of how they all died, but they only have seven days before the spell lifts. It's fun! It's spooky!
Nonfiction
Educated by Tara Westover, narrated by Julia Whelan
Tara Westover grew up in a survivalist home and was homeschooled. Her father believed all government establishments were not to be trusted, including doctors. Her mother made tinctures and salves with herbs and spices. And when she was 17, she decided to educate herself enough to get into college, where she learned what the word Holocaust means and that the Civil Rights movement really did happen in the 1960s, not the 1860s. She was reinventing herself but remained fiercely loyal to her family, even as she learned the opposite of everything they taught her. Westover's story is incredibly moving. It's one of the better choices for poolside audiobooks.
When Diane Guerrero was 14, her parents were deported to Colombia. Since she was born on U.S. soil, she was a legal citizen and got to stay behind, on the love of family and friends. She had to fend for herself while dealing with the fear and trauma of her parents being taken from her while she was at school. The Orange is the New Black and Jane the Virgin star tells a heart-wrenching tale here. I cannot recommend it enough.
Robin by Dave Itzkoff, narrated by Fred Berman
I tend to stay away from biographies, but I couldn't resist one about the beloved Robin Williams. Dave Itzkoff interviewed Williams's family, friends, and colleagues to piece together his story, and it never once feels like a dull rehashing of dates and facts. The bonus of listening to this book is that the narrator, Fred Berman, absolutely nails Williams's joke delivery.
If you can't decide between any of the poolside audiobooks above, just go with this one. Gabrielle Union lets it all out—the good, the bad, and the ugly. Feminism. Race. Sexual assault. Bullying. Yeast infections. Hearing Union read her story to you is the best way to absorb it. She feels like a regular gal pal dropping hard truths and hilarious tidbits.