Newsletter 1
Polyamorous Erotic Romance: Mixing More Than Greek and Latin
This content contains affiliate links. When you buy through these links, we may earn an affiliate commission.
This is a guest post by Jessica Tripler. Jessica is an academic who lives in Maine. She's enthusiastic about digital reading, both e-book and audio. She can't resist marriages of convenience, waning trends, or any novel with a philosophical subplot. Since 2008, she has blogged at ReadReactReview whenever life, by which she means Twitter, doesn't get in the way. Follow her on Twitter @RRRJessica.
For some, polyamory evokes the decidedly unglamorous prospect of more dirty socks on the floor and a nightmarish digital calendar sync. But polyamorous erotic romance is literary fantasy, where the good of multiple partners outweighs the bad, especially where sexual pleasure is involved. Unlike menage stories, where the third participant is there for pleasure, in a poly story all of the partners are integral to plot, characterization, and the happy ever after.
In the early days of polyamorous romance, plots focused on how to get an inexperienced heroine to accept and understand the heroes', erm, unusually cooperative lifestyle. Often a virgin, the heroine would experience her lifetime quota of sexual partners in her first go, a strategy which gained in efficiency what it lost in plausibility. The heroes were very alpha — cowboys and assassins and such — possibly to stamp out any whiff of homosexuality. Because everyone knows that macho guys are not gay. Ahem.
Horny cowboys with very special family traditions aside, anyone who's caught an episode of Showtime's Polyamory: Married and Dating knows poly "pods" actually come in many shapes and sizes. Once confused with sleeping around or polygamy, polyamory is actually a lifestyle with its own set of ethical rules. Today's poly erotic romances, while definitely still fantasy, explore how monogamy, for some characters, inhibits emotional and sexual growth. In a poly romance, multiple partners are necessary for truly satisfying and abiding love.
A new historical romance by Megan Mulry, Bound to Be a Groom, is set in the summer of 1808. Four partners, including an English duke, a Spanish soldier, and two lovers who met at a convent — because what good are convents if not for learning how to give awesome oral sex? — cavort their way through Spain and England while trying to figure out how two dominants and two submissives fit together in a harmonious quartet. This one is light in tone and plot, but surprisingly tender.
It seems a little counter-intuitive to me, but if contemporary fiction is anything to go by, there's nothing like an apocalypse to produce a rigidly organized society. In Kit Rocha's "Beyond" series, Eden is a righteous city beset on all sides by slums divided into sectors and ruled by ganglords. In Beyond Jealousy, when a crime boss's daughter ends up in brutal Sector Four, known for booze and sin, she embarks on a sexual and emotional journey that ends in a loving relationship with two men who also love one another. Sector Four, run by the O'Kane gang (think Sons of Anarchy crossed with J. R. Ward's "Black Dagger Brotherhood", with bootlegging and alphabet soup orgies in place of gun running and bloodsucking) is so pansexual that it's hard to even know which groupings are polyamorous unions and which are mere sport.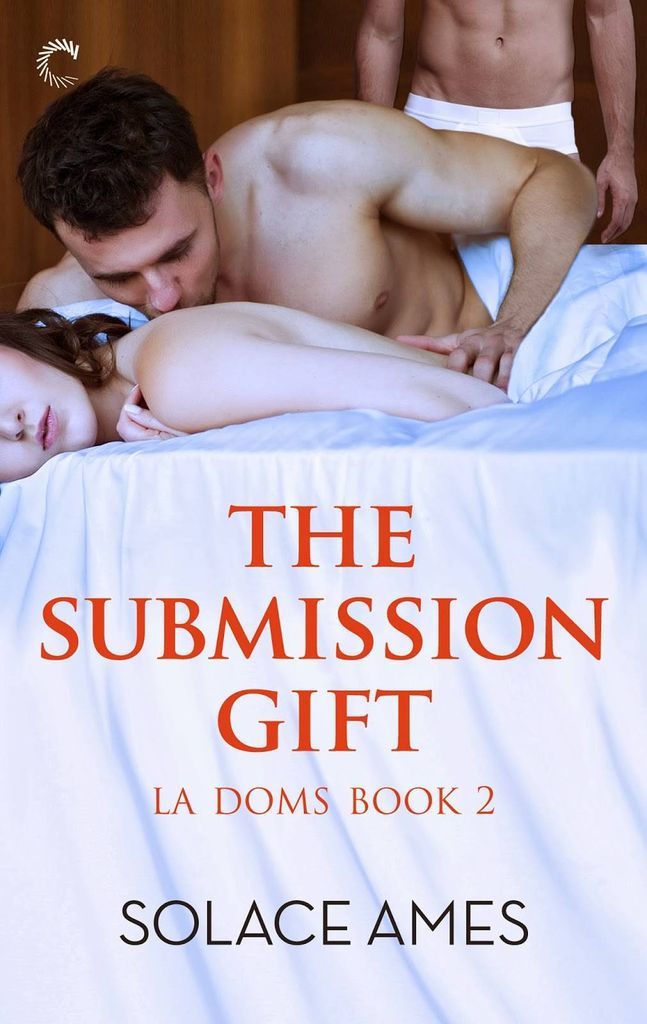 Erotic romance is not known for wasting a lot of pages outside the bedroom, but some attempt to explore the challenges of negotiating polyamory in a monogamous world. In Kelly Jamieson's Rhythm of Three, book two of a duology set in contemporary Chicago, we see the consternation a wedding invitation provokes when "plus one" is one too few. And in Solace Ames' The Submission Gift, set in present day L.A., explores the aftermath of a car accident that has nearly ruined Javier and Adrianna's marriage. Jay's ongoing health challenges lead them to hire a professional Dom (you're just going to have to read the book to trace that causal connection), and get way more than they paid for.
The romance genre has confined its exploration of polyamory to erotic themes, and the prevalence of BDSM reflects the post-Fifty Shades market, not reality. Increased diversity of all kinds is more than warranted. I'm not holding my breath for Just the Three of Us: An Amish Romance, but it would be especially nice to see polyamorous relationships in non-erotic subgenres of romance. Then again, I'd probably find an exploration of soccer carpooling with multiple partners pretty darn hot.
Have you read any novels that explore polyamorous relationships lately? Can you recommend any polyamorous romance?