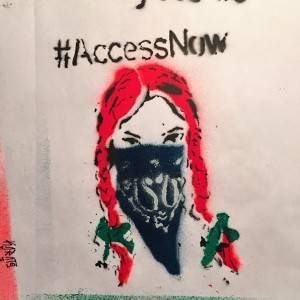 Feminism
Politicizing an Icon: Anne of Pro-Choice Activism
Prince Edward Island is, to most of the world, a summer tourism destination known for friendly people, exceptional beaches, and of course the province's most famous export, LM Montgomery's marvellous creation Anne of Green Gables. PEI is often marketed as a corner of Canada untouched by time, a place where you will find peace and quiet and seclusion, where the world moves a little more slowly and everything is a little easier.
What isn't in those bucolic tourism brochures, however, is a darker part of island life for Prince Edward Island women: there are no abortion providers on PEI, so women in need of that service must travel to a neighbouring province, New Brunswick (which has its own difficult history with abortion access) or Nova Scotia. Obviously, this places additional financial hardships on women seeking abortions, therefore limiting choice. There are many reports of negative health outcomes for women who try to perform a therapeutic abortion without the guidance of medical professionals. From a recent VICE report on the state of abortion access in Maritime Canada (the documentary version is totally worth your time):
PEI is the only Canadian province in which abortion is technically not available: Hospitals and clinics do not provide surgical abortions. But in practice, if you know the right people, you can be put in touch with physicians who offer what Island women sometimes call a "chemical cocktail," or a medical abortion. The cocktail is made up of Misoprostol and Methotrexate. Administration of the cocktail can go awry, but for rural people (who constitute 53 percent of the population) with limited income, it can also be the only choice.
This secret, backroom practice — which doesn't come with follow-up care — is also in contravention of the laws in Canada that assure equality of health outcomes across provinces. It's worth noting that it has been 28 years since women in Canada legally won the right to access safe abortions, paid for by socialized medicine.
And yet, the situation continues in PEI, largely because for a long time the status quo seemed to be acceptable to the majority of Islanders. But lately, things have been changing, and now a new awareness campaign is certainly raising eyebrows across the province and beyond as it blends activist sentiment with PEI's most famous export: a vigilANNEte sentiment, so to speak.
Pro-life groups have registered anger and discomfort with this use of the famous pigtails. But there are reasons beyond my own personal politics that I find this reappropriation of Anne's visage an appropriate way to express dissent within Prince Edward Island's context.
First, while Anne exists in a world before feminism, she's a strong proponent of women having agency in their own lives. Her decisions — to be educated, to teach, to write, and to marry — are all her own choices, made freely. And Anne loved babies and cherished her own children, to be sure, but she also knew what it was to be unloved, unwanted, and abandoned. She knew pain and tragedy and she sought to limit both in the lives of people around her. Her face makes perfect sense in a campaign that, at its core, seeks to do the same thing.
Second, as scholars like Herb Wyile have pointed out, PEI (and Atlantic Canada as a whole) is trapped by the expectations that narratives like Anne of Green Gables create: when tourism depends on a version of yourself that is trapped in a quaintly backwards time, social progress becomes undesirable. To co-opt an image like Anne that has been tied to one particular version of what PEI can be, and to use it to agitate for a more progressive society, is a beautiful corrective.
You can follow the progress of Anne in her new role at the Twitter account @IAmKarats.