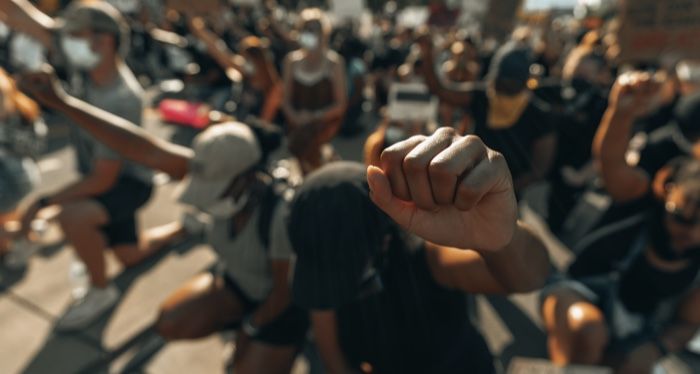 Lists
Beyond the Basics: Books for a Political Education and Liberation
This content contains affiliate links. When you buy through these links, we may earn an affiliate commission.
This is a guest post from Chanda Prescod-Weinstein. She is a theoretical physicist, feminist theorist, and author of The Disordered Cosmos: A Journey into Dark Matter, Spacetime, and Dreams Deferred, out now from Bold Type Books. You can find her on Twitter @IBJIYONGI.
---
The last year has raised the political consciousness of people across the United States — and the world — who for various reasons had previously not paid much attention to the material conditions that shape the lives of people on the margins of American society, particularly Black folks. Thanks to the visibility brought by a new generation of freedom fighters under the banner of "Black Lives Matter," work which is itself rooted in organizing work that goes back decades, the brutality of 2020 was impossible to ignore.
Within the literary community, one of the ways we have responded is by talking about what to read. This is of course natural coming from a group of people whose lives center on the written word. Worse, we have been too comfortable recommending the same introductory level texts over and over again. Unhelpfully, our tendency to focus on simple recommendations also intersects with the tendency of large swathes of "well-meaning" people to think that reading about racism and injustice constitutes a sufficient response to racism and injustice. Too often, people are looking for simple solutions to complex problems — and often "simplicity" means "minimally inconvenient for me." Because so many of us love to read, choosing to focus on reading can constitute a form of escape when what is needed is active confrontation with injustice.
Even so, reading really is fundamental, and paired with active engagement in organizing work, it can be powerful. Although critiques of reading lists on race and racism have popped up on social media and in publications, it has long been the case that people organizing for social justice have engaged in what is often called "political education." In fact, this kind of continuous learning is a key activity for people who are engaged in the work of building a new world. This is different from picking up a book that promises to provide clear instructions on how to be better. It requires grappling with big ideas, being challenged, and continuously reexamining our understanding of the world.
Luckily, in recent years there has been no shortage of new releases that can help us as we do the labor of transforming the conditions in which we live. Below I'm sharing books that I've either recently read or are in my own stack for my own political education. I invite you to read with me! Some of the books are academic works that could prove challenging for the reader. I too was once a beginner with these kinds of academic works, and what I've found is the only way out is through: part of the work is challenging ourselves to level up, as necessary. This work is not easy. If it was, we would be done already.