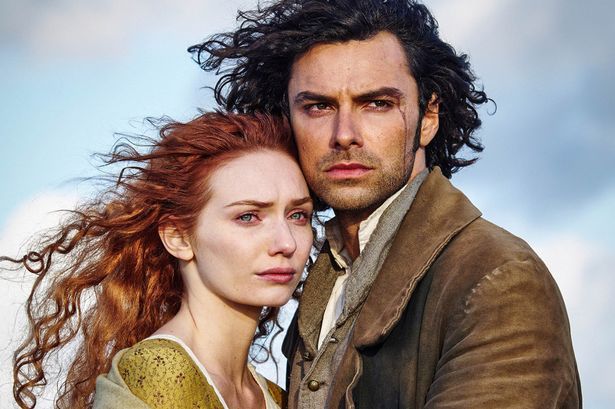 Pop Culture
On the Unconventional Love Story of POLDARK
This content contains affiliate links. When you buy through these links, we may earn an affiliate commission.
It has taken me three years to get through the Poldark novels by Winston Graham. It took me so long partly because I didn't want them to end, and partly because I knew that they would be there waiting while I dallied through other, sometimes less reliable books.
I first discovered the series through the TV adaptation on Masterpiece Theater. Panning shots of Ross Poldark cantering across the cliffs of eighteenth-century Cornwall left me starry-eyed. As the first season ended, I needed more, and quickly found my way into the novels.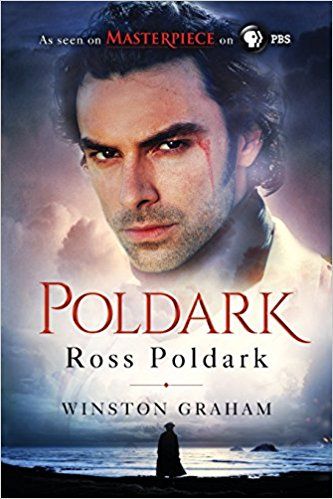 The Poldark series centers around the life of Ross Poldark, a lovable bad boy in a Tricorn hat and with a scar across his cheek that he got while fighting in the American Revolutionary War. Most of the 37 years that the novels span take place on the ragged cliffs of Cornwall on England's far Southwest Coast. Cornwall is a place that is as beautiful as it is harsh. The windy moors make it hard to grow things, and mining is the trade of most. Somehow, even the prose feels sticky with sea salt as the sea roars behind the characters.
Ross himself is also harsh and beautiful. He is the son of the local gentry, but has an impulsive streak that at one point almost lands him in prison with barely a penny to his name, and at another lands him a seat in Parliament.
Meanwhile, other little subplots headlined by characters both rich and poor play out around Ross, giving the novels an egalitarian feel and a sense of local color that we don't see in many period dramas either on the page and on screen. That's right: Winston Graham was writing about upstairs and down long before it was cool.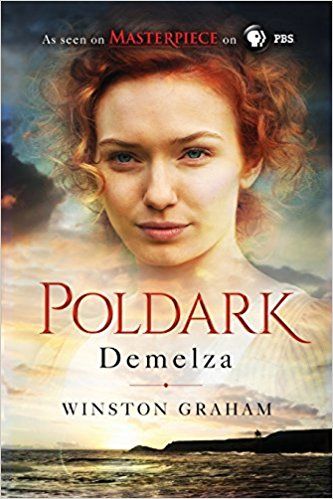 Along with Ross's prison breaks, mining schemes, and political dramas, the story is always of his marriage. He marries Demelza Carne, a miner's daughter, and the marriage is talked about throughout the county as the scandal of the decade. Demelza is nothing like Ross's first love, Elizabeth. Elizabeth comes from one of the oldest families in Cornwall, she is delicate, refined and fashionable. Demelza is hard stock, self-reliant and honest, but as beautiful and stormy as the Cornish coast itself.
Now that I have finished the series, it is the subtle complexity of Ross and Demelza's marriage that has impressed me the most about Winston Graham's writing. The relationship heats up and cools down and even faces moments where it comes close to shattering. Money, infidelity, distance, and time all pull and contract at its very foundation, yet there is a deep friendship and admiration that burns even when they are at each other's throats. This contradiction is so compelling to read.
The interesting thing about Ross and Demelza's relationship is that the dynamics, both positive and negative, are not always gender-based. Sometimes, it is Ross's wandering eye that gets the couple in trouble, sometimes it is Demelza's. There are no straight cuckold or jilted woman stereotypes, nor is one character always a Penelope and the other always Ulysses. It changes as they change and pursue their own ambitions. It is also fun to watch them fight there way through it, trying to figure it out in the same messy fashion of any modern couple.
Age also doesn't stop the Poldark marriage from changing. So often in costume dramas and historical fiction, couples figure it out, have kids—it is assumed that the relationship between man and wife stays in some kind of freaky stasis forever and ever. Not so with Demelza and Ross. When they are young, Demelza keenly feels not only their difference in age, but their difference in social standing. In the first few books, she seems to be always wondering if she will ever measure up. Then, a few children and life changes later, the role switches. Men, rich and poor, constantly throw themselves at Demelza. She also has this clear-sightedness that draws people to her in a way that sharp-edged, painfully stubborn Ross could never muster.
Their relationship also transforms as their children grow older. Ross and Demelza are written in the books as both involved and actually quite good parents. There is no pressure on who should be married off to whom, and who should aspire to be what; instead, they let their children grow up and make mistakes. When the young Poldarks fall on their faces in love or ambition, they are welcomed back home with open arms. For historical fiction, this seems to defy convention. So often plots are flogged forward with a contested arranged marriage, or a father obsessed with legacy, and while this very much the case for some of the other characters, Demelza and Ross's children miraculously never face the same pressure.
Historically, divorce or separation would have been a rarity in 1700s Cornwall, but the lack of a divorce isn't always a signifier of a healthy marriage: the fact that two people still like each other is. Ross and Demelza like each other, even in the very last carriage ride on the very last page of the very last book. I would argue that is because they were always a couple the defied the conventions of their place in time. This headstrong couple isn't likely to be pulled in by a ridged British social structure. Instead, they have a stony fortitude to trust themselves and just do whatever they think is best.