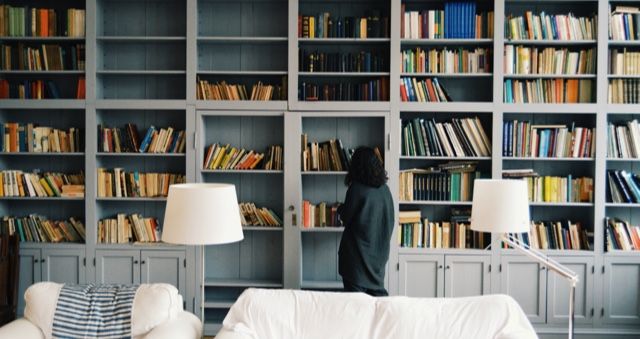 This content contains affiliate links. When you buy through these links, we may earn an affiliate commission.
Looking to read more poetry in translation? It was one of my reading goals this year, and I knew that I specifically wanted to read more poetry by women in translation. It was some of the most rewarding reading of my life and I'm thrilled to share these recommendations. From Vietnam to Denmark, these collections are from all over the world and are full of the power and brilliance I've come to associate with the stellar poetry being published in English translation right now, often by small independent publishers. So much gratitude to them and all those involved in the publication of these incredible collections!
Five Poetry Recommendations by Women in Translation
The Iraqi Nights by Dunya Mikhail, translated by Kareem James Abu-Zeid
I've been eyeing Dunya Mikhail's poetry collections for a while now and was finally spurred on to pick them up after seeing her new and fourth collection, In Her Feminine Sign, in bookstores. Her third collection, The Iraqi Nights, is a beautiful and poignant examination of violence and war but also a story of hope and endurance. Mikhail references The One Thousand and One Nights in her title and takes the book and the figure of Scheherazade as a focal point—her poems similarly spinning stories to help those affected endure the long night that is war. In addition to being an acclaimed poet, Mikhail's also a journalist and the author of The Beekeeper: Rescuing the Stolen Women of Iraq, translated by Mikhail and Max Weiss.
Third-Millennium Heart by Ursula Andkjær Olsen, translated by Katrine Øgaard Jensen
Winner of the 2018 National Translation Award, Third-Millennium Heart is a radical and compelling exploration of desire, power, and creation from one of Denmark's most important contemporary poets. The poems are sparse and aggressive, often building on each other, but in turn also dismantling previous ideas, an aptly described series of "declarations and retractions" in which Olsen takes on the patriarchal and capitalist structures of the Western world. I found myself racing through these poems, driven on by Katrine Øgaard Jensen's masterful translation and the pulsing thrill of the collection. On finishing the book I felt lightheaded—totally overwhelmed and enthralled by its power, I hadn't even realized I had been holding my breath.
This collection and its author—an 18th century concubine who went on to become one of the most important and well-known poets in Vietnam—are endlessly fascinating. Hidden within demure and often picturesque descriptions of everyday life and nature are racy and suggestive poems "which used double entendre and sexual innuendo as a vehicle for social, religious, and political commentary"—a feat that held personal risk for the poet. The poems are immensely clever and I'm in awe of her skill, layering meaning and defying conventions in each and every piece. This collection is also unique in that it presents the English translation alongside the calligraphic Nôm writing system in which the poems were written and their modern Vietnamese equivalent.
"While I was writing these poems, I was probably possessed by a ghost, listening to death, then I held death in my hand and entered the house of death." In 49 poems—one for each day that the spirit roams after death before it enters the cycle of reincarnation—Kim Hyesoon writes of death, tragedy, and trauma. Powerful and haunting, this collection translated by Don Mee Choi "gives voice to those unjustly killed during Korea's violent contemporary history" and grapples with the "structure of death" that we're all living in, individually and collectively. Complete with striking drawings by Fi Jae Lee and a fascinating interview and translator's note that captures the fierce intelligence of both author and translator, Autobiography of Death feels like one of the most important books I've ever read.
Caravan Lullabies by IlzĖ Butkutė, translated by Rimas Uzgiris
I was recently introduced to Periscope, an imprint from A Midsummer Night's Press entirely devoted to poetry by women in translation, and read through all of their excellent work by women poets around the globe in a joyous mad dash. I'm particularly fond of Caravan Lullabies by the Lithuanian poet Ilzė Butkutė for its striking imagery—magicians, acrobats, circuses, and more traverse through these poems—set against beautiful scenes of home—quiet nights, lullabies, and the odd mischievous cat. One of my favorites in this collection might be the last poem, where the poet asks, "Is it easy to be a poet, / sharing a home with a cat?" and answers with a resounding no.
---
Looking for other great reads by women in translation? Check out these 20 Must-Read Short Story Collections by Women in Translation and 50 Must-Read Books by Women in Translation.