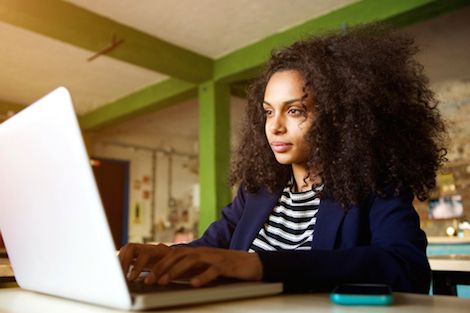 Poetry
4 Poetry Collections That Aren't What You'd Expect
This content contains affiliate links. When you buy through these links, we may earn an affiliate commission.
This is a guest post on unexpected poetry collections from Christina M. Rau. Christina is the author of the sci-fi fem poetry collection, Liberating The Astronauts (Aqueduct Press, 2017), and the chapbooks WakeBreatheMove (Finishing Line Press, 2015) and For The Girls, I (Dancing Girl Press, 2014). Her poetry has appeared on gallery walls in The Ekphrastic Poster Show, on car magnets for The Living Poetry Project, and in various literary journals online and in print. In her non-writing life, she practices yoga occasionally and line dances on other occasions. www.christinamrau.com. Follow her on Twitter @christinamrau.
---
From big publishers to little publishers, from long collections to chapbooks, poetry collections come in all shapes and sizes. I've been on a poetry kick, and I've read a fair share of poems that make me go "huh?" and poems that make me go "ahhhh-ha!" I suppose you could say that poetry makes me make odd noises.
There are some stand-out collections that have made me go "oooooh!" and those are the ones that offer something out of the ordinary. They aren't your standard collections of poem after poem in sections or as a whole. Instead, they give poems written in ways that make you turn your book sideways. They show off images. They use big font, little font, tall font, small font. They kept me reading and reading until the last page, and that kept me wanting more.
Face
by Sherman Alexie
Alexie's collection is all about the footnotes. His poems often express ideas about culture and history, so, much like a textbook that uses endnotes, he marks up his poems with superscripts that correspond with notes at the bottom of the page. Those notes have their own footnotes. And those secondary notes have their own set, too. These notes are sometimes all teacher-y and sometimes all sarcastic and sometimes simply poetic themselves.
From mermaid prose poems accompanied by drawn mermaid silhouettes to full page full color photographs of plastic objects frozen in ice cubes, this collection goes beyond a typical jaunt into poetry. In addition to the visuals, she gives us audio. A bunch of links are listed at the end that lead us to recordings of some of the poems so you can read along a second time or simply listen.
In keeping with a multimedia experience, LeCroy brings her music into her poetry and asks us to join in. In addition to QR codes to scan to listen to and sometimes see videos of her poetry set to music, this collection includes sheet music so you can hop on any nearby instrument and play away.
You get to turn your book sideways. Coupled with an image of bills in the 100,000 range on the opposing pages, the poetry appears as a prose poem written across the page from bottom to top, so you need to turn your book to read it. This one small change lets us climb into the collection right alongside Duhamel.
If you're looking for something a little different from a typical collection of poems, let these intrigue your senses and your mind.