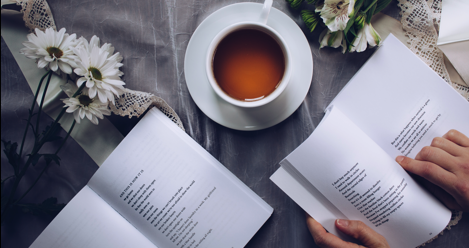 This content contains affiliate links. When you buy through these links, we may earn an affiliate commission.
Poetry as a medium for popular reading has made a comeback in the last few years, thanks in no small part to the growth of Instagram and social media. Platforms have allowed independent creators to share their voices in new, novel ways and have reached new readers. Though this uptick in poetry consumption has been most obvious in adult readers, teen readers have been—and continue to be!—avid consumers of the format. Poetry books for teens have been around as long as young adult literature has, but in the wake of renewed interest in the format, it's worth checking out some of the wide range of books out there.
This is a list of YA poetry books that doesn't include YA books in verse. Rather, these are strict collections of poetry, written by a single writer or a group of writers teaming up for an anthology. It also includes books not published specifically for teen readers in the YA category, but with tremendous appeal to teen readers.
Descriptions come from Amazon.
Poetry Books for Teens
Beauty is a Verb is a ground-breaking anthology of disability poetry, essays on disability, and writings on the poetics of both. Crip Poetry. Disability Poetry. Poems with Disabilities. This is where poetry and disability intersect, overlap, collide and make peace.
A 15-year-old girl named Jessie voices typical—and not so typical—teenage concerns in this unique, hilarious collection of poems. Her musings about trying out new makeup and hairstyles, playing volleyball and cello, and dealing with her annoying younger brother are never boring or predictable. Who else do you know who designs her own clothes and writes poetry to her cat? Jessie's a girl with strong opinions, and she isn't shy about sharing them. Her funny, sarcastic take on high school life is revealed through concrete poetry: words, ideas, type, and design that combine to make pictures and patterns. The poems are inventive, irreverent, irresistible, and full of surprises—just like Jessie—and the playful layout and ingenious graphics extend the wry humor.
Beloved children's book author and speaker Pat Mora has written an original collection of poems, each with a different teen narrator sharing unique thoughts, moments, sadness, or heart's desire: the girl who loves swimming, plunging into the water that creates her own world; the guy who leaves flowers on the windshield of the girl he likes. Each of the teens in these 50 original poems, written using a variety of poetic forms, will be recognizable to the reader as the universal emotions, ideas, impressions, and beliefs float across the pages in these gracefully told verses.
For Teenage Girls celebrates the incendiary brilliance and limitless promise of young women—our daughters, sisters, friends, ourselves. Drawing on the legacy of Joan of Arc, Anne Frank, Malala, Cleopatra, Sacajawea, and other young women who dared to believe in themselves, poet Clementine von Radics calls on a new generation of girls to trust their hearts, follow their paths, and light up their worlds. Clementine's video performance of "For Teenage Girls" is an internet sensation, and has won praise from Bustle, The Huffington Post, Smart Girls at the Party, Hello GIggles, and Everyday Feminism.
Acclaimed writer Walter Dean Myers celebrates the people of Harlem with these powerful and soulful first-person poems in the voices of the residents who make up the legendary neighborhood: basketball players, teachers, mail carriers, jazz artists, maids, veterans, nannies, students, and more. Exhilarating and electric, these poems capture the energy and resilience of a neighborhood and a people.
In Light Filters In, Caroline Kaufman—known as @poeticpoison—does what she does best: reflects our own experiences back at us and makes us feel less alone, one exquisite and insightful piece at a time. She writes about giving up too much of yourself to someone else, not fitting in, endlessly Googling "how to be happy," and ultimately figuring out who you are.
This hardcover collection features completely new material plus some fan favorites from Caroline's account. Filled with haunting, spare pieces of original art, Light Filters In will thrill existing fans and newcomers alike.
it's okay if some things
are always out of reach.
if you could carry all the stars
in the palm of your hand,
they wouldn't be
half as breathtaking
Today my name is colorful.
Yesterday my name was dead souls.
Tomorrow my name will be lively spirits.
My friends think my name is fire.
The police think my name is burden.
My parents think my name is symphony.
Secretly I know my name is anything I want it to be.
Paint Me Like I Am is a collection of poems by teens who have taken part in writing programs run by a national nonprofit organization called WritersCorps. To read the words of these young people is to hear the diverse voices of teenagers everywhere.
Included are a forward by acclaimed poet Nikki Giovanni, an essay from Kevin Powell, another poet associated with WritersCorps, and writing tips from WritersCorps instructors.
Here is a cross-section of American poetry as it is right now—full of grit and love, sparkling with humor, searing the heart, smashing through boundaries on every page. Please Excuse This Poem features one hundred acclaimed younger poets from truly diverse backgrounds and points of view, whose work has appeared everywhere from The New Yorker to Twitter, tackling a startling range of subjects in a startling range of poetic forms. Dealing with the aftermath of war; unpacking the meaning of "the rape joke"; sharing the tender moments at the start of a love affair: these poems tell the world as they see it.
Poetry Speaks Who I Am is filled with more than 100 remarkable poems about you, who you are, and who you are becoming. Dive in-find the poem you love, the one that makes you angry, the one that makes you laugh, the one that knocks the wind out of you, and become a part of Poetry Speaks Who I Am by adding your own inside the book.
From Lucille Clifton's "Here Yet Be Dragons" to Edgar Allan Poe's "Annabel Lee" to "Tia Chucha," by Luis J. Rodriguez, Poetry Speaks Who I Am is a collection that is dynamic, accessible, challenging, classic, edgy, and ultimately not quite perfect. Just like you. If you're lucky, it'll serve as a gateway to a lifetime lived with poetry. At the very least, it'll be a good time. Dive in, and happy hunting.
Cruelties come not just from wicked stepmothers, but also from ourselves. There are expectations, pressures, judgment, and criticism. Self-doubt and self-confidence. But there are also friends, and sisters, and a whole hell of a lot of power there for the taking. In fifty poems, Christine Heppermann confronts society head on. Using fairy tale characters and tropes, Poisoned Apples explores how girls are taught to think about themselves, their bodies, and their friends. The poems range from contemporary retellings to first-person accounts set within the original tales, and from deadly funny to deadly serious. Complemented throughout with black-and-white photographs from up-and-coming artists, this is a stunning and sophisticated book to be treasured, shared, and paged through again and again.
Ten years after the publication of the acclaimed Cool Salsa, editor Lori Marie Carlson has brought together a stunning variety of Latino poets for a long-awaited follow-up. Established and familiar names are joined by many new young voices, and Pulitzer Prize-winning novelist Oscar Hijuelos has written the Introduction.
The poets collected here illuminate the difficulty of straddling cultures, languages, and identities. They celebrate food, family, love, and triumph. In English, Spanish, and poetic jumbles of both, they tell us who they are, where they are, and what their hopes are for the future.
Tupac Shakur's most intimate and honest thoughts were uncovered only after his death with the instant classic The Rose That Grew from Concrete.
His talent was unbounded — a raw force that commanded attention and respect.
His death was tragic — a violent homage to the power of his voice.
His legacy is indomitable — as vibrant and alive today as it has ever been.
For the first time in paperback, this collection of deeply personal poetry is a mirror into the legendary artist's enigmatic world and its many contradictions.
Written in his own hand from the time he was nineteen, these seventy-two poems embrace his spirit, his energy — and his ultimate message of hope.
They are inspiring talented stunning remarkable wise
They are also fearless depressed hilarious impatient in love out of love pissed off
And they want you to let them in.
In 1807, the British parliament passed an Act making the trading and transportation of slaves illegal. This book brings together stories and poems which provide a first-hand account of the horrors of slavery, remembering the brutal and long-lasting inflictions which have shaped millions of lives.
This collection of original stories and poems provides rare insight into the minds of adolescent African American boys. There's Tow-Kaye, getting married at age seventeen to the love of his life, who's pregnant. James writes in his diary about his twin brother's terrible secret, while Tyler explains what it's like to be a player with the ladies. And Eric takes us on a tour of North Philly on the Fourth of July, when the heat could make a guy go crazy. Sharon G. Flake's talent for telling it like it is will leave readers thinking differently, feeling deeply, and definitely wanting more.
More Poetry Books Teens May Love
BEASTGIRL & OTHER ORIGIN MYTHS is a collection of folkloric poems centered on the historical, mythological, gendered, and geographic experiences of a first generation American woman. From the border in the Dominican Republic, to the bustling streets of New York City, Acevedo considers how some bodies must walk through the world as beastly beings. How these forgotten myths be both blessing and birthright.
Citizen by Claudia Rankin
Claudia Rankine's bold new book recounts mounting racial aggressions in ongoing encounters in twenty-first-century daily life and in the media. Some of these encounters are slights, seeming slips of the tongue, and some are intentional offensives in the classroom, at the supermarket, at home, on the tennis court with Serena Williams and the soccer field with Zinedine Zidane, online, on TV-everywhere, all the time. The accumulative stresses come to bear on a person's ability to speak, perform, and stay alive. Our addressability is tied to the state of our belonging, Rankine argues, as are our assumptions and expectations of citizenship. In essay, image, and poetry, Citizen is a powerful testament to the individual and collective effects of racism in our contemporary, often named "post-race" society.
IRL by Tommy Pico
IRL is a sweaty, summertime poem composed like a long text message, rooted in the epic tradition of A.R. Ammons, ancient Kumeyaay Bird Songs, and Beyoncé's visual albums. It follows Teebs, a reservation-born, queer NDN weirdo, trying to figure out his impulses/desires/history in the midst of Brooklyn rooftops, privacy in the age of the Internet, street harassment, suicide, boys boys boys, literature, colonialism, religion, leaving one's 20s, and a love/hate relationship with English. He's plagued by an indecision, unsure of which obsessions, attractions, and impulses are essentially his, and which are the result of Christian conversion, hetero- patriarchal/colonialist white supremacy, homophobia, Bacardi, gummy candy, and not getting laid.
IRL asks, what happens to a modern, queer indigenous person a few generations after his ancestors were alienated from their language, their religion, and their history? Teebs feels compelled towards "boys, burgers, booze," though he begins to suspect there is perhaps a more ancient goddess calling to him behind art, behind music, behind poetry.
one day i met a guy
who stole my heart,
we created a world
for ourselves.
and another day
he broke my heart
and shattered
my soul.
i took the tattered
pieces of this
broken soul and
became anew.
– here lies the hurting, the healing, and the learning
The book is divided into four chapters, and each chapter serves a different purpose. Deals with a different pain. Heals a different heartache. Milk and Honey takes readers through a journey of the most bitter moments in life and finds sweetness in them because there is sweetness everywhere if you are just willing to look.
In his New York Times bestselling memoir, A Work in Progress, Connor Franta shared his journey from small-town Midwestern boy to full-fledged Internet sensation. Exploring his past with humor and astounding insight, Connor reminded his fans of why they first fell in love with him on YouTube—and revealed to newcomers how he relates to his millions of dedicated followers.
Now, two years later, Connor is ready to bring to light a side of himself he's rarely shown on or off camera. In this diary-like look at his life since A Work in Progress, Connor talks about his battles with clinical depression, social anxiety, self-love, and acceptance; his desire to maintain an authentic self in a world that values shares and likes over true connections; his struggles with love and loss; and his renewed efforts to be in the moment—with others and himself.
Told through short essays, letters to his past and future selves, poetry, and original photography, Note to Self is a raw, in-the-moment look at the fascinating interior life of a young creator turning inward in order to move forward.
From Amanda Lovelace, a poetry collection in four parts: the princess, the damsel, the queen, and you. The first three sections piece together the life of the author while the final section serves as a note to the reader. This moving book explores love, loss, grief, healing, empowerment, and inspiration.
Planets, stars, and constellations feature prominently in this beautiful, original poetry collection from Lang Leav. Inspired by the wonders of the universe, the best-selling poetess writes about love and loss, hope and hurt, being lost and found. Lang's poetry encompasses the breadth of emotions we all experience and evokes universal feelings with her skillfully crafted words.
In this magical poetry collection, Nikita Gill unflinchingly explores the fire in every woman and the emotions that lie deep in one's soul. Featuring rewritten fairytale heroines, goddess wisdom, and verse that burns with magnificent beauty, this raw and powerful collection is an explosion of femininity, empowerment, and personal growth. In these words, readers will find the magnificent energy to spark resistance and revolution.
Love poetry and want more? Check out these books of poetry for young readers, books about teen poets, and great books like milk and honey.
Have any other favorite collections of poetry books for teens? Drop 'em in the comments!