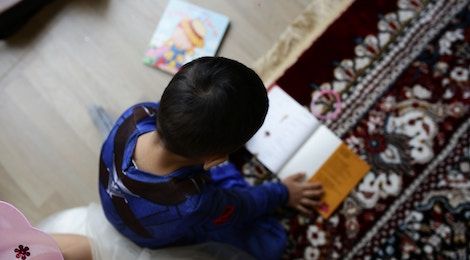 This content contains affiliate links. When you buy through these links, we may earn an affiliate commission.
The rhythm, word play, and creativity in poetry books for kids make them the perfect companion to language acquisition and developing literacy skills. I remember as a child stealing poetry books off my mom's bookshelves and performing the poems, relishing the way the words felt in my mouth. A child with a speech issue, poetry helped reorder the syllables and sounds of words, helped me hear language better. And now with my own little one, I can fill her shelves with poetry books for kids and take joy once more in performing poems, this time with an avid audience.
Collected below are some of the poetry books for kids I'm filling her bookshelves with. I wanted to group these by exact grade like I did with my kid's fantasy post, but I find poetry's age groupings to be much more flexible. Instead, I grouped by broad age categories, and even then, it's easy to cross borders. For parents and teachers, you're likely to find as much joy in these books as your children and students. For those of you with reluctant readers, I've found silly and relevant and most of all accessible poetry books that will hopefully recapture a joy in words and communication.
Also check out our list of amazing poetry books for teens and Karina's poetry recommendations for young readers.
Please share your favorite poetry books for kids in the comments!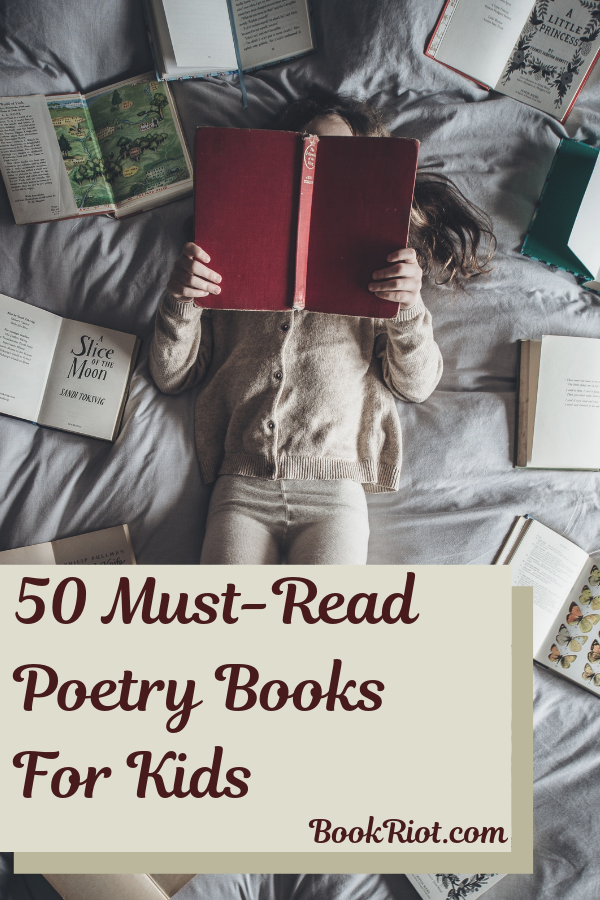 Poetry Books For Babies And Toddlers
We Sang You Home by Richard Van Camp, Illustrated by Julie Flett
"In this sweet and lyrical board book from the creators of the bestselling Little You, gentle rhythmic text captures the wonder new parents feel as they welcome baby into the world. A celebration of the bond between parent and child, this is the perfect song to share with your little ones.
Internationally renowned storyteller and bestselling author Richard Van Camp teams up with award-winning illustrator Julie Flett for a second time to create a stunning board book for babies and toddlers."
"A baby's day is full of meaningful moments: Time for cuddles, time for play, time for games, time for a nap, time for dinner, time for a bath, time for bed…and always, always, time for love. This joyous collection of more than fifty original poems and rhymes is divided into sections that celebrate each part of a young child's daily routine. An anthology of new and favorite rhymes accompanied by gentle, evocative illustrations is a perfect gift for showers and a must-have addition to any child's bookshelf."
"My Village is a beautiful collection featuring nursery rhymes and verses from around the world: New Zealand, China, Australia, Norway, Ireland, Tonga, Jamaica, Japan, Zimbabwe, Fiji, Indonesia, Denmark, Iran, Germany, Samoa, Switzerland, Russia, Brazil, France, Holland, Iceland, and India. Readers delight in quirky, touching, and funny verses from the 22 different countries, brought vividly to life by the appealingly fresh artwork from exciting young illustrator Mique Moriuchi, who captures each verse with a uniquely beautiful and child's-eye focus. Danielle Wright has included some familiar rhymes along with others that are less well known. Internationally acclaimed poet and former Children's Laureate Michael Rosen introduces the collection, discussing the origins of nursery rhymes as well as reviewing some of his favorites. Also endorsed by the International Youth Library, this book is an essential addition to any school or library."
"in tickly-toe grass
a buttercup offers up
yellow nose kisses
The simple delights in baby's natural world—a bird, a fish, a leaf, a snowflake, a raindrop—are celebrated in the traditional Japanese poetic form, the haiku. In just 17 syllables, a moment, a season, the elements are joyfully captured. Betsy Snyder's peaceful little board book has tabs to encourage little hands to turn the pages and adorable artwork to delight everyone!"
"The slithy toves and borogoves invite you to take an adventure through the tumtum trees in Jabberwocky: A BabyLit Nonsense Primer. Jennifer Adams cleverly pulls text from Little Master Carroll's original poem and pairs it with Alison Oliver's bright and cheery illustrations to create a whimsical tale."
Homemade Love by bell hooks, Illustrated by Shane W. Evans
"Her Mama calls her Girlpie-a sweet treat, homemade with love. And when Girlpie makes a mistake, the love of her mother and father lets her pick up the pieces and make everything right again. Shane W. Evan's resplendent artwork teems with "homemade love," one of the tender nicknames award-winning author bell hooks gives her young heroine.
The simple, dynamic text paired with bold, energetic illustrations make this beautiful board book perfect for little hands."
"Warm illustrations spice up this rhythmical ode to the joys of family and food — full, full, full of pleasures.
For the youngest member of an exuberant extended family, Sunday dinner
at Grannie's can be full indeed – full of hugs and kisses, full of tasty dishes, full to the brim with happy faces, and full, full, full of love. With a special focus on the bond between little Jay Jay and his grannie, Trish Cooke introduces us to a gregarious family we are sure to want more, more, more of."
"The dynamic, best-selling team of Lin Oliver and Tomie dePaola have created a charming collection of baby poems that makes the perfect gift for baby showers and first birthdays.
For babies and toddlers, each moment is full of wonder and discovery. This delightful collection of original poems celebrates the everyday things that enthrall little ones, such as playing peekaboo, banging pots and pans, splashing at bath time, and cuddling at bedtime. Full of contagious rhythm and rhyme, this inviting picture book introduces young children to the sound of poetry, and beloved illustrator Tomie dePaola's engaging children are the perfect match for Lin Oliver's lighthearted poems. Together they've created a book to be treasured that captures the magic and fun of being new in the world."
Poetry Books For Elementary School
"In H Is For Haiku: A Treasury of Haiku from A to Z, the late poet Sydell Rosenberg, a charter member of the Haiku Society of America and a New York City public school teacher, and illustrator Sawsan Chalabi offer an A-Z compendium of haiku that brings out the fun and poetry in everyday moments."
Poetree by Shuana LaVoy Reynolds, Illustrated by Shahrzad Maydani
"A girl writes a poem to a tree, but then is surprised when the tree writes back in this wondrous and warm picture book about friendship, nature, and the power of poetry.
The snow has melted, the buttercups are blooming, and Sylvia celebrates winter's end by writing a poem. She ties her poem to a birch tree, hoping that it doesn't count as littering if it makes the world more beautiful. But when she returns, a new poem is waiting for her. Could the tree really be writing back? Sylvia decides to test her theory, and so begins a heartwarming poetic correspondence…as well as an unexpected new friendship.
Lyrical and sweetly satisfying, Poetree is about finding beauty in the world around you, and new friends in unlikely places."
Life Doesn't Frighten Me by Maya Angelou, Illustrated by Jean-Michel Basquiat
"Shadows on the wall
Noises down the hall
Life doesn't frighten me at all
Maya Angelou's brave, defiant poem celebrates the courage within each of us, young and old. From the scary thought of panthers in the park to the unsettling scene of a new classroom, fearsome images are summoned and dispelled by the power of faith in ourselves.
Angelou's strong words are matched by the daring vision of artist Jean-Michel Basquiat, whose childlike style reveals the powerful emotions and fanciful imaginings of childhood. Together, Angelou's words and Basquiat's paintings create a place where every child, indeed every person, may experience his or her own fearlessness."
"december 29
and i woke to a morning
that was quiet and white
the first snow
(just like magic) came on tip toes
overnight
Flowers blooming in sheets of snow make way for happy frogs dancing in the rain. Summer swims move over for autumn sweaters until the snow comes back again. In Julie Fogliano's skilled hand and illustrated by Julie Morstad's charming pictures, the seasons come to life in this gorgeous and comprehensive book of poetry."
"Pat Mora edited and contributed to this beautiful and celebratory collection, in which thirteen poets write with joy, humor, and love about the powerful bond between mothers, grandmothers, and children. These poets represent a wide spectrum of Latino voices, from award-winning authors to a 15-year-old new talent. They write passionately about their Puerto Rican, Cuban, Venezuelan, and Mexican American backgrounds and the undeniable influence of their mothers and grandmothers. Illustrated with exuberance by Ecuadorian artist Paula S. Barragán M., Love to Mamá is sure to be embraced and treasured by everyone who wants to recognize mothers as one of our universal role models."
"See the beauty and magic of the everyday world through the eyes of Emily Dickinson, one of America's best-loved and most renowned poets. Flowers, birds, sunrises, sunsets, the moon, and even her own existence take on surprising meanings and colorful illustrations accompany more than thirty-five of her best-loved poems. An ideal way to introduce young readers to the marvels of prose, the Poetry for Young People series opens up the world of wonderful word images by pairing classic verses with beautiful illustrations, and by providing helpful definitions and commentary."
Imagine by Juan Felipe Herrera, Illustrated by Lauren Castillo
"A buoyant, breathtaking poem from Juan Felipe Herrera — brilliantly illustrated by Caldecott Honoree Lauren Castillo — speaks to every dreaming heart.
Have you ever imagined what you might be when you grow up? When he was very young, Juan Felipe Herrera picked chamomile flowers in windy fields and let tadpoles swim across his hands in a creek. He slept outside and learned to say good-bye to his amiguitos each time his family moved to a new town. He went to school and taught himself to read and write English and filled paper pads with rivers of ink as he walked down the street after school. And when he grew up, he became the United States Poet Laureate and read his poems aloud on the steps of the Library of Congress. If he could do all of that . . . what could you do? With this illustrated poem of endless possibility, Juan Felipe Herrera and Lauren Castillo breathe magic into the hopes and dreams of readers searching for their place in life."
"Acclaimed writer Alice Faye Duncan tells the story of poet Gwendolyn Brooks, the first Black author to win the Pulitzer Prize.
SING a song for Gwendolyn Brooks.
Sing it loud—a Chicago blues.
With a voice both wise and witty, Gwendolyn Brooks crafted poems that captured the urban Black experience and the role of women in society. She grew up on the South Side of Chicago, reading and writing constantly from a young age, her talent lovingly nurtured by her parents. Brooks ultimately published 20 books of poetry, two autobiographies, and one novel. Alice Faye Duncan has created her own song to celebrate Gwendolyn's life and work, illuminating the tireless struggle of revision and the sweet reward of success."
"A cornerstone hymn chronicling the black experience, "Lift Every Voice and Sing" was declared the official African American National Anthem by the NAACP in 1919. First published in 1993, this picture book featuring linocuts by Harlem Renaissance artist Catlett is back in print, with a new Foreword by Newbery and Coretta Scott King Honoree Byran."
The Day You Begin by Jacqueline Woodson, Illustrated by Rafael López
"National Book Award winner Jacqueline Woodson and two-time Pura Belpré Illustrator Award winner Rafael López have teamed up to create a poignant, yet heartening book about finding courage to connect, even when you feel scared and alone.
There will be times when you walk into a room
and no one there is quite like you.
There are many reasons to feel different. Maybe it's how you look or talk, or where you're from; maybe it's what you eat, or something just as random. It's not easy to take those first steps into a place where nobody really knows you yet, but somehow you do it.
Jacqueline Woodson's lyrical text and Rafael López's dazzling art reminds us that we all feel like outsiders sometimes-and how brave it is that we go forth anyway. And that sometimes, when we reach out and begin to share our stories, others will be happy to meet us halfway.
(This book is also available in Spanish, as El Día En Que Descubres Quién Eres!)"
"'Painting is poetry that is seen rather than felt, and poetry is painting that is felt rather than seen.' —Leonardo da Vinci
Based on this simple statement by Leonardo, eighteen poets have written new poems inspired by some of the most popular works in the collection of The Metropolitan Museum. The collection represents a wide range of poets and artists, including acclaimed children's poets Marilyn Singer, Alma Flor Alda, and Carole Boston Weatherford and popular artists such as Mary Cassatt, Fernando Botero, Winslow Homer, and Utagawa Hiroshige.
Accompanying the artwork and specially commissioned poems is an introduction, biographies of each poet and artist, and an index."
"This vibrant collection of twenty-one poems celebrates the joys (snack time!) and pitfalls (2 + 2 = 23?) of childhood. Brod Bagert's often silly, always winsome poems cover everything from the seasons and the stars to finger paint and kids who quack. With humor and warmth, Shout! shows us there's fun in work and play, poetry in everything, and a million different uses for ketchup. Kids are sure to shout for a reread."
"If you are a dreamer, come in,
If you are a dreamer,
A wisher, a liar,
A hope-er, a pray-er,
A magic bean buyer …
Come in … for where the sidewalk ends, Shel Silverstein's world begins. You'll meet a boy who turns into a TV set, and a girl who eats a whale. The Unicorn and the Bloath live there, and so does Sarah Cynthia Sylvia Stout who will not take the garbage out. It is a place where you wash your shadow and plant diamond gardens, a place where shoes fly, sisters are auctioned off, and crocodiles go to the dentist.
Shel Silverstein's masterful collection of poems and drawings is at once outrageously funny and profound."
"GREAT MORNING! Poems for School Leaders to Read Aloud features poems with ready-to-read intros and intriguing facts for a full year of morning announcements at school! 75 poems by 50+ poets cover topics such as:
safety drills, school forms, diversity, inclusion, transportation, kindness, compassion, willpower, mindfulness, volunteerism, reaching out, community, science, technology, and more.
Create a school culture of positivity using poetry as a tool! These poems are short and easy to read; they take just a minute to share. Readers can be principals, student leaders, office staff, custodians, lunch staff, specialist teachers, parents, and community guests."
Science Verse by Jon Scieszka, Illustrated by Lane Smith
"'Amoeba'
Don't ever tease a wee amoeba
By calling him a her amoeba.
And don't call her a him amoeba.
Or never he a she amoeba.
'Cause whether his or hers amoeba,
They too feel like you and meba.
What if a boring lesson about the food chain becomes a sing-aloud celebration about predators and prey? A twinkle-twinkle little star transforms into a twinkle-less, sunshine-eating-and rhyming Black Hole? What if amoebas, combustion, metamorphosis, viruses, the creation of the universe are all irresistible, laugh-out-loud poetry? Well, you're thinking in science verse, that's what. And if you can't stop the rhymes . . . the atomic joke is on you. Only the amazing talents of Jon Scieszka and Lane Smith, the team who created Math Curse, could make science so much fun."
"'I am sick and tired of being sick and tired.'
Despite fierce prejudice and abuse, even being beaten to within an inch of her life, Fannie Lou Hamer was a champion of civil rights from the 1950s until her death in 1977. Integral to the Freedom Summer of 1964, Ms. Hamer gave a speech at the Democratic National Convention that, despite President Johnson's interference, aired on national TV news and spurred the nation to support the Freedom Democrats. Featuring vibrant mixed-media art full of intricate detail, Voice of Freedom celebrates Fannie Lou Hamer's life and legacy with a message of hope, determination, and strength."
"In early-1900s Japan, Misuzu Kaneko grows from precocious bookworm to instantly-beloved children's poet. But her life ends prematurely, and Misuzu's work is forgotten. Decades later her poems are rediscovered—just in time to touch a new generation devastated by the tsunami of 2011. This picture book features Misuzu's life story plus a trove of her poetry in English and the original Japanese.
Big Catch:
At sunrise, glorious sunrise
it's a big catch!
A big catch of sardines!
On the beach, it's like a festival
but in the sea, they will hold funerals
for the tens of thousands dead."
Don't Ask a Dinosaur by Matt Forrest Esenwine and Deborah Bruss, Illustrated by Louie Chin
"Don't Ask a Dinosaur is about a party that goes wildly awry when a pack of dinosaurs with very unique physical attributes attempt to help set up.
Written in a masterfully-executed rhyme, the book presents a cavalcade of lesser-known dinos and pairs their odd characteristics with little tasks that are hilariously impossible because of those features. 'Don't ask Deinocheirus to set the forks and spoons,' because his hands were enormous, 'Therizinosaurus cannot blow up balloons,' because he had very long claws. In the end they find the one thing everyone can help do is to blow out the candles on the cake…but will it create yet another mess?"
"Acclaimed singer-songwriter Rhett Miller teams up with Caldecott Medalist and bestselling artist Dan Santat in a riotous collection of irreverent poems for modern families.
In the tradition of Shel Silverstein, these poems bring a fresh new twist to the classic dilemmas of childhood as well as a perceptive eye to the foibles of modern family life. Full of clever wordplay and bright visual gags–and toilet humor to spare–these twenty-three rhyming poems make for an ideal read-aloud experience.
Taking on the subjects of a bullying baseball coach and annoying little brothers with equally sly humor, renowned lyricist Rhett Miller's clever verses will have the whole family cackling."
The New Kid on the Block by Jack Prelutsky, Illustrated by James Stevenson
"There's a new kid on the block,
and boy, that kid is tough,
that new kid punches hard,
that new kid plays real rough,
that new kid's big and strong,
with muscles everywhere,
that new kid tweaked my arm,
that new kid pulled my hair.
Open this book to any page and begin your exploration. Here are more than 100 poems about things you may never have thought about before. Turn the pages and be introduced to jellyf ish stew, a bouncing mouse, a ridiculous dog, a boneless chicken, and the very unexpected new kid!"
A Child's Calendar by John Updike, Illustrated by Trina Schart Hyman
"Celebrate the little moments that make each month special in this beautiful picture book featuring twelve poems about a family and the turn of the seasons. From the short, frozen days of January, through the light of summer, to the first snowflakes of December, Updike's poems rejoices in the familiar, wondrous qualities that make each part of the year unique.
Hyman's award-winning paintings–modeled after her own daughter, son-in-law and grandchildren–depict an interracial family going about the business of their lives throughout the year: sledding in January, watching fireworks in July, and playing in the autumn leaves. Bold and colorful, they're filled with the intricate detail for which her art is famous– including cameo appearances by the artist and her partner, Jean Aull."
The Stuff of Stars by Marion Dane Bauer, Illustrated by Ekua Holmes
"The 2019 Coretta Scott King Illustrator Award Winner
In an astonishing unfurling of our universe, Newbery Honor winner Marion Dane Bauer and Caldecott Honor winner Ekua Holmes celebrate the birth of every child.
Before the universe was formed, before time and space existed, there was . . . nothing. But then . . . BANG! Stars caught fire and burned so long that they exploded, flinging stardust everywhere. And the ash of those stars turned into planets. Into our Earth. And into us. In a poetic text, Marion Dane Bauer takes readers from the trillionth of a second when our universe was born to the singularities that became each one of us, while vivid illustrations by Ekua Holmes capture the void before the Big Bang and the ensuing life that burst across galaxies. A seamless blend of science and art, this picture book reveals the composition of our world and beyond — and how we are all the stuff of stars."
"Sing a Song of Seasons is a lavishly illustrated collection of 366 nature poems — one for every day of the year. Filled with familiar favorites and new discoveries written by a wide variety of poets, including William Shakespeare, Emily Dickinson, John Updike, Langston Hughes, N. M. Bodecker, Okamoto Kanoko, and many more, this is the perfect book for children (and grown-ups!) to share at the beginning or the end of the day."
"A paean to play from an award-winning poet and a New York Times best-selling illustrator. The trappings of childhood change from generation to generation, but there are some timeless activities that every kid loves. Marilyn Singer and LeUyen Pham celebrate these universal types of play, from organized games such as hide-and-seek and hopscotch to imaginative play such as making mud soup or turning a stick into a magic wand. Lyrical poems and bold illustrations capture the energy of a group of children in one neighborhood as they amuse themselves over the course of a summer day. At a time when childhood obesity rates are soaring and money is tight for many families, here is a book that invites readers to join in the fun of active play with games that cost nothing."
"This is the bilingual story of the farm maiden and her cadre of animals, who crafted a festive piñata for a surprise birthday party. A beautiful and lively companion to the award-winning The Cazuela That the Farm Maiden Stirred.
A young girl sets out on errands for the day, and while she's gone, the farm maiden prepares a piñata from scratch with help from a boy, horse, goose, cat, sheep, and farmer. After they all fall asleep in the afternoon sun, they must scramble to finish preparations in time–just as the girl arrives back to her surprise party. Key English words change to Spanish as the cumulative verse builds to the celebratory ending. With the familiarity of 'The House That Jack Built,' the tale cleverly incorporates Spanish words, adding a new one in place of the English word from the previous page. This book makes learning the language easy and fun. Back matter includes a glossary, definitions, and directions for making a piñata at home."
"This classic picture book from Pulitzer Prize–winning poet Gwendolyn Brooks, paired with full-color illustrations by Caldecott Honor artist Faith Ringgold, explores the lives and dreams of the children who live together in an urban neighborhood.
In 1956, Gwendolyn Brooks created thirty-four poems that celebrated the joy, beauty, imagination, and freedom of childhood. Bronzeville Boys and Girls features these timeless poems, which remind us that whether we live in the Bronzeville section of Chicago or any other neighborhood, childhood is universal in its richness of emotions and new experiences."
A Gift From Greensboro by Quraysh Ali Lansana, Illustrated by Skip Hill
"A Gift from Greensboro (Ages 5 & up) is at once an elegy, a celebration of the magic of childhood friendship, and a meditation on growing up in the wake of the sit-ins that ushered in the Civil Rights Movement. Paired with intricate, layered illustrations, this poem recognizes that true friendship knows no boundaries and that love drives positive change."
Shaking Things Up by Susan Hood, Illustrated by 13 Extraordinary Women
"Fresh, accessible, and inspiring, Shaking Things Up introduces fourteen revolutionary young women—each paired with a noteworthy female artist—to the next generation of activists, trail-blazers, and rabble-rousers.
From the award-winning author of Ada's Violin, Susan Hood, this is a poetic and visual celebration of persistent women throughout history.
In this book of poems, you will find Mary Anning, who was just thirteen when she unearthed a prehistoric fossil. You'll meet Ruby Bridges, the brave six year old who helped end segregation in the South. And Maya Lin, who at twenty-one won a competition to create a war memorial, and then had to appear before Congress to defend her right to create.
And those are just a few of the young women included in this book. Readers will also hear about Molly Williams, Annette Kellerman, Nellie Bly, Pura Belprè, Frida Kahlo, Jacqueline and Eileen Nearne, Frances Moore Lappé, Mae Jemison, Angela Zhang, and Malala Yousafzai—all whose stories will enthrall and inspire. This poetry collection was written, illustrated, edited, and designed by women and includes an author's note, a timeline, and additional resources.
With artwork by notable artists including Selina Alko, Sophie Blackall, Lisa Brown, Hadley Hooper, Emily Winfield Martin, Oge Mora, Julie Morstad, Sara Palacios, LeUyen Pham, Erin Robinson, Isabel Roxas, Shadra Strickland, and Melissa Sweet."
"A young slave girl witnesses the heartbreak and hopefulness of her family and their plantation community when her brother escapes for freedom in this brilliantly conceived picture book by Coretta Scott King Award winner James E. Ransome.
Every single morning, the overseer of the plantation rings the bell. Daddy gathers wood. Mama cooks. Ben and the other slaves go out to work. Each day is the same. Full of grueling work and sweltering heat. Every day, except one, when the bell rings and Ben is nowhere to be found. Because Ben ran. Yet, despite their fear and sadness, his family remains hopeful that maybe, just maybe, he made it North. That he is free."
"Laura Purdie Salas, the acclaimed author of Stampede!, is back with another collection of wild and weird, wacky and winsome poems about all the magic to be found on a single bookshelf. In BookSpeak!, each poem gives voice to a group that seldom gets a voice . . . the books themselves! Characters plead for sequels, book jackets strut their stuff, and we get a sneak peek at the raucous parties in the aisles when all the lights go out at the bookstore!Illustrator Josée Bisaillon's mixture of collage, drawings, and digital montage presents page after page of richly colored spreads filled with action and charm. Together, Salas and Bisaillon deliver a unique collection brimming with ideas as much about spines and dust jackets as they are about adventure and imagination."
Poetry Books For Middle School
Out of Wonder: Poems Celebrating Poets by Kwame Alexander, Chris Colderley, And Marjory Wentworth, Illustrated by Ekua Homes
"The 2018 Coretta Scott King Illustrator Award Winner
A Newbery Medalist and a Caldecott Honoree's New York Times best-selling ode to poets who have sparked a sense of wonder.
Out of gratitude for the poet's art form, Newbery Award–winning author and poet Kwame Alexander, along with Chris Colderley and Marjory Wentworth, present original poems that pay homage to twenty famed poets who have made the authors' hearts sing and their minds wonder. Stunning mixed-media images by Ekua Holmes, winner of a Caldecott Honor and a John Steptoe New Talent Illustrator Award, complete the celebration and invite the reader to listen, wonder, and perhaps even pick up a pen."
"The perfect classic anthology of poetry for today's young readers.
A classic poetry anthology, Knock at a Star contains lively, interesting poems from the most beloved writers and poets of our time, past and present, including Langston Hughes, Emily Dickinson, Jack Prelutsky, Mary Ann Hoberman, and more!
This anthology contains special kinds of poetry, such as haikus, songs, and limerick, and discusses with the reader what poems can do: make you laugh, send messages, and teach you about images and rhythm.
A collection that is joyously assembled and will be joyously read!"
Enduring a second year with the poetry teacher who gave him a D minus, reluctant Jeremy Bloom hopes to earn a better grade by writing sports poetry and finds the task more enjoyable than he anticipated.
"Raised in South Carolina and New York, Woodson always felt halfway home in each place. In vivid poems, she shares what it was like to grow up as an African American in the 1960s and 1970s, living with the remnants of Jim Crow and her growing awareness of the Civil Rights movement. Touching and powerful, each poem is both accessible and emotionally charged, each line a glimpse into a child's soul as she searches for her place in the world. Woodson's eloquent poetry also reflects the joy of finding her voice through writing stories, despite the fact that she struggled with reading as a child. Her love of stories inspired her and stayed with her, creating the first sparks of the gifted writer she was to become."
"It's all about us! Join former U.S. Children's Poet Laureate J. Patrick Lewis on a lyrical journey through the United States to experience the wonders of America's people and places through 200+ inspiring poems and stunning photographs.
Celebrate the gift of language and the vibrant culture of the United States with this collection of classic and never-before-published poetry. Poems are arranged by region, from coast to coast, and among them you'll find works by Langston Hughes, Dorothy Parker, Robert Frost, Naomi Shihab Nye, Walt Whitman, and more. From the familiar to the surprising, subjects include people, places, landmarks, monuments, nature, and celebrations. Designed for sharing, but geared to younger readers, this beautifully illustrated treasury is a must-have for the whole family."
"Inspired by the author's childhood experience as a refugee—fleeing Vietnam after the Fall of Saigon and immigrating to Alabama—this coming-of-age debut novel told in verse has been celebrated for its touching child's-eye view of family and immigration. For all the ten years of her life, Hà has only known Saigon: the thrills of its markets, the joy of its traditions, and the warmth of her friends close by. But now the Vietnam War has reached her home. Hà and her family are forced to flee as Saigon falls, and they board a ship headed toward hope. In America, Hà discovers the foreign world of Alabama: the coldness of its strangers, the dullness of its food . . . and the strength of her very own family. This moving story of one girl's year of change, dreams, grief, and healing received four starred reviews, including one from Kirkus which proclaimed it "enlightening, poignant, and unexpectedly funny." An author's note explains how and why Thanhha Lai translated her personal experiences into Hà's story."
"Thirteen Ways of Looking at a Black Boy by Tony Medina offers a fresh perspective of young men of color by depicting thirteen views of everyday life: young boys dressed in their Sunday best, running to catch a bus, and growing up to be teachers, and much more. Each of Tony Medina's tanka is matched with a different artist―including recent Caldecott and Coretta Scott King Award recipients."
Hey World, Here I Am! by Jean Little, Illustrated by Sue Truesdell
"Honest and engaging, award-winning author Jean Little's beloved Hey World, Here I Am! is told in a series of poems, observations, and vignettes.
Kate Bloomfield has got a lot to say—about school and friends and parents, about cartwheels (she can't do them), about parsnips (she won't eat them), about being alone and being herself, about life and love…even about Dave Nelson, who doesn't know she's alive. Outspoken, funny, sometimes confused but always observant, Kate is writing it all down—"Hey World, Here I Am!""
""With a bolt of lightning on my kicks . . .The court is SIZZLING. My sweat is DRIZZLING. Stop all that quivering. Cuz tonight I'm delivering," announces dread-locked, 12-year old Josh Bell. He and his twin brother Jordan are awesome on the court. But Josh has more than basketball in his blood, he's got mad beats, too, that tell his family's story in verse, in this fast and furious middle grade novel of family and brotherhood from Kwame Alexander.
Josh and Jordan must come to grips with growing up on and off the court to realize breaking the rules comes at a terrible price, as their story's heart-stopping climax proves a game-changer for the entire family."
The Dreamer by Pam Muñoz Ryan , Illustrated by Peter Sis
"A tender, transcendent, and meticulously crafted novel from Newbery Honoree, Pam Muñoz Ryan, and three-time Caldecott Honoree, Peter Sís!
From the time he is a young boy, Neftalí hears the call of a mysterious voice. Even when the neighborhood children taunt him, and when his harsh, authoritarian father ridicules him, and when he doubts himself, Neftalí knows he cannot ignore the call. He listens and follows as it leads him under the canopy of the lush rain forest, into the fearsome sea, and through the persistent Chilean rain on an inspiring voyage of self-discovery that will transform his life and, ultimately, the world.
Combining elements of magical realism with biography, poetry, literary fiction, and transporting illustrations, Pam Muñoz Ryan and Peter Sís take readers on a rare journey of the heart and imagination as they explore the inspiring early life of the poet who became Pablo Neruda."
"Musician, botanist, baseball player, pilot―the Latinos featured in this collection, Bravo!, come from many different countries and from many different backgrounds. Celebrate their accomplishments and their contributions to a collective history and a community that continues to evolve and thrive today!
Biographical poems include: Aida de Acosta, Arnold Rojas, Baruj Benacerraf, César Chávez, Fabiola Cabeza de Baca, Félix Varela, George Meléndez, José Martí, Juan de Miralles, Juana Briones, Julia de Burgos, Louis Agassiz Fuertes, Paulina Pedroso, Pura Belpré, Roberto Clemente, Tito Puente, Ynes Mexia, Tomás Rivera"
"Hip Hop Speaks to Children is a celebration of poetry with a beat.
Poetry can have both a rhyme and a rhythm. Sometimes it is obvious; sometimes it is hidden. But either way, make no mistake, poetry is as vibrant and exciting as it gets. And when you find yourself clapping your hands or tapping your feet, you know you've found poetry with a beat!"
---
Hit the comments to share your favorite poetry books for kids!